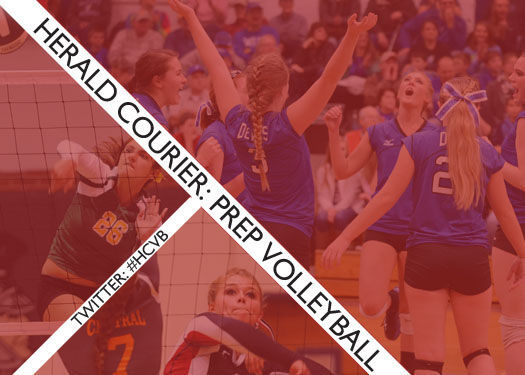 Kaylyn Baggett led the Marion Scarlet Hurricanes to a 25-3, 25-13, 25-19 Southwest District volleyball win over the Tazewell Bulldogs with 15 service points and six kills on Monday night.
Calie Blackburn had 15 service points and eight assists.
Audry Moss (seven kills) and Chloe Campbell (16 assists) also led Marion.
Tazewell was led by Jensen Meade (14 digs), Madison Hoops (two kills, one dig), Sam Cline (10 digs) and Alexa Boardwine (11 digs).
Kennedi Plymal turned in 10 kills, eight aces and 21 digs to help lead the Golden Wave to a 25-10, 25-21, 25-21 win over the Panthers.
Also leading Grundy were Skylar Stiltner (15 service points, 29 digs), Maddie Yates (15 assists) and Emma Deel (five blocks, nine kills).
Hannah Hess and Abigail Lester each had eight kills as Honaker earned a quality 25-22, 25-21, 20-25, 26-24 non-district win over the Chilhowie Warriors.
Emma Burton's 15 digs and Autumn Miller's 16 assists also keyed the victory.
The quintet of Caitlin Pierce (23 digs, nine kills), Mari-Beth Bordwine (16 digs, 11 kills), Madison Prater (11 kills), Lindsey Walker (23 digs) and Josie Sheets (22 assists) were the pace-setters for Chilhowie.
Thomas Walker 3, Lee High 0
Talyn Dibrell dominated to the tune of 17 kills as Thomas Walker trounced Lee High 25-12, 25-14, 25-13. Autumn Collinsworth (five kills) and Bella Schwartz (17 assists) also powered the Pioneers.
Be the first to know
Get local news delivered to your inbox!