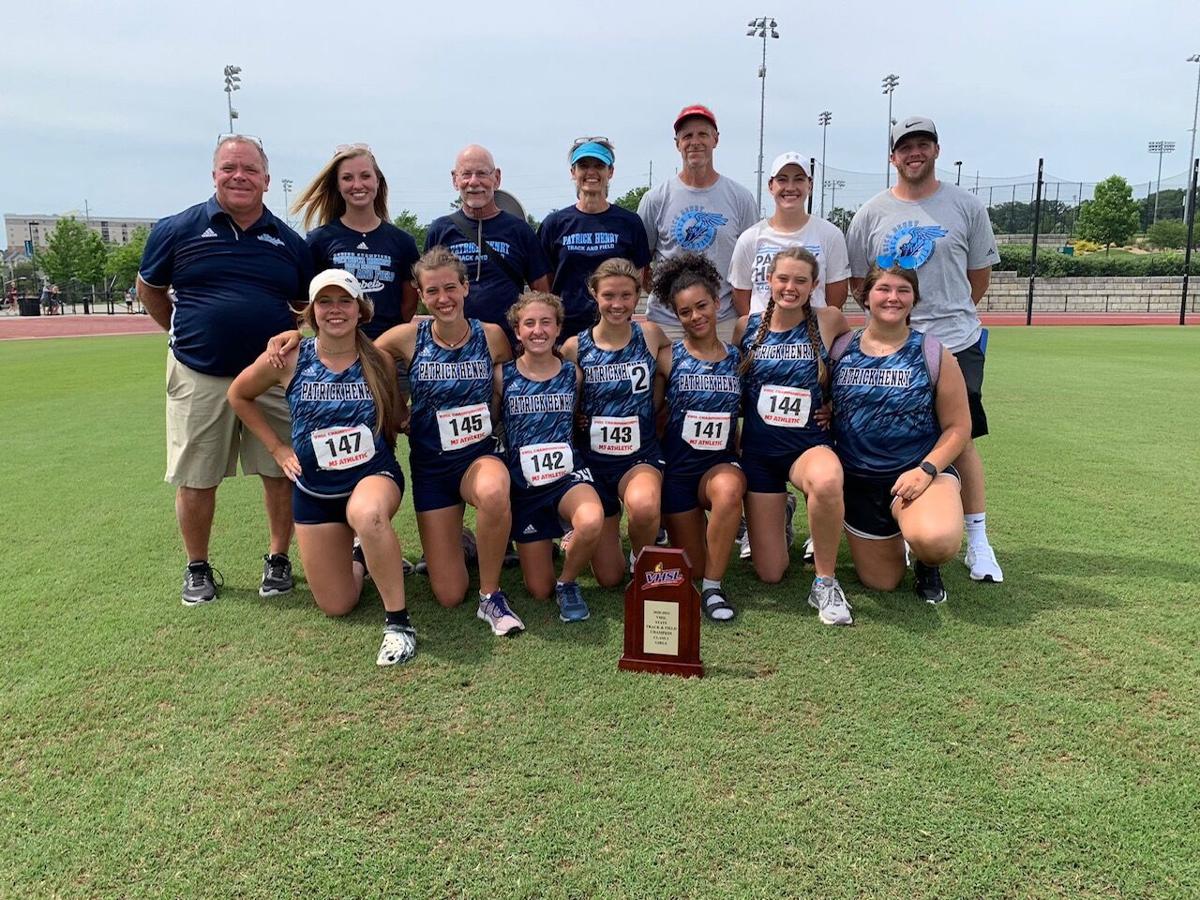 HARRISONBURG, Va. – Going out with gold was the most fitting and fond farewell for the Patrick Henry High School marvel known as Iron Maiden.
Tireless, tough and tenacious senior Ella Maiden of PH closed out a remarkable high school career with a performance more remarkable than usual at Friday's VHSL Class 1 state track and field championships at James Madison University.
She not only competed in seven events, Maiden exceled in each of them and helped the Rebels claim the state team title.
Maiden mastered the pole vault (10-feet), triple jump (35-02), 100 hurdles (15.91 seconds) and 300 hurdles (48.90 seconds), placed second in the long jump (16-03 1/2), ran the anchor leg on the runner-up 4x100 relay squad (53.14 seconds) and finished third in the high jump (5-2).
She accounted for 54 of PH's 98 points, a total which was 30 points better than second-place Riverheads.
Put it this way: Maiden's total alone would have placed fourth in the team standings.
"It was like a fairytale ending, honestly," she said.
On a sun-soaked June day in the Shenandoah Valley, the iron-willed young woman from Washington County pushed herself to the maximum limit on the state's biggest stage.
"There is a point where you're like, 'OK, I don't think my legs can handle much more," but as soon as you get to the starting line or at the beginning of the runway," Maiden said. "It all goes away, because you have to do your best for your team."
Maiden's peerless stamina was on display when she prevailed in the 300 hurdles, an event that also happened to be her final in a PH uniform. A usual, she rose to the occasion.
"That was the icing on the cake," said Patrick Henry coach Mark Love.
The day had begun pretty well too when Maiden conquered the elusive 10-foot mark in the pole vault.
"That brought me so much more confidence," Maiden said. "I've been trying to clear 10-feet all year long and it finally happened at a meet. I was super stoked."
Love was pretty pumped as well since all seven members of PH's squad scored points.
Avery Maiden, Ella's younger sister, competed in six events herself with a trio of third-place finishes and a spot on the second-place relay team.
Katie Dick, Zoe Davenport, Makenna Clay, MacKinley Ottinger and Madison Osborne also contributed.
"I told them that they had the chance to do something incredible – win a state championship with seven girls," Love said. "Things started off well and just continued."
PH also won the state championship in 2019, but the coronavirus (COVID-19) pandemic prevented the squad from defending its title a year ago. You could say the Rebels appreciated Friday's title a little more.
"You ain't kidding," Love said.
George Wythe senior Davion Tillison and freshman Haley Faulkner also had days to remember.
Tillison won the boys triple jump (44-04) just like he did in 2019 and also prevailed in the long jump with a top mark of 21-02. Perhaps motivated by his uncle's offer to buy him a new pair of Air Jordan sneakers if he won both events, Tillison soared.
The King University signee beat Chris Sizemore from Rural Retreat by an inch in the long jump.
"I knew the long jump was competitive, but I didn't know if I'd pull it off," Tillison said. "[Sizemore] is a good jumper and he definitely put up some good numbers this year, so to overcome that was really good."
Tillison's performance helped GW finish second in the team standings, six points behind champion Auburn.
Faulkner won the girls 200-meter dash in 27.34 seconds and ran the anchor leg on both the 4x100 (52.13 seconds) and 4x400 (4:19.17) relay teams that triumphed. Three golds for a ninth-grader is pretty impressive, especially considering Faulkner helped GW outran Patrick Henry's juggernaut in the 4x100.
"I think we really just told ourselves that no matter who is there against us, we had to keep pushing ourselves," Faulkner said. "We've worked so hard for this and I think [the 4x100] gave me more confidence going into the 200."
While Faulkner is just starting a promising career, Grundy senior Peyton McComas ended his with a win.
One of the area's top all-around athletes won the discus with a top heave of 135 feet, well ahead of runner-up Bryson Martin of Narrows. McComas had placed fourth in the shot put with a mark of 45-10.
"I was ranked ninth in the shot, but I said I've got nothing to lose, I might as well go out there and let it fly," McComas said. "I broke my personal record twice in that and it gave me the confidence moving on to the discus."
A three-time individual state wrestling champ, a state tournament qualifier in golf, a two-way standout in football and a guy who resurrected his baseball career after many years away from the sport this spring added state champion discus thrower to his extensive resume. He certainly made the most of his four years at Grundy.
"I wouldn't change a thing," McComas said. "I had a lot of people supporting me all year and this was really the best senior year you could ask for"
Chilhowie's Tess Somervell (800, 2:33.99), Hurley's Arianna Endicott (discus, 110-0), Rural Retreat's Olivia Crigger (100 hurdles, 17.47 seconds) and George Wythe's McKenzie Tate (400, 1:02.29) were among the runner-ups on the girls side, while Chilhowie's Jonathan Gilley (400, 51.65 seconds), Rural Retreat's Chris Sizemore (long jump and high jump) and George Wythe's 4x400 relay team (3:39.41) finished second on the boys side.
However, the main story was Maiden.
Bound for Milligan University to play volleyball and compete in track and field if time permits, her final act at Patrick Henry capped an unforgettable tenure at the school.
"It has been an adventure and the ride of a lifetime," Maiden said. "It really has."