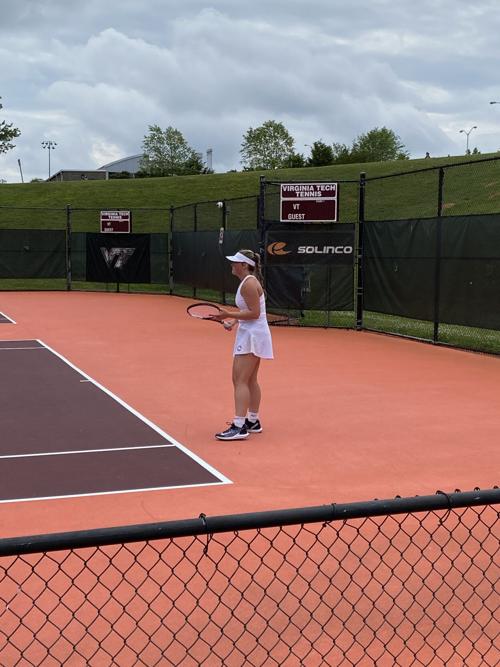 Hannah McAmis is already the owner of two state championship rings, gaining possession of those coveted pieces of jewelry as a freshman and sophomore while playing basketball for the Wise County Central High School Warriors.
In the final days of her athletic career at Central, McAmis is aiming to add a couple of more titles to her collection.
McAmis has a busy two days ahead on the tennis courts at Virginia Tech.
Central (11-0) plays Poquoson at noon in the VHSL Class 2 championship match, while McAmis will team with Tellie Stafford on Friday to face Radford's Harper Minarik and Trinity Adams in a state semis double match.
Going out on top is the goal for McAmis.
"It's everyone's dream to get there," McAmis said. "It's thrilling and bittersweet at the same time knowing [these matches] will be my last."
McAmis has certainly made plenty of memories over the course of the past four years.
A relentless rebounder on the basketball court, she earned honorable mention All-Mountain 7 District honors in hoops twice.
Volleyball is her top sport as she finished her four seasons with a program-record 1,453 digs and has signed to play the sport for the University of Virginia's College at Wise Highland Cavaliers.
She threw the discus and shot put for Central's track and field squad this spring.
McAmis also happens to be a talented tennis player.
"Hannah is a multi-sport athlete, so with that comes extra layers of competitiveness and leadership that makes her fun to coach," said Central coach Angela Duncan, who also happens to be McAmis' aunt. "I know, in her mind, she's always playing out scenarios and how to attack. That's what is most impressive about her as a tennis player is in her shot selection and decision making. She's always trying to outthink her opponent. And again, her experience from playing other sports makes her a tough competitor."
McAmis holds down the No. 1 singles spot for an experienced crew.
Five of the six players in Central's lineup are seniors as McAmis, Stafford, Kally Hughes, Sydney Linkous and Abby Duncan will play their final team match today. Sophomore Jaida Meade plays No. 5 singles for the Warriors.
"We are strong from top to bottom," McAmis said. "When you see us play we might not look like your typical tennis team, but we are determined, mentally tough, and strong competitors. We have an amazing coaching staff that has pushed us from the beginning to get where we are now."
Poquoson also has a senior-laden lineup and the Islanders were the fourth seed in the Region 2A tournament.
"We are a humble team of motivated and nice girls," said Poquoson coach Benjamin Morgan. "We were seeded low in our region due to how they seed teams, so we had to travel a lot and we have had no fear traveling to far off courts to play unknown opponents, so I know the girls will be ready for Thursday."
Central advanced with a 5-3 win over Radford in Monday's state semifinals.
"When we finished singles 3-3, we regrouped and doubles knew they had to get the job done," Duncan said.
Speaking of doubles, McAmis and Stafford will be pulling double duty this week.
"Tellie and I have been playing together since we were freshmen," McAmis said. "There's no other person I would want on the court beside me in doubles. Our opposite ways of playing attract and we move and work well together."
Wise County Central finished as state runner-up in 2015, 2016 and 2017.
J.J. Kelly, which consolidated with Pound to form Central in the fall of 2011, won eight state titles.
McAmis hopes to make some history this week and help add another trophy to the case at her school.
"We have worked exceptionally hard in a small amount of time to get where we are," McAmis said. "We are excited, focused and ready to play."
Meanwhile, the Thomas Walker twosome of Dannah Saylor and Leslie Gibson in Class 1 and the pairing of Lauren Wimmer and Lauren Goodman from Abingdon in Class 3 will play in doubles competition on Friday.
The singles tournament is Saturday in Blacksburg with Saylor (Class 1), Gate City's Amelia Jennings (Class 2) and Wimmer (Class 3) representing far Southwest Virginia.