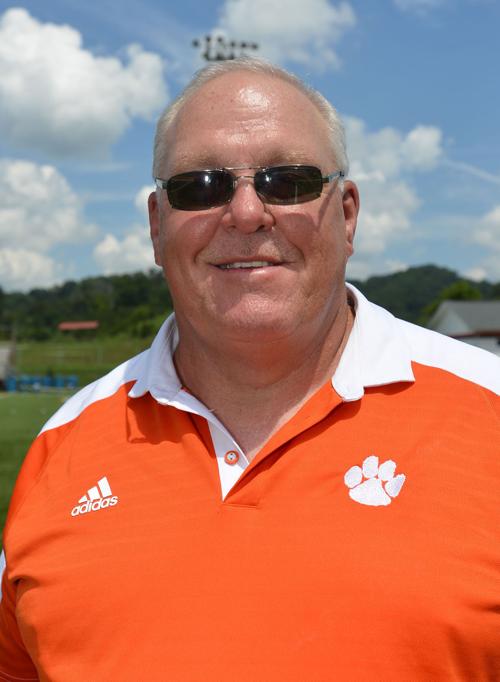 Doug Hubbard has been the head football coach at Honaker since 1983 and during that time has witnessed his share of changes, shifts, realignments, consolidations and innovations in regards to the sport at the high school level.
"I've pretty much seen about everything you can throw at me," Hubbard said.
Well, the 60-year-old dean of gridiron bosses in far Southwest Virginia is about to experience something unprecedented – a March kickoff.
The Virginia High School League's Executive Committee voted by a 34-1 margin on Monday morning to go with a truncated 2020-21 sports calendar that would take place from Dec. 14-June 26.
Basketball, wrestling, swimming, indoor track and gymnastics would be held from Dec. 14-Feb. 20, with the first contest on Dec. 28.
Football, golf, volleyball, field hockey, cross country and competitive cheerleading would run from Feb. 15-May 1 with the initial games, matches and meets set for March 1.
Baseball, softball, soccer, lacrosse, tennis and outdoor track and field will be held from April 12-June 26 with April 26 as the first date for events to be held.
Each sport will play 60 percent of a regular schedule and the Executive Committee's meeting next month will determine postseason formats.
"I expected the VHSL to choose on the side of safety for our student-athletes," said Grundy boys basketball coach Brian Looney. "Doesn't make it easier to accept at all, but I expected and understand our present situation with sports in Virginia."
Virginia is currently in Stage III of Gov. Ralph Northam's reopening plan amid the coronavirus (COVID-19) pandemic and a lot could change from now until December.
"The dates that you see right now might not be the dates that are etched in stone," VHSL Executive Director Billy Haun said. "There could be some adjustments as we move forward. … If we were to move beyond Phase III or move backwards from Phase III, the Virginia High School League would have to look at a different plan and how the difference in the data affects us."
Regardless, there will be no high school football in the Commonwealth this fall.
"It's something you really never thought of until the last couple of months," Hubbard said. "We were originally supposed to start practice on Thursday for football. It'll be the first time in about 50 years I haven't had football in some form or another in the fall. I started playing when I was 10-years-old. But at least we're having it and that's a good thing. Once they let us know how the schedule sets up, we'll be able to make plans for that. We'll lift weights, get ready and do more to get prepared for it."
Two other models were also considered. One would have kept the calendar status quo, but with the current protocols and restrictions in place, football and volleyball seasons would've been canceled. The other option would have had spring sports (except soccer and lacrosse) played in the fall and vice versa.
The third model passed almost unanimously.
"We wanted an opportunity for the kids to compete and as a region, we supported that model," said Virginia High athletic director Brad Harper. "Because it gives everybody an opportunity."
While the plan has its share of vocal critics, it beats the alternative of a canceled football season.
"My initial reaction to the news was relief," said Wise County Central running back C.J. Crabtree. "Although I love the tradition of playing football in the fall, playing it in the spring is better than not playing at all. Playing in the spring will be different, but I do not see it as a negative change. It's something that will make my senior season even more memorable. … I'm extremely thankful to be able to play my senior season, regardless of it being scheduled in another part of the year."
The Tennessee Secondary School Athletic Association (TSSAA) and West Virginia Secondary School Activities Commission (WVSSAC) are currently planning to hold a 2020 football season, albeit with a delayed start.
Could some players from far Southwest Virginia transfer across the border to play for schools in those states? Sure.
Could those same players then come back and play prep football for a VHSL school in the spring? No, according to VHSL Associate Director Tom Dolan
"If they play that sport in another state or for a non-VHSL school, they are not eligible to play that sport when they come back to the VHSL," Dolan said. "That would be a second sport [season] in the same school year and that is not allowed by rule."
Some rivalry games would not take place this fall if bordering states are playing schedules in opposite seasons.
The last time Virginia High and Tennessee High didn't play football was 1943 when World War II was raging.
Graham will not play rival Bluefield of West Virginia on the gridiron for the first time since 1937.
Harper revealed on Monday that the Bearcats had contemplated the possibility of not playing THS on the gridiron in the future.
"We already had a meeting discussing not continuing the football series with Tennessee High after the current cycle," Harper said. "Due to COVID-19 and this decision, that came a little sooner and it's not going to be played this year."
A VHSL-sanctioned event hasn't been held since March 12 when Gate City (girls) and John Marshall (boys) won Class 2 state basketball titles. The Class 1, 3, 4, 5 and 6 finalists were declared co-state champions after a state of emergency was issued by Northam that day and their title games were canceled.
"Since March 12 it seemed like everything kind of turned upside down, " said Honaker girls basketball coach Misty Davis Miller, whose Tigers were Class 1 co-champs with Surry County. "I will never forget the look on my team's face when I brought them together in the lobby of the hotel right before it was time to board the bus to go play the championship game. …. I truly think it has driven them to overcome this adversity and work that much harder to obtain that goal this upcoming season. We just all pray we will be able to get that opportunity."
Miller is among many folks in the area who coach multiple sports as she was recently named the head volleyball coach at Honaker to go along with her hoops duties. The time crunch for individuals like her will be felt with condensed seasons.
The VHSL did say that conditioning and agility sessions – which have been taking place since June – could continue.
"My players that have been with me in the past know that if I'm not organized that it drives me crazy," Miller said. "I hope to have everything ready to go for both sports just as soon as we are given the green light to go. I am excited for both seasons."
Meanwhile, Doug Hubbard's 38th season at the helm of Honaker's gridiron program will be unlike any of the previous 37.
"We can sit here and look at all the negatives and complain, but that's not going to change anything," Hubbard said. "We have to accept what we've got, figure out a good way to go about it and move forward. That's kind of the approach I take on most things – look at the positives."
Be the first to know
Get local news delivered to your inbox!