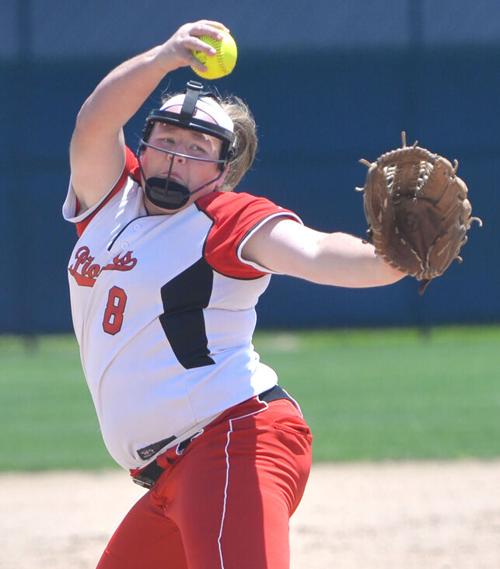 LEBANON, Va. – It was the closest game that Lebanon softball has played and the least runs they've scored this season.
Lebanon came in averaging 13 runs a game, making the score in this outing more intense than usual. Still, they scored enough to secure victory, advancing to the Southwest District softball championship with a 4-2 win over visiting Marion on Wednesday afternoon.
"It was a tight game, we were fortunate to pull this one out," Lebanon head coach Dennis Price said. "We didn't hit the ball as well as we normally do and that's a compliment to Marion's pitcher, she did a good job. We just have to learn from it."
Madi Bystrek went the distance in the circle for the Scarlet Hurricanes. She only struck out one Lebanon batter, but they had trouble squaring up the ball against her.
"We went with Madi today, she doesn't have the speed that some of our other pitchers do," Marion coach George Robinson said. "She had decent control, some movement, and she kept them off-balance a little bit, so I was really happy with the way that turned out."
It was scoreless until the bottom of the third. Emily Musick started things off for the Pioneers by beating out an infield single to deep short. Tatum Dye walked to set the table for Morgan Varney. The sophomore ripped a two-run double down the left-field line. Maggie Lampkin added an RBI single. Lampkin made her way around the bases, eventually scoring on a wild pitch to put Lebanon up 4-0.
"I was excited that we got on the board," Musick said. "I knew Marion would come through at some point. More than anything I was proud of my teammates for coming up behind me and keeping it going."
Adrienne Morrison was solid in the circle for the Pioneers, keeping the Hurricane scoreless until the sixth. Gabby Whitt opened the inning with a single. Elena Williams and Taylor Preston followed with hard-hit back-to-back RBI doubles to cut Lebanon's lead in half.
"Timely hits," Robinson said. "Williams and Preston have been hot for us all season, when they get the bat on the ball it moves. Really good timely hits, I think we put some pressure on Lebanon, I'm really proud of how we played."
Preston was standing on second with no one out, bringing the tying run to the plate for Marion three times. Morrison was up to the task, inducing two groundouts, and a popup to shut down the rally.
Marion (8-6) will face Virginia High in consolation play today for the SWD third slot in the regional tournament next week. The two teams split in the regular season.
"Virginia High is a good hitting team," Robinson said. "We'll have to show up ready to play tomorrow. This was a close loss, we can't let this get us down."
As has been the case for the last few years, it will be Lebanon (13-0) and Richlands in the SWD softball finals at 6 o'clock.