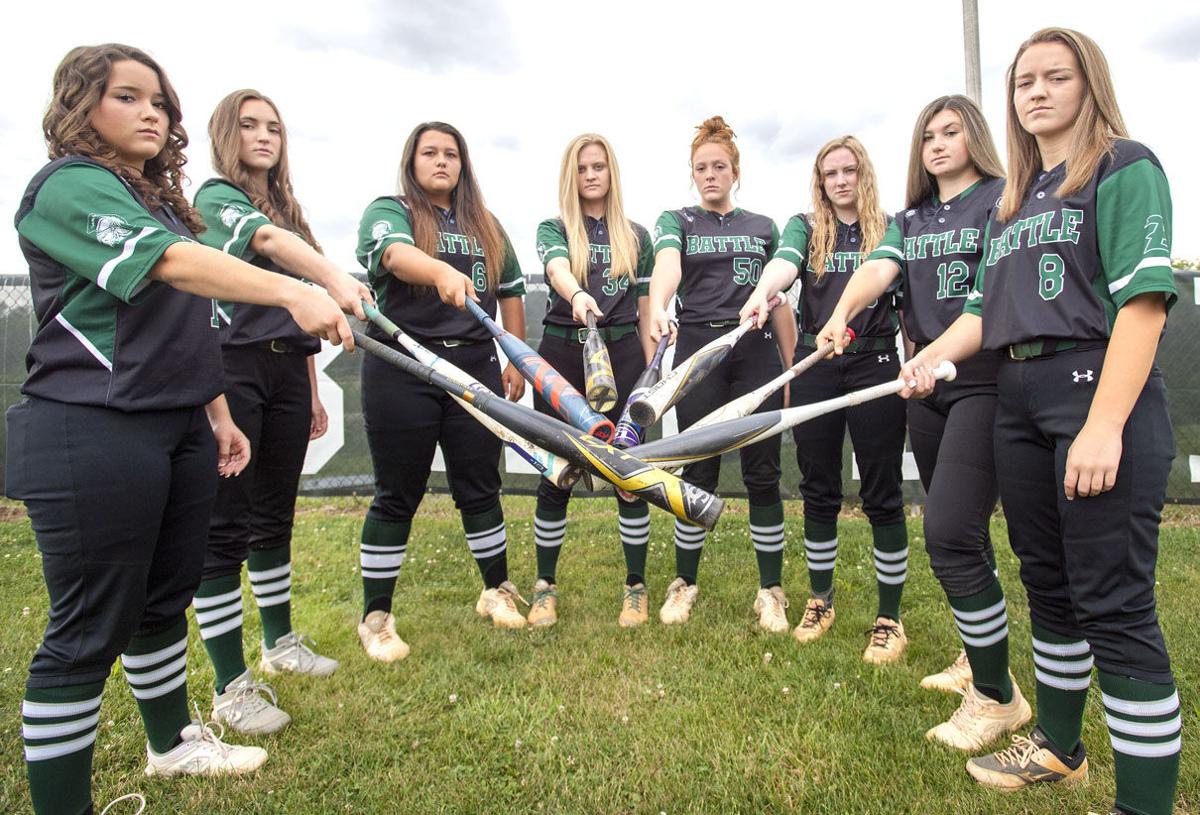 BRISTOL, Va. – John Battle High School senior Logan Leonard lashed two home runs in a Mountain 7 District softball win at Ridgeview last month and one of those longballs left an impression on head coach Hannah Light Cress of the Trojans.
"Ridgeview has a big field and the wind was blowing in," Cress said. "But she killed that ball and I swear I think it's still going."
That prodigious clout has been just one of the highlights of a season-long hit parade for the undefeated Trojans, who are the owners of 29 home runs entering this week's Mountain 7 District tournament.
Remember that total has been achieved in just a dozen games.
Also keep in mind those homers have been produced by eight different players as Leonard (8), Hanna Jo McReynolds (7), Alyssa Kate Wallace (5), Charleigh Gobble (4), Eden Wallace (2), Jordan Roulett-Wheeler (1), Ellie Keene (1) and Makayla Rutledge (1) have gone yard.
Softballs have exited the ballpark near Interstate 81's Exit 7 and some other fields in Southwest Virginia at a rapid rate courtesy of Battle's Bombers, The Battle Hill Blasters, Washington County Wallopers, Touch 'Em All Trojans or whatever nickname you want to pin on this loaded lineup.
"We have full confidence in everybody that comes up to hit," said Keene, a senior. "It's just good to know that everybody in the lineup has the capability to hit one out."
There are several reasons for this power surge.
"We see a lot of live pitching and I think that's the key," Cress said. "We've seen no pitching machines and we try to work on our timing and just hitting the ball up the middle and to the gaps. We work a lot on small ball as well. We know the further we get in the postseason that's going to be a big thing. We're not going to hit four or five home runs every game."
Battle plays in one of the coziest softball fields in the area with the rough estimates of 205 feet down the right-field line, around 195 to center and about 190 to left. Yet, this is not a team that is just the byproduct of its ballpark.
"We really don't try to hit home runs," Cress said. "Our hitting philosophy here is line drives up the middle and gap-to-gap. That's what we work on every single day. We took batting practice one day and I made them run if they hit one over the fence. Not saying that's bad, but we want to get runners on so if we do hit a home run, it's not just a solo shot."
Leonard has certainly been hitting the ball to all fields and is the owner of a sublime .587 batting average.
"That's what you should want out of a senior – she's stepped up," Cress said. "Every time she steps in the box, you know she's going to hit it hard and give it her best. The thing is she has the potential to hit the ball out of the park every single swing."
Leonard will play softball at King University, but before that happens she wants to make the most of her final few weeks in a Battle uniform.
"Just the fact this is my last ride here," Leonard said. "I want to do what I can for my team."
This is a team that has struck out just 50 times and owns a collective batting average of .349.
The term pick your poison applies to this balanced squad.
"No one is an easy out," said Abingdon coach Luke Wampler, whose Falcons have lost twice to the Trojans. "From top to bottom, you have to try to pitch to every batter as if they could hurt you, and most of the time they do."
The Trojans have been tested a time or two, however, by their district foes.
"The Mountain 7 District is tough competition," Cress said. "The tight games, the ones we've come from behind and had the big innings and battled back; those are going to help us in the postseason."
Many folks in Southwest Virginia are looking forward to a potential matchup between Battle and the Lebanon Pioneers – who are also 12-0 and have an explosive offensive attack of their own – that could occur in the finals of the Region 2D tournament.
Regardless, Battle just hopes to keep winning games and hammering home runs.
"It's taken a lot of hard work to get where we are," Leonard said.