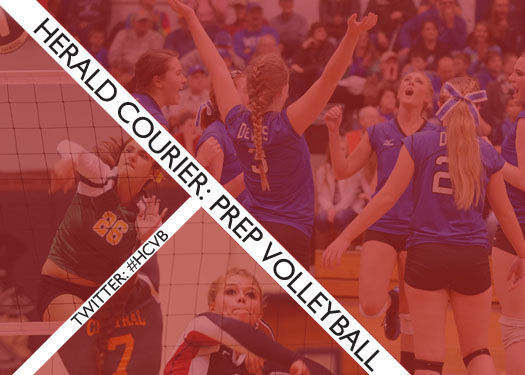 Holston cruised to a 25-7, 25-5, 25-9 volleyball victory over the Council Cobras on Tuesday night as Madeline Statzer put on a clinic of how to serve.
Statzer unleashed 17 aces to lead the way for the Cavaliers, while Maddie Bowers collected eight kills and Felicity Bonilla dished out 18 assists.
Honaker 3, Castlewood 0
Autumn Miller dished out 22 assists and Riley Hart slammed down eight kills as Honaker collected a 25-10, 25-22, 25-22 win over Russell County rival Castlewood.
Layne Bush's four kills, Lauren Johnson's three kills and a three-kill, two-block, two-ace performance from Montana Sutherland were the highlights for Castlewood.
Union 3, Lee High 0
Brooke Bailey played well on defense (four digs), at the net (four kills), at the service line (two aces) and as a facilitator (28 assists) as the Union Bears opened Mountain 7 District play with a 25-13, 25-13, 25-15 win over Lee High.
Isabella Blagg (11 kills, nine digs, four aces), Gracie Gibson (12 digs), Jordan Shuler (eight digs, six kills), Gracey McKinney (six kills, four digs) and Shae Henderson (six kills) also helped the Bears improve to 6-3.
Lee (0-4, 0-1) was led by Chloe Calton's five kills and Katie Hammonds' seven-assist, four-ace showing.
Gate City 3, Abingdon 0
Makayla Bays delivered 15 kills as the Blue Devils posted a 25-17, 25-13, 25-16 sweep.
Ashley Stanley (27 assists) and Brylee Holder (11 kills) also played well for GC.
AHS was led Jennings Woods (eight digs, five kills), Ella Woods (five kills) and Ella Kiser with 11 assists.
Sullivan East 3, Elizabethton 0
Hannah Hodge had 10 digs and eight kills, and Jenna Hare tallied eight kills and three digs to lead the Patriots to a 25-16, 25-22, 22-12 Three Rivers Conference win over the Cyclones.
Avery Johnson (two blocks), Mia Hoback (28 assists) and Hayley Grubb (17 digs) also contributed for the Patriots (8-4, 5-21).
Grundy 3, J.I. Burton 0
Jessi Looney put together a 14-kill, 10-dig, five-ace masterpiece in leading the Grundy Golden Wave to a 25-21, 26-24, 26-24 win over the J.I. Burton Raiders.
Maddie Yates' 24 assists and Maggie Viers' 22 digs were also key as Grundy (3-6) won its third straight match.
Rehgan Sensabaugh (14 kills, three blocks), Savannah Adams (nine digs) and Abigail Absher (eight digs) also played well for the Raiders.
Patrick Henry 3, Richlands 0
Lauren Stauffner stuffed the stat sheet with 14 kills, five digs and two aces as the Patrick Henry Rebels improved to 12-1 with a non-district road win.
Logan Newberry (35 assists, four kills), Avery Maiden (17 kills, five digs, three aces) and Zoe Miller (17 digs, two kills) also played well for the Rebels.
Marion 3, Chilhowie 1
Ella Moss rolled up seven kills, five digs and three blocks as the Marion Scarlet Hurricanes earned a 25-15, 25-18, 16-25, 25-15 win over Smyth County rival Chilhowie.
Amber Kimberlin (11 assists, six kills, five digs), Gabby Whitt (eight digs) and Hayley Freeman (20 service points, 12 assists) were standouts for the 'Canes too.
Chilhowie received nine kills from Chloe Adams.
Tennessee High 3, Volunteer 1
Sydnee Pendland hustled her way to 23 digs as the Tennessee High Vikings remained atop the Three Rivers Conference with a 21-25, 25-9, 25-21, 25-20 win over Volunteer.
Madison Blair (12 kills, 10 digs), Marae Herrmann (nine kills), Marley Johns (nine kills), Sophie Meade (eight kills), Madison Curtin (21 assists), Eliza Rowe (15 assists) also paced THS.
The Vikings (12-2, 7-0) play at Abingdon on Thursday at 6 p.m.
Lebanon 3, Northwood 1
Morgan Varney's 19 digs, 15 assists and 12 service points led the way for Lebanon in a 25-3, 25-19, 20-25, 25-20 Hogoheegee District road win over Northwood.
Lily Gray (15 digs, eight kills), Mally Jessee (seven kills) and Julianna Stanley (16 service points, 11 digs, seven kills) also powered the Pioneers to the victory.
Sydney Carter's nine kills and Olivia Gats' 36 digs were tops for Northwood.
PREP GOLF RESULTS
At Glenrochie Country Club
Abingdon 295, Gate City 349, Wise County Central 362, Union 370, John Battle 374, Lee High 394, Ridgeview 404
Abingdon – Conner Brummitt 71, Grace Addison 72, Katie Hall 73, Caleb Brummitt 79
Gate City – Ethan Dishner 85, Zack Taylor 85, Colin Keller 89, Evan Lane 90
Wise County Central – Jack England 76, Robbie Wilson 90, Davis Miller 95, Jacob Hughes 101
Union – Ethan Rich 85, Jacob Day 91, Luke Slagle 97, Connor Clendenon 97, Carter Worley 97
John Battle – Tanner Hunnigan 90, Will Crump 91, Will Purifoy 94, Noah Ratliff 99
Lee High – Jacob Leonard 88, Caleb Leonard 90, Chloe Willis 104, Conner Johnson 112
Ridgeview – Dalton Austin 93, Caden Owens 95, Clayton Compton 103, Jordan Rose 113
Notes: Abingdon clinched the Mountain 7 District title.
At Holston Hills Community Golf Course
Marion 331, Northwood 379, Chilhowie 389
Marion – Grayson Sheets 73, Tyler Sayers 78, Ethan Baggett 90, Brigham Blevins 90
Northwood – Skyler Thompson 90, Walker Jones 91, Molly Holmes 94, Chris Salyer 102
Chilhowie – Chase Coley 75, Levi Teaters 102, Jordan Elrod 104, Will Goodwin 108
Tennessee High 164, Sullivan East 182
Tennessee High – Carter Myers 38, Cooper Terry 42, Tripp Lively 42, Alex Jones 42
Sullivan East – Shea Sherfey 43, Justice Dillard 44, Matt Durham 45, Jake Kyte 50
Sullivan East 97, Tennessee High (incomplete)
Sullivan East – Tori Leonard 47, Evie Leonard 50
Tennessee High – Madeline Simcox 34