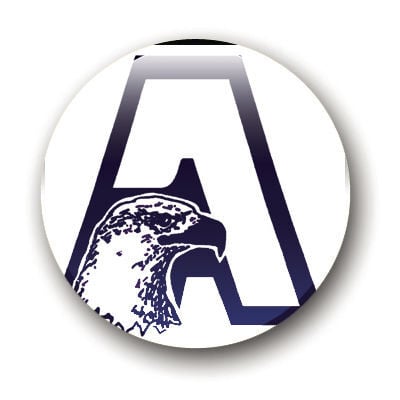 Malique Hounshell made himself at home in the end zone at Legion Field on Tuesday night.
The Abingdon High School star rushed for 226 yards and scored seven touchdowns as the Falcons outlasted Gate City for a 63-39 victory in a high-scoring Mountain 7 District football clash.
Cole Lambert added 270 passing yards and three TDs for AHS (6-1), while Bishop Cook's 113 rushing yards, Haynes Carter's 143 receiving yards and Peyton McClanahan's 118 receiving yards also keyed the win. The Falcons finished with 591 yards of total offense.
Hounshell ripped off scoring runs of 8, 2, 6, 28, 18 and 54 yards, while also hauling in a 9-yard scoring strike from Lambert.
Gate City (2-4) piled up 334 yards of its own and built leads of 27-21 and 33-28. However, Abingdon pulled away from the Blue Devils down the stretch.
Lee High 57,
Eastern Montgomery 34
Lee High ran its winning streak to three games with a win over the Eastern Montgomery Mustangs in a game played at Emory & Henry College as Brynnen Pendergraft passed for 240 yards and four touchdowns
After snapping a 26-game losing streak on Oct. 2 against Rye Cove, head coach Joey Carroll's club owns wins over J.I. Burton and Eastern Montgomery. It is the program's first three-game winning streak on the gridiron in four years.
Grayson Huff rushed for three scores for the Generals, while Jace Perkins (six receptions, 158 yards, two TDs) and Dustin Regan (three catches, 64 yards, two TDs) were Pendergraft's top receivers.
Eastern Montgomery was led by Eli Brown's 138 rushing yards. 
Eastern Montgomery    6          8          6          14—34
Lee High          21        22        0          14—57
L – Huff 11 run (Dinsmore kick)
EM – Akers 1 run (pass failed)
L – Huff 4 run (Dinsmore kick)
L – Regan 40 pass from Pendergraft (Dinsmore kick)
L – Perkins 46 pass from Pendergraft (Dinsmore kick)
EM – E. Brown 96 run (Burlson pass from Akers)
L – Regan 21 pass from Pendergraft (Rutherford run)
L – Perkins 62 pass from Pendergraft (Dinsmore kick)
EM – E. Brown 1 run (run failed)
L – Huff 6 run (Dinsmore kick)
EM – Burlson 20 run (Burlson run)
L – Fischer 6 run (Dinsmore kick)
EM – Via 23 run (run failed)
First Downs: EM 23, L 25; Rushes-Yards: EM 44-368, L 34-166; Passing Yards: EM 47, L 240; Comp.-Att.-Int.: EM 4-11-2, L 10-15-0; Fumbles-Lost: EM 4-3, L 4-2; Penalties-Yards: EM 8-34, L 9-80; Punts-Average: EM 1-27, L 0-0
Wise County Central 3, Union 1
Bayleigh Allison (24 kills, 13 digs), Emmah McAmis (28 kills, 21 digs, three blocks) and Emilee Mullins (47 assists, 14 digs) led the Warriors past the Bears 25-19, 23-25, 25-23, 25-15 in Mountain 7 District action.
Montana Stafford (10 digs) and Kat Hopkins (16 points, five blocks) also contributed for Wise Central (14-6, 6-3).
Union (10-10, 4-5), which travels to first place Gate City today, was led by Isabella Blagg (23 kills, 14 digs), Brooke Bailey (42 assists, 10 digs, four kills, two blocks), Gracie Gibson (36 digs), Jordan Shuler (19 digs, 10 kills, six blocks) and Gracy McKinney (11 digs, six kills).
Wise Central won the junior varsity match 26-24, 25-16.
Marion 3, Tazewell 0
Amber Kimberlin contributed 10 assists and six kills, and Anny Hagy added 19 service points, six aces and three kills in a 25-13, 25-15, 25-9 Southwest District win over the Bulldogs.
Marion (11-8) also received six service point and five kills.
John Battle 3, Lee High 0
Allison Smith had eight digs and six aces, and Mackenzie Smith tallied 16 assists, six digs and five kills to lead the Trojans to a 25-10, 25-15, 25-13 Mountain 7 District win over the Generals.
Molly Little (12 kills), Jacqueline Hill (14 assists), Jenna Adkins (six digs) and Rylan Kestner (five kills) also contributed for John Battle.
Lee High was led by Cassidy Hammonds (six blocks), Emily Smith (10 digs) and Asia Parsons (four kills).
Northwood 3, Holston 1
Karlee Frye contributed 10 kills, 10 digs and two aces, Sidney Carter provided 11 digs, nine kills and eight assists, and Olivia Briggs tallied 28 digs to lead Northwood to a 22-25, 25-16, 25-22, 25-22 Hogoheegee District win over the Cavaliers.
Holston was led by Taylor Cornett (29 digs), Madeline Statzer (eight digs, five kills, five aces), Zoe Eldreth (20 digs, nine kills, two aces) and Felicity Bonilla (14 assists, nine digs).
Grundy 3, Council 0
Savannah Clevinger had 20 kills and four aces, and Maddie Yates dished out 28 assists to lead the Golden Wave to a 25-6, 25-17, 25-5 Black Diamond District win over the Cobras.
Madie Owens added 22 service points and Cadie Stiltner tallied 11 kills for Grundy (9-8, 4-2), which is currently in second place behind Honaker in the BDD.
Rye Cove 3, Castlewood 0
Kaylee Lamb's nine kills, Eva Roach's 27 assists and Abby Lewis' 14 digs were vital to Rye Cove's 25-5, 25-23, 25-10 Cumberland District victory over Castlewood.
Castlewood was led by Madison Sutherland's three kills and Karly Maxfield's eight assists.
Elizabethton 2, Tennessee High 1
The Elizabethton Cyclones converted two goals in the final 15 minutes to stun Tennessee High in the semifinals of the TSSAA District 1-AA tournament. THS (9-4-1) got its lone goal from Riley Miller as the Vikings saw their season come to an end.
Dobyns-Bennett 1, West Ridge 0
It took an overtime goal for the Indians to defeat West Ridge in the Region 1-AA semifinals.