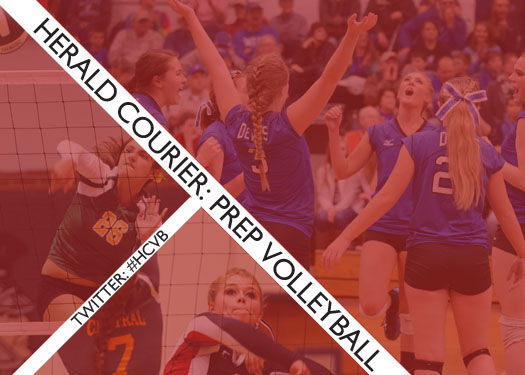 Tinley Hamilton had 21 assists, eight digs and six kills as Eastside earned a 26-24, 25-18, 26-24 win over Rye Cove on Thursday night in a Cumberland District volleyball showdown.
Taylor Clay (26 digs, 11 kills), Gabby Gray (seven kills), Lexi Love (18 digs, four aces), Leci Sensabaugh (19 digs, 11 kills) and Savannah Stanley (20 digs) also helped the Spartans record the impressive sweep.
Rye Cove was led by Laken Sharpe's 24 digs and Eva Roach's 29 assists.
Honaker 3, Twin Valley 0
Autumn Miller was on point once again for the Honaker Tigers.
A night after establishing a single-match school record with 42 assists, Miller assisted on 20 kills and also tallied 19 service points in a 25-6, 25-15, 25-22 Black Diamond District triumph over Twin Valley.
Honaker (8-3) also received 10 kills from Ana Mantovani.
Virginia High 3, Richlands 0
Caleigh Hampton dished out 27 assists and also hustled her way to 12 digs as Virginia High made quick work of Richlands in a 25-11, 25-15, 25-20 Southwest District victory.
Dianna Spence (nine kills, eight digs, four blocks), Adie Ratcliffe (nine kills, 11 digs, five blocks) and freshman Amelia McKenzie (eight kills) benefitted greatly from Hampton's astute assists.
Aidan James (16 digs) and Caroline Clifton (nine digs) played well defensively for the Bearcats.
Ridgeview 3, Lee High 0
Caiti Hill (25 digs) and Braelynn Strouth (19 digs) provided tough defense as Ridgeview rolled to a 25-19, 25-15, 25-16 Mountain 7 District victory over the Lee High Generals.
Kassidy Rasnick's 33 assists, Hailey Sutherland's seven kills and Leah Sutherland's five kills also contributed to the win.
Patrick Henry 3, Lebanon 1
Lauren Stauffer had 15 kills, six blocks and three aces in helping Patrick Henry post a 21-25, 27-25, 25-8, 25-9 Hogoheegee District win over the Lebanon Pioneers.
Logan Newberry (37 assists, 10 digs), Avery Maiden (19 kills, 10 digs, four aces, three blocks), Baleigh Belcher (nine digs), Addie Hahn (11 digs, six kills) and Zoe Miller (15 digs, four aces) also helped PH bounce back from a loss to Chilhowie in its league opener.
Chilhowie 3, Rural Retreat 0
Hannah Goodwin helped Chilhowie earn a good win, finishing with 12 digs, nine kills and two aces in a 25-6, 25-17, 25-17 victory over Rural Retreat.
The Warriors (8-4, 2-0) relied on a balanced attack as usual with Mari Beth Bordwine (nine kills), Kenna Russell (13 digs), Lakken Hanshew (seven kills), Josie Sheets (13 assists, 11 digs, five kills) and Chloe Adams (12 assists, seven digs) playing well too.
Wise Central 3, Abingdon 0
Emmah McAmis had 19 kills, 14 digs and 10 service points as Wise County Central beat Abingdon for the first time in program history on Thursday, taking a 25-17, 25-11, 25-21 decision over the Falcons.
Bayleigh Allison (15 kills, seven digs), Montana Stafford (10 digs) and Emilee Mullins (27 assists) also keyed the historic win for the Warriors.
Abingdon (1-2, Mountain 7) was paced by Megan Cooper (13 digs), Ella Woods (four kills, 2 blocks), Caroline McLaughlin (five kills, 2 blocks), Ella Kiser (nine assists, eight digs) and Jennings Woods (seven digs, four kills).
Thomas Walker 3, J.I. Burton 1
Thomas Walker topped J.I. Burton 25-9, 22-25, 25-19, 25-19 as Lakin Burke was the tone-setter with 17 kills, 14 service points and two blocks.
Raelyn Cope (13 service points, eight digs), Autumn Collingsworth (14 kills), Karlie Jones (10 service points, four kills) and Kali Woods (five kills, three blocks) were the other standouts for the Pioneers.
Grundy 3, Council 1
Maddie Yates contributed 36 assists, 11 digs and 10 aces, and Kaylee Compton added seven kills and seven digs to lead the Golden Wave to a 24-26, 25-11, 25-12, 25-14 Black Diamond District victory over the Cobras.
Jessi Looney had 21 kills and six digs for Grundy (4-7). Maggie Viers tallied 23 digs.
The trio of Kaylea Elswick (six digs, six service points), Isabelle Stevens (13 digs) and Izabella Ratliff (five kills, four digs) were the leaders for Council.
West Ridge 3, Dobyns-Bennett 1
Rylee Haynie had 11 kills and Rachel Miller, Olivia DeLung and Casey Wampler had five apiece in the Wolves' 25-19, 23-25, 25-15, 25-15 Big 5 home victory over the Indians.
Marleigh Pendleton had 14 assists and nine digs. DeLung also had 24 assists for West Ridge. Isabella Musick had four blocks in the win.
Sullivan East 3, Unicoi County 2
The Patriots pulled out a five-set victory to defeat the Blue Devils in the Mountain Lakes Conference action.
West Ridge 0, Sullivan East 0
Two first-year programs played to a draw on senior night in Blountville.