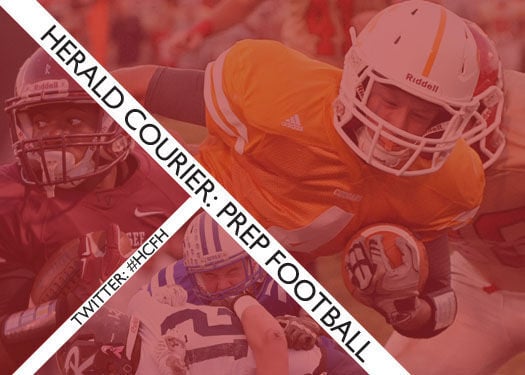 Tennessee High at Volunteer
Last meeting: Tennessee High 34, Volunteer 14 (Oct. 2, 2020, at Bristol)
The first of three straight road games for Tennessee High (2-3), the Vikings are 24-1 all-time against the Falcons, with the lone loss coming 2007. Only two of the last 10 wins in a row have been decided by less than 20 points. Volunteer (3-3) has won two straight and three of its last four games, led by talented quarterback Garrison Barrett. Tennessee High snapped a two-game skid last week with a crucial Mountain Lakes Conference win over Morristown West, with Levon Montgomery rushing for 245 yards. More of the same tonight?
Prediction: Tennessee High 27, Volunteer 21.
Sullivan East at Union County
Last meeting: Sullivan East 35, Union County 12 (Sept. 18, 2020, at Maynardville)
There is little doubt the Patriots will win this one. It remains to be seen which one. These clubs have split four meetings since they first matched up in 2017, and all four wins have been road victories. Sullivan East (1-6) has lost four straight, including a couple of heartbreakers by 1 and 7 points, with turnovers having been a definite issue. Union County (1-5), who have losses by 8 and 2 points, scored 40 in its lone win over Claiborne County and have just 42 in their four defeats. This will be a close one, with the Patriot finishing on top.
Prediction: Sullivan East 23, Union County 21.
West Ridge at David Crockett
This will be the last of six regular season road games for the Wolves (3-2, plus a COVID win), who have won two straight, while the Pioneers (5-2) have won three in a row, led by Brenden Reid, who has been all-everything for David Crockett. Ethan Bergeron has been a similar weapon for West Ridge, leading the Wolves through the air and on the ground. Eli Topping has been a tackling machine, and will likely be chasing Reid all over the field tonight. This should be one of the better games of the night.
Prediction: David Crockett 28, West Ridge 27.
Last meeting: Lebanon 34, Northwood 6 (Sept. 26, 2008 in Saltville, Va.)
Northwood hasn't played since Sept. 17 due to COVID-19 issues within the program. Blaine Joannou, Denim Kirk and CB Johnson have played well for the Panthers. … Injuries have hampered Lebanon, but head coach Michael Webb has seen improvement each week. Quarterback Hunter Musick has passed for more than 100 yards in the past three games, while running back/linebacker/kicker Carter Dillon and two-way lineman Isaak Olvera have impressed. … The Pioneers are 13-1 all-time against Northwood, so look for Lebanon to celebrate its first Hogoheegee District football win in 15 years this evening.
Prediction: Lebanon 28, Northwood 7
Last meeting: Holston 20, Patrick Henry 12 (Feb. 27, 2021 in Damascus, Va.)
Along with Ridgeview's trip to Union, this is the biggest game on the docket tonight in far Southwest Virginia. … Holston (5-0) is averaging 34 points per game, while allowing just 8.2 points per contest. … PH (4-1) is averaging 43.6 points per game, while allowing 24 points per contest. The only loss for the Rebels was a 66-40 setback to unbeaten Virginia High. … Seeing Holston's core of experienced and hard-hitting linebackers go against PH's powerful running back tandem of Connor Beeson and J-Kwon McFail will be worth the price of admission.
Prediction: Holston 30, Patrick Henry 28
John Battle at Wise County Central
Last meeting: Wise Central 56, John Battle 34 (Oct. 11, 2019 in Wise)
John Battle has scored just 13 points on the season, with sophomore quarterback Braxton Emerson providing both touchdowns. The winless Trojans allow over 245 yards rushing per game. …Wise Central (2-3) is on a three-game losing skid, but the Warriors churned out 193 yards rushing from their Wing-T attack last week at Abingdon. Senior linemen such as Drew Belcher, Hunter Kiser and Daniel Hawkins created large holes, while running back Matthew Boggs bounced off tacklers and made wise cuts.
Prediction: Wise Central 49, John Battle 0
Last meeting: Union 32, Ridgeview 26 (Oct. 11, 2019, in Big Stone Gap)
Look for fans to arrive early at tradition-rich Bullitt Park for this showdown. …The two headliners on offense are Ridgeview freshman quarterback Ryan O'Quinn and Union senior running back Zavier Lomax. O'Quinn has passed for over 860 yards with 12 scores, while Lomax has accumulated 11 touchdowns and over 680 yards rushing. …It will also be fun to watch receivers Brandon Beavers (8 TD receptions) from Ridgeview and Malachi Jenkins (6 touchdowns) from Union. …The depth of the Union defense will make the difference.
Prediction: Union 21, Ridgeview 14
Last meeting: Tazewell 21, Richlands 19 (March 13, 2021 in Richlands)
The story in Tazewell continues to be quarterback Carter Creasy. The freshman has thrown for over 1,330 yards and 12 scores, include a school-record six TD connections last week against Grundy. Junior Cassius Harris, freshman Logan McDonald and senior Jared Mullins have been productive receivers, with Harris and McDonald combining for seven scores. … Richlands (1-3) has allowed average of 34 points and over 210 yards rushing against a stiff schedule that has included Graham, Abingdon and Ridgeview the past three weeks. The Blues have generated just 128 total yards rushing in those three losses, but a win over the rival Bulldogs can cure a lot of ailments.
Prediction: Tazewell 28, Richlands 14
Graham at Bluefield, W.Va.
Last meeting: Bluefield 41, Graham 27 (Aug. 30, 2019 in Bluefield, W.Va.)
Graham has averaged 31 points and over 210 yards rushing en route to four straight wins. While Division I prospect Xayvion Turner-Bradshaw has supplied eight touchdowns, the steady work of first-year quarterback Zack Blevins has been vital. The rugged Blevins has passed for eight scores and ran for five. Speedy Ty'Drez Clements is coming off a 129-yard rushing effort against Galax. …Bluefield opened the season with a 39-36 loss at rival Princeton, but the Beavers have not played since then due to COVID-19 issues. Players to watch for veteran Bluefield coach Fred Simon include 6-2 senior quarterback Ryker Brown, senior running back Jaeon Flack and senior receiver Jacorian Green, who won the Class AA 200-meter dash last spring. Bluefield navigated through the troubled COVID-19 landscape last season to advance to the Class AA semifinals.
Prediction: Graham 21, Bluefield 17
Last meeting: Honaker 46, Virginia High 21 (Sept. 24, 2010 in Honaker, Va.)
Virginia High arrived home from Penn Laird, Virginia, at 3:10 a.m. last week after a 49-35 win over the Spotswood Trailblazers in what was a late addition to the schedule for the Bearcats. … VHS (4-0) is averaging a sublime 53.8 points per game with Brody Jones (574 passing yards), Stevie Thomas (703 rushing yards, 105 receiving yards), Patrick Poku (209 receiving yards), Ajaani Delaney (199 receiving yards, 118 rushing yards) among the tone-setters. … Conner Davidson leads VHS in tackles, Donnie Thomas has seven sacks and Poku, Delaney, Taj Streeter and Alijah Burks have each snagged an interception. … Honaker has a high-scoring offense of its own as quarterback Sean Gill directs a unit that is averaging 34 points per game. However, the Tigers are allowing 28.2 points per contest and will face an explosive foe tonight to say the least. … This is the second of four games the Class 2 Bearcats have against Class 1 opponents and the bunch from Bristol should prevail by large margins in all of them.
Prediction: Virginia High 55, Honaker 22
Rural Retreat at Bland County
Last meeting: Rural Retreat 28, Bland County 6 (Oct. 5, 2018 in Bastian, Va.)
Rural Retreat has dropped two in a row after a 2-0 start as the Indians have been plagued by injuries and COVID-19 issues. Inconsistency on offense, especially on the line, hasn't helped the struggles either. … The defense has played well for the Indians, however, despite a couple of big plays here and there. … Rural Retreat should find some relief from those problems against an overmatched Bland County team that is 2-3.
Prediction: Rural Retreat 36, Bland County 8
Twin Valley at River View (W.Va.)
Last meeting: River View 58, Twin Valley 28 (Oct. 11, 2019 in Keen Mountain, Va.)
Twin Valley (4-1) must bounce back after a 50-30 loss to Twin Springs last week spoiled the Panthers' perfect record. … Jeighkob Cooper and Matthew Lester continue to be one of Region 1D's top one-two combinations on both offense and defense. The blend of Cooper's speed and Lester's strength is impressive. … River View is 1-3 and the only victory was a 30-22 overtime win over Hurley. The Raiders have an aggressive and disciplined defense, but they won't be able to slow down the boys from Buchanan County.
Prediction: Twin Valley 37, River View 16
Last meeting: J.I. Burton 56, Lee High 20 (Sept. 13, 2019 in Ben Hur, Va.)
J.I. Burton is 0-5 for the first time since 1969 according to Rick Baker's invaluable database at www.fourseasonsfootball.com and the Raiders must win out to keep their slim playoff hopes alive. … Lee snapped a 26-game losing streak last week and gave Joey Carroll his first victory as head coach of the Generals with a 32-0 win over Rye Cove six days ago, a game shortened to two quarters as injury issues for Rye Cove forced the game to be halted early. … Sophomore Grayson Huff (44 carries, 366 yards, four touchdowns) is a tough runner, while senior lineman Junior Lovell has stepped up in a big way for the Generals. … Former J.I. Burton quarterback Tra Adams is an assistant coach at Lee. … Guys like Jaymen Buchanan, Trey Keys, Brayden Dutton, Isaiah Sturgill, Johnny Williams, Caleb McCurdy, Dauntae Keys, Ethan Hawk and Clay Hart will have to bring it for Burton this evening.
Prediction: J.I. Burton 19, Lee High 18