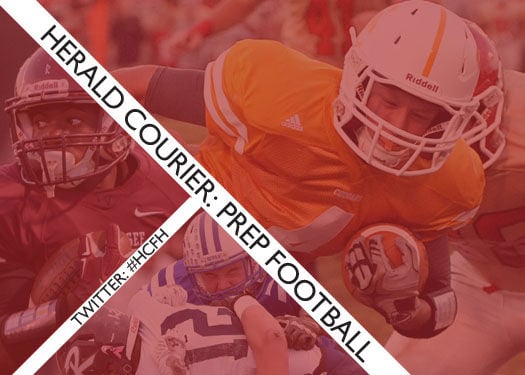 Noah Bolling scored on a pair of short runs set up by a blocked punt and long punt return to lift the Wise County Central Warriors to a 14-7 Mountain 7 District football victory to ruin Todd Tiller's first game as head coach of Ridgeview.
Bolling scored on a 2-yard run third quarter run after the Warriors blocked a Ridgeview punt that went out of bounds at the 5. He would score again on a 1-yard plunge after Ethan Mullins returned a punt nearly 70 yards to the 1.
That score with 1:02 left in the third quarter proved to be the difference in the game.
Ridgeview took a 7-0 lead in the first quarter on a 2-yard scoring pass from Nick Phillips to Brandon Beavers. Toledo signee Trenton Adkins ran for 80 yards on 16 carries for Ridgeview, in addition to recording 10 tackles.
Wise County Central was led by C.J. Crabtree, who finished with 57 yards, while Bolling added 46 yards on the ground. The Warriors didn't complete a pass in the win.
Ridgeview, which punted six times, was called for nine penalties for 90 yards.
Wise Co. Central 0 0 14 0-14
RV- Beavers 2 pass from Phillips 2 pass (Knepp kick)
WC-N.Bolling 2 run (kick good)
WC-N.Bolling 1 run (kick good)
First Downs: WCC 11, Ridgeview 7; Rushes-Yards: WCC 39-149, Ridgeview 28-90; Passing Yards: WCC 0, Ridgeview 59; Comp-Att-Int.: WCC 0-5-0, Ridgeview 5-18-1; Fumbles-Lost: WCC 1-1, Ridgeview 0-0; Penalties-Yards: WCC 5-65, Ridgeview 9-90; Punts-Average: WCC 2-32, Ridgeview 6-32.
Hurley 36, Rye Cove 28
John Matt Justus ran for 191 yards and three touchdowns and Alex Duty added another 117 yards and another score to lead the Rebels past the Eagles in the season opener for both teams.
Hurley scored 14 second-quarter points and 16 in the third to take a 30-20 lead going into the fourth. Justus scored on runs of 31, 28 and 6 yards that put the game out of reach with 6:48 left to play. Duty scored on a 1-yard run and Kevin Looney returned a kick for 75 yards for the Rebels.
Mason Hardin ran for 129 yards, including a 28-yard touchdown run that put the Eagles up 6-0 in the first quarter. Zack Baker ran for a 21-yard touchdown and three a 27-yard scoring strike to Ethan Chavez. Jay Bowen added a touchdown, recovering a Justus fumble in the end zone to narrow the third quarter deficit to 22-20.
Looney followed with the kick return to put the Rebels up by 10 going into the final period. Hurley won despite losing four fumbles in the game.
Hurley finished with 363 yards on the ground and didn't attempt a pass. Justus also led the Rebels on defense with three solo stops and seven assisted tackles. Ashton Starnes paced Rye Cove with six tackles, including six stops.
RC-Hardin 28 run (pass failed)
H-Justus 31 run (run failed)
H-Justus 28 run (Justus run)
RC-Chavez 27 pass from Baker (Hardin run)
RC-Bowen fumble recovery in end zone (run failed)
H-Looney 75 kick return (Justus run)
RC-Baker 21 run (Howell run)
H-Justus 6 run (run failed)
First Downs: H 18, RC 12; Rushes-Yards: H 47-363, RC 32-173; Passing Yards: H 0, RC 33; Comp-Att-Int.: H 0-0-0, RC 3-7-1; Fumbles-Lost: H 6-4, RC 2-1; Penalties-Yards: H 6-35, RC 7-55; Punts-Average: H 0-0, RC 3-29.3.
Rural Retreat 12, Fort Chiswell 6
Jacob Crouse caught a 15 yard touchdown pass from Wyatt Sage on fourth down with 3:57 remaining to put the Indians on top and they held off the host Pioneers for an opening game win.
Fort Chiswell started the scoring on a nine-yard run by Ezra Varney in the first period. Varney finished the game with 82 yards on the ground.
Rural Retreat then tied the score in the second quarter on a 75 yard gallop from Gatlin Hight who led all rushers with 134 yards on 18 carries.
Rural Retreat 0 6 0 6 - 12
Fort Chiswell 6 0 0 0 - 6
FC — Varney 9 run (kick failed).
RR — Hight 75 run (kick failed).
RR — Crouse 15 pass from Sage (kick failed)
Grayson County 24, Holston 20
Holston's Quaheim Brooks rushed for two touchdowns, but it wasn't enough as Grayson County spoiled the season-opener for the Cavaliers in Damascus.
Holston went up 6-0 in the first quarter when Jordan Ezzell scooped up a fumble and returned it 90 yards for a touchdown. Brooks added scoring runs of 24 and 13 yards, but it wasn't enough.
Holden Cassell had two TD runs for Grayson County and the Blue Devils were a perfect 4-for-4 on two-point conversion attempts.
Holston hosts Patrick Henry on Saturday at 2 p.m.
Grayson County 8 8 8 0—24
H – Ezzell 90 fumble return (run failed)
GC – Poe 2 run (run good)
GC – Cassell 4 run (run good)
H — Brooks 24 run (Brooks run)
GC – Holden Cassell 8 run (Poe run)
H – Brooks 13 run (run failed)
First Downs: GC 16, H 9; Rushes-Yards: GC 52-163, H 21-92; Passing Yards: GC 0, H 65; Comp.-Att.-Int: GC 0-3-1, H 6-9-0; Fumbles-Lost: GC 1-1, H 1-1; Penalties-Yards: GC 9-60, H 4-25
Union 28, Lee High 0
Zavier Lomax rushed for three touchdowns and Union's defense did a solid job as the Bears opened the season by blanking Mountain 7 District rival Lee High.