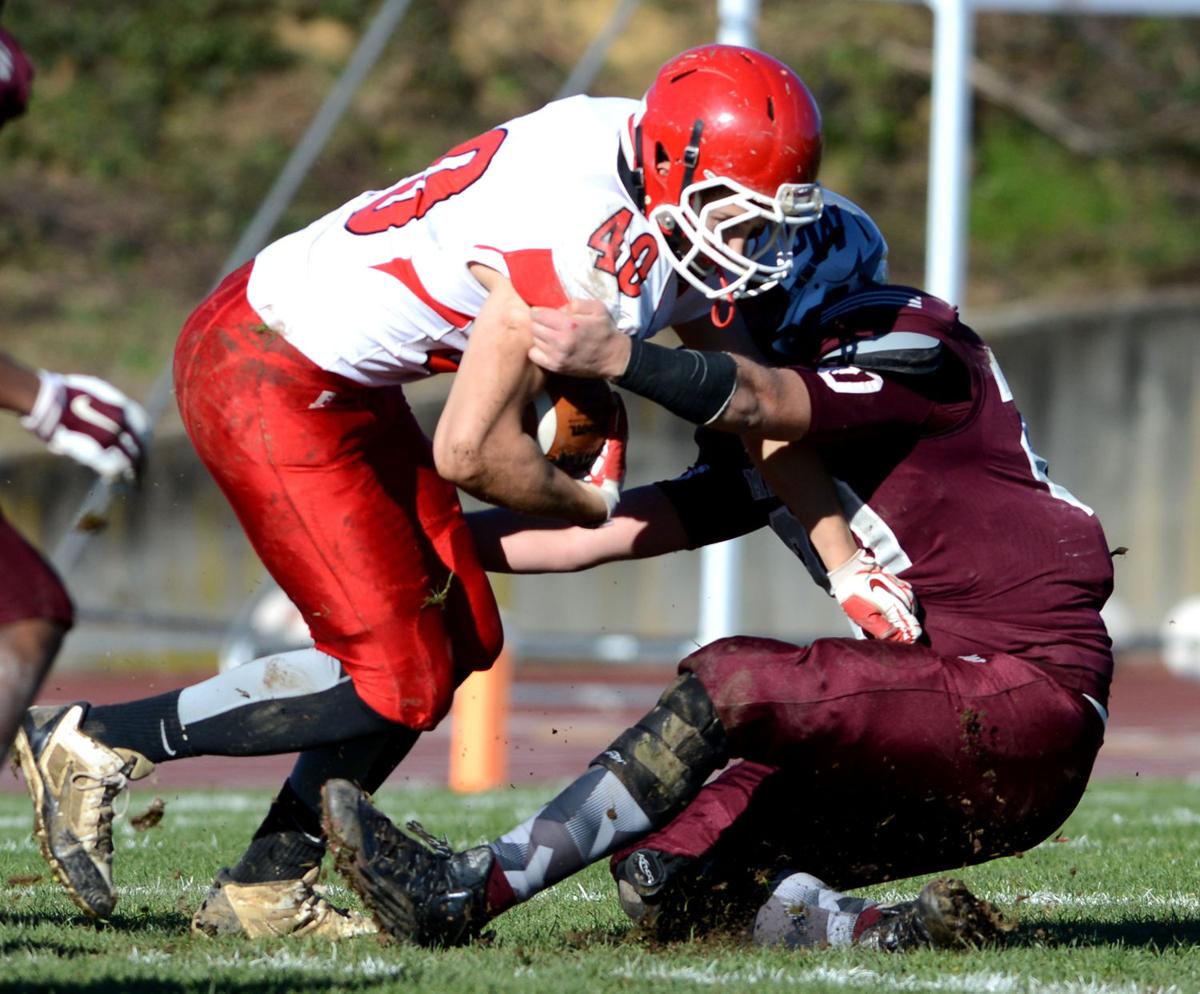 The Riverheads road show will make a rare appearance in far Southwest Virginia on Saturday when the Gladiators take a trip to Tazewell to face the Bulldogs and many casual football fans will likely want to catch a glimpse of the highly-touted visitors from the Staunton area.
" I think there will be a good crowd Saturday," said Tazewell coach J'me Harris. "It's probably the football equivalent of [pro wrestling legend] Andre the Giant showing up to your town. Everybody will want to see it with their own eyes."
Riverheads competes in the VHSL's smallest classification, but are a gridiron behemoth in the Commonwealth.
The Gladiators have already established a state record by winning five straight state football titles and are the heavy favorites to make it six in a row.
Riverheads has won 40 straight games and is closing in on the VHSL's modern record of consecutive wins established by Phoebus with 52 in a row from 2008-2011. For reference, the longest winning streak by a team from far Southwest Virginia is 34 by the Powell Valley Vikings from 1997-1999.
Riverheads head coach Robert Casto, of course, isn't making a checklist or scanning the record book.
" It's never talked about," Casto said. "We just play one game at a time and whatever happens happens. We don't sit around thinking about it, worrying about it and we don't get caught up in that."
Casto is a brutally honest straight shooter and his team mirrors his personality.
The squad with the plain red helmets relies on a no-frills, blue-collar approach in their reliable, old-school Wing-T offense that the school has run since 1998.
Cayden Cook-Cash, a 6-foot-4, 200-pound sophomore, is among the latest star running back for Riverheads.
" When you have won 40 straight games there are too many things to list that impress you about them," Harris said. "Their game film is more like a clinic tape on how to execute their offense and defense. They have tremendous athletes and coaches, but the way they carry themselves and represent their school is something their community can be proud of. They are a hard-nosed football team and class act."
The deepest Riverheads had traveled into Southwest Virginia previously for a game was a 31-20 state semifinal win at George Wythe in 2015. The Gladiators beat Chilhowie in the 2017 and 2018 state finals in Salem.
How did this matchup with the Bulldogs come about?
" This is a series that might not have ever happened if it wasn't for the pandemic," Harris said. "When we were forced into a spring season we needed to find an out-of-conference opponent. We thought we had a game worked out, but it fell through at the last minute so we were left scrambling to find an opponent. We contacted Riverheads and of course they hadn't found an opponent yet so we agreed to play each other. While talking to their athletic director [Tim Morris] we both had a common open date for the next schedule cycle so we agreed for that to be a home and home [in 2021 and 2022]."
Riverheads has always played a rugged schedule and only one Class 1 opponent (Parry McCluer) is on the team's regular-season docket this fall. The Gladiators earned an impressive 62-28 win over Lord Botetourt – which finished as VHSL Class 3 state runner-up the previous two seasons – two weeks ago.
There are keyboard warriors on internet message boards and social media platforms who accuse the Gladiators of tinkering with enrollment numbers to remain a Class 1 program, but that appears to be nothing more than a conspiracy theory.
" It's all nonsense," Casto said. "We have 440 kids and that's just the fact of the matter. There are folks who say we have a bigger enrollment and to them I say come up to Riverheads and walk the halls. We are just fortunate we have a lot of young men who want to be a part of the football program and that's just the way it is."
Such accusations come with the territory when you win at a historic level.
" It's like the New England Patriots or the University of Alabama, some people hate you just because they hate you," Casto said. "They can hate all they want. We do things the right way. We don't always win 'em all, but we play as hard as we can."
Tazewell led 9-7 and 17-14 back in the spring in its trip to Riverheads, but eventually dropped a 28-17 decision to the Gladiators. The Bulldogs (1-2) are led by senior Jared Mullins, junior Cassius Harris (who is a NCAA Division I prospect) and freshman quarterback Carter Creasy.
On Saturday, Tazewell will face a giant task.
" This is a great opportunity for us to measure ourselves against one of, if not the premier program in the state," Coach J'me Harris said. "As a coach, player, administrator, you want to know what it takes to be a state champion, just look at what Riverheads does. They are the blueprint for success. I can talk to our guys all the time about what it takes to win at this level, but sometimes it is easier to show a young team where we need to get to so we can compete at a championship level."
Riverheads will bring a 40-game winning streak into Saturday's 1 p.m. clash with the homestanding Tazewell Bulldogs. The Gladiators haven't lost since a 28-0 setback to East Rockingham on Sept. 13, 2018 and the following is a look at each win during their streak:
Riverheads 42, Buffalo Gap 7
Riverheads 65, Stonewall Jackson-Quicksburg 7
Riverheads 56, Wilson Memorial 17
Riverheads 49, R.E. Lee-Staunton 10
Riverheads 35, Central-Woodstock 19
Riverheads 56, Page County 0
Riverheads 65, Altavista 7
Riverheads 49, William Campbell 14
Riverheads 35, Chilhowie 7
Riverheads 49, Washington & Lee 15
Riverheads 38, Glenvar 21
Riverheads 52, East Rockingham 6
Riverheads 55, Colonial Beach 15
Riverheads 49, Skyline 21
Riverheads 48, Wilson Memorial 0
Riverheads 28, Fort Defiance 0
Riverheads 56, Staunton 14
Riverheads 49, Buffalo Gap 14
Riverheads 49, Stuarts Draft 14
Riverheads 45, Rappahannock County 0
Riverheads 59, Franklin 6
Riverheads 46, Sussex Central 0
Riverheads 28, Tazewell 17
Riverheads 47, Wilson Memorial 7
Riverheads 49, Fort Defiance 6
Riverheads 55, Staunton 7
Riverheads 63, Buffalo Gap 18
Riverheads 10, Stuarts Draft 7 (OT)
Riverheads 58, Altavista 13
Riverheads 56, Lunenburg Central 7
Riverheads 52, West Point 8
Riverheads 55, Waynesboro 14
Riverheads 49, Parry McCluer 0
Riverheads 62, Lord Botetourt 38
Riverheads 28, Stuarts Draft 10
Saturday, 1 p.m.: Riverheads at Tazewell