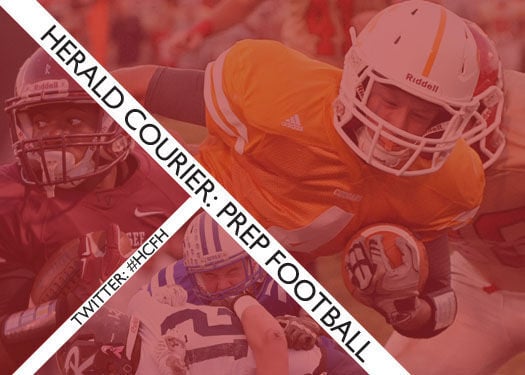 Last meeting: Sullivan East 43, Seymour 36 (Sept. 23, 2016, at Bluff City)
Seymour didn't win a game in 2020, going 0-11, including a COVID loss, but the Eagles 3-1 on the young season, with the lone loss coming to Volunteer. Sullivan East fell to 1-3 last week with a heartbreaking 7-6 loss last week at Johnson County. These clubs have met twice, with the Eagles winning in 2015, and the Patriots coming out on top in '16. Seymour pounded Cocke County 49-7 last Friday, while a missed extra point proved to be the difference in the Patriots' loss to the Longhorns.
Prediction: Seymour 26, Sullivan East 15.
Mountain Lakes Conference
Tennessee High at David Crockett
Last meeting: David Crockett 24, Tennessee High 22 (Oct. 16, 2020, at Bristol).
Tennessee High will try to focus on a football game after the devastating loss of junior Micah Montgomery, who drowned Sunday. David Crockett is also in mourning after the death of local icon and Pioneers' radio voice Tim Cable. These clubs won the last two Mountain Lakes Conference titles, with the Vikings taking the crown in 2019 and the Pioneers finishing on top last season. The 'Eers needed a field goal with 20 seconds remaining to defeat the Vikings last season. David Crockett planning a pre-game ceremony tonight to honor Micah Montgomery and local media icon Tim Cable, who called games on the radio for the Pioneers. It will be an emotional night in Jonesborough for both sides. The theme for the Vikings will be "Win one for Micah."
Prediction: Tennessee High 20, David Crockett 19.
West Ridge at Dobyns-Bennett
A so-called rebuilding season has started without a blemish for the Indians, who can go 5-0 with a win. West Ridge is 2-1, although one of those is a COVID win over Daniel Boone. The Wolves defeated Volunteer, but then fell to Science Hill 40-21. Ethan Bergeron has led West Ridge with 310 yards rushing and 174 through the air, scoring seven of the Wolves' 11 touchdowns on the season. Eli Topping has led the defense with 15 tackles, 3.5 tackles for loss, a sack and a fumble recovery. Isaac Haynie and Peyton Greene have two interceptions apiece for the Wolves. Dobyns-Bennett has outscored four opponents by a combined 150-34.
Prediction: Dobyns-Bennett 36, West Ridge 20.
Last meeting: Richlands 31, Abingdon 21 (Sept. 9, 2020 in Richlands)
After opening the season with a comfortable win over John Battle and a gut-wrenching loss to Christiansburg, AHS saw last week's game at Gate City postponed just hours before kickoff due to a COVID-19 issue within the GC program. The Falcons have passed for over 320 yards, while senior Malique Hounshell (191 yards rushing, 4 TDS) has been effective on the ground. … Richlands struggled with tackling and pass protection last week in a 35-0 loss to Graham, but senior athlete Sage Webb and senior middle linebacker Bryce Taylor are two of top talents in the area. With his package of spin moves, jump cuts and speed, Webb is to fun to watch. Watch for AHS to double-team Webb and force Richlands to run the ball.
Prediction: Abingdon 21, Richlands 10
Last meeting: Ridgeview 47, Grundy 12 (Aug. 24, 2018 in Grundy)
Ridgeview has been one of the surprise teams in far Southwest Virginia through two games. After generating 319 yards in a 41-6 defeat of J.I. Burton, the Wolfpack held Mountain 7 District rival Wise County Central to 150 yards rushing in a 12-0 road win. Ridgeview coach Todd Tiller has playmakers in receivers Koda Counts and Brandon Beavers along with thumpers on the experienced defense with linebacker Michael Hammond and nose guard Shane Deel. … Fans across the region were buzzing last week after hearing score updates from the Blacksburg at Grundy game. Thanks to a late touchdown from Ethan Roberts, Grundy earned a 20-19 win against the much larger opponent. Grundy, which has only played one game, is a co-favorite to win the Black Diamond District title behind rugged running back Ian Scammell and 6-4, 295-pound lineman Logan Looney.
Prediction: Ridgeview 22, Grundy 7
Last meeting: Gate City 68, Marion 40 (April 9, 2021 in Gate City)
As usual, the focus will be on Gate City speedster Carson Jenkins. The speedster accounted for four touchdowns as the Blue Devils defeated Marion in last spring's VHSL Plus-One game. In two contests this season, Jenkins has 179 yards rushing and a pair of scores. … Marion amassed 274 total yards in last week's 36-14 win over Northwood. Sophomore transfer J.B. Carroll delivered his best effort with 94 yards rushing and two scores, while sophomore quarterback Reid Osborne continues to develop. Osborne has thrown for five scores among three receivers.
Prediction: Gate City 21, Marion 7
Patrick Henry at Lee High
Last meeting: Patrick Henry 51, Lee High 6 (Sept. 20, 2019 in Ben Hur)
Due to COVID-19 issues and last week's open date, Lee High has only played one game. That 56-8 loss to powerful Union on Aug. 27 was not pretty, as the Generals were outgained 369-69. Look for first-year coach Joey Carroll to rely on sophomore running back Grayson Huff tonight as freshman quarterback Brynnen Pendergraft gains experience. Senior Junior Lovell is solid on both sides of the line. … Patrick Henry can challenge any defense with its heavy line corps and backfield tandem of Connor Beeson and J'Kwon McFail. PH rushed for 418 yards against unbeaten Virginia High last week, with Beeson generating 312 yards and three scores.
Prediction: Patrick Henry 28, Lee High 7
Christiansburg at Wise County Central
Christiansburg has opened the season with wins over Floyd County (33-0) and Abingdon. The 33-27 decision at Abingdon came on a 35-yard TD pass from Casey Graham with seven seconds left to play. Graham, a 5-11 senior, passed for a total of 226 yards in that win. The Blue Demons returned 17 starters from a 3-4 team. … Wise Central was unable to finish off several deep drives last week against Ridgeview. With junior Braeden Church now established at quarterback, the Warriors have used Ethan Mullins in several roles and the senior has responded with six scores. … This game was scheduled on Tuesday after the Central-VHS contest was cancelled due to COVID-19 issues at VHS.
Prediction: Christiansburg 21, Wise County Central 20
Last meeting: Northwood 18, Twin Valley 0 (Sept. 20, 2019 in Saltville, Va.)
Twin Valley (2-0) has been one of the surprise teams in Southwest Virginia thus far and the Panthers are trying to start a season 3-0 for just the second time in program history. … Jeighkob Cooper has played well on both sides of the ball for Twin Valley and has already snagged four interceptions. He's also scored via TD catch and pass reception. Matthew Lester's intensity on defensive and Lane Stiltner's steadiness at quarterback has also been important as Twin Valley has mashed Montcalm, West Virginia (52-6) and trounced Thomas Walker (30-0). "Offensively, we have spread the ball around to multiple people and it has helped us to create opportunities to score," said Twin Valley coach Jeremy Ward. "Defensively, we have played aggressive and attacked and that has allowed us to take more chances. We still have some mistakes to clean up in all aspects as we go along this season." … Northwood (1-2) has one of the smallest rosters in far Southwest Virginia. … In a battle of teams nicknamed the Panthers, the Buchanan County version is the favorite tonight.
Prediction: Twin Valley 22, Northwood 20
Last meeting: Honaker 50, Eastside 25 (Sept. 9, 2016 in Honaker, Va.)
Honaker is 2-0, but the Tigers were unable to play last week's game against the Twin Valley Panthers due to COVID-19 issues and seven members of the squad remain in quarantine. … Quarterback Sean Gill, running back Aidan Lowe, running back/linebacker Jax Horn, running back Skylar Miller, linebacker Jaxon Dye, offensive lineman Peyton Jessee and safety T.J. Hubbard have keyed the strong start in head coach Doug Hubbard's 39th and final season at the helm of Honaker. "Coach Hubbard always has his team well prepared and they never beat themselves," said Eastside coach Mike Rhodes. "They have some really good athletes in the backfield and are huge and physical up front." … Eastside (1-1) tested itself against tough competition in the preseason and in its season-opener. The Spartans received a boost when running back Ethan Hill returned last week from an ACL injury. … Eastside will try to make history this evening as the Spartans have never beaten Honaker, having dropped the previous six encounters.
Prediction: Eastside 35, Honaker 34
River View (W.Va.) at Hurley
Last meeting: River View 40, Hurley 34 (Sept. 20, 2019 in Bradshaw, W.Va.)
In the aftermath of a flood that devastated the community, Hurley suffered a 48-6 season-opening loss to the Hornets from Phelps, Kentucky, last week. … Chris Rife was in on 10 tackles in the loss, while quarterback Caden Mullins unleashed 17 pass attempts. Running back Kevin Looney scored the lone touchdown for the Rebels, but suffered a high-ankle sprain on a kickoff return and his status is unknown for today's contest. … River View has lost its first two games to Mount View (40-0) and Sherman (38-15). "River View has graduated a lot of kids over the last two years," said Hurley coach John Paul Justus. "Coach [George] Kennedy has a young team, much like ours. River View has some speed and scrappy kids. I figure with the youth between the two squads it will come down to whoever makes the least amount of mistakes on who takes the win Friday night."
Prediction: River View 28, Hurley 8
Carroll County at George Wythe
Last meeting: George Wythe 65, Carroll County 35 (Sept. 20, 2019 in Hillsville, Va.)
Check out the gauntlet that is George Wythe's next four games: Carroll County, Rural Retreat, Graham, Galax. … While Carroll County is 0-2, the Cavaliers feature one of the state's top recruits in 6-foot-5, 230-pound senior Benji Gosnell, a transfer from East Surry High School in North Carolina. Gosnell is a tight end prospect who has scholarship offers from Ohio State, Virginia Tech, Notre Dame, Tennessee, Penn State and a host of other NCAA Division I programs. … Carroll County has lost to Grayson County (27-22) and Galax (7-6), having led in the fourth quarter of both games. Turnovers led to go-ahead scores in both setbacks. … The Cavs rely on a balanced attack as they have rushed for 325 yards and passed for 269 more. … George Wythe coach Brandon Harner is a 2001 graduate of Carroll County. … GW (1-2) is a youthful team and the Maroons have had their share of growing pains. They are sure to experience some more over the next four games.
Prediction: Carroll County 36, George Wythe 16