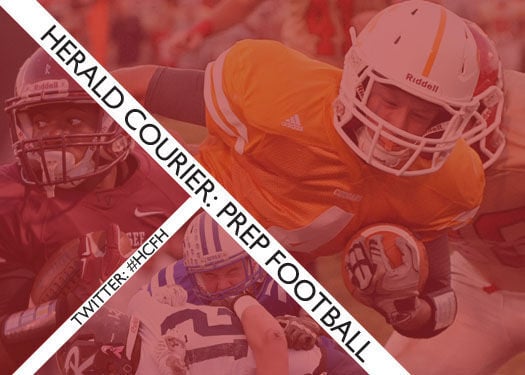 Castlewood at J.I. Burton
Last meeting: J.I. Burton 32, Castlewood 17 (March 5, 2021 in Castlewood, Va.)
J.I. Burton (0-7) hasn't endured a start this tough since a 0-10 showing in 1969. A season that began with high hopes will end with the Raiders missing the playoffs for the first time since 2001, ending the longest active streak of postseason appearances in far Southwest Virginia. … Castlewood (2-5) has endured some hardships as well with injuries to players on a roster that was already thin. Landen Taylor (117 carries, 752 yards, 11 touchdowns) and Brad Steffey (61 tackles) have been the leaders for the Blue Devils. That the team has committed 31 turnovers has been a major hindrance. "Castlewood is a physical football team," said J.I. Burton coach Jacob Caudill. "It will be an interesting football game Friday night." … Castlewood's last win over J.I. Burton came in 1971. … Jaymen Buchanan, Xadrian Taybron, Brayden Dutton, Dauntae Keys and Caleb McCurdy have played hard for J.I. Burton and should help the Raiders get that elusive victory.
Prediction: J.I. Burton 18, Castlewood 10
Lee High at Wise County Central
Last meeting: Wise Central 41, Lee High 9 (March 19, 2021 in Ben Hur)
After earning three straight wins, Lee High was close to a breakthrough in Saturday's game at Gate City. The Generals trailed 20-14 with 3:40 left before falling 28-14. Freshman quarterback Brynnen Pendergraft has thrown for 12 scores and nearly 1,000 yards. Four different receivers have caught TD passes, while sophomore running back Grayson Huff has supplied nine scores. … After suffering tight losses against Ridgeview, Abingdon, and Christiansburg earlier in the season, Wise Central posted a signature victory last week against rival Union. The Warriors kept things simple with a rugged linebacker corps, productive offensive line, and a relentless running game led by senior Matthew Boggs.
Prediction: Wise Central 42, Lee High 7
Last meeting: John Battle 16, Gate City 6 (Feb. 22, 2021 in Gate City)
The closest game for winless John Battle is a 42-7 decision against Holston. The Trojans have scored just 13 points on the season. … After accumulating 334 total yards in a 63-39 loss to Abingdon, Gate City closed in on a playoff berth Saturday with a 28-14 win against Lee High. Senior Carson Jenkins has scored 15 touchdowns and rushed for nearly 1,000 yards, while senior Brady Edwards has recently emerged as a force in the backfield. The Blue Devils rank seventh in the Region 2D rating scale.
Prediction: Gate City 35, John Battle 0
Last meeting: Ridgeview 41, Abingdon 0 (Oct. 15, 2019 in Rose Ridge)
Abingdon (6-1) has averaged 43 points en route to five straight wins. The Falcons compiled 591 yards and 63 points in their last game against Gate City but trailed 27-21 at halftime. Malique Hounshell has supplied over 790 yards rushing and 12 scores at running back, while Charlie Sturgill (6-2, 243) and Jackson Lane (6-1, 211) are thumpers at linebacker. … This game is vital to deciding a champion in the Mountain 7. Ridgeview averages 38 points behind freshman quarterback Ryan O'Quinn and playmakers such as junior playmaker Koda Counts, Brandon Beavers and Cannon Hill. Will O'Quinn have time to operate against the large AHS defensive line?
Prediction: Abingdon 28, Ridgeview 14
Last meeting: Tazewell 53, Marion 6 (March 6, 2021 in Tazewell)
Marion (1-6) has been outscored by an average margin of 33-14. Logan Langston and J.B. Carroll lead the Scarlet Hurricanes with three touchdowns apiece, while Parker Wolfe has contributed 19 points. Senior Trenton Watkins passed for two scores last week against Richlands. …Tazewell has played one of the toughest schedules in far Southwest Virginia, but quarterback Carter Creasy continues to produce. The freshman has thrown for over 1,000 yards and 14 scores, with four different receivers snaring at least one TD pass. Along with youth and injuries, the problem for the Bulldogs is a running game that has generated just 56 yards over the past games. Tazewell and Lee High are battling for the No. 8 spot in the Region 2D playoffs.
Prediction: Tazewell 28, Marion 7
Last meeting: Union 26, Richlands 3 (Sept. 6, 2019 in Big Stone Gap)
Union was held to just 51 yards rushing in a 31-7 loss at Wise County Central last week. The Bears committed four turnovers and allowed 187 yards rushing. Do the Bears have the balance to win when senior running back Zavier Lomax (15 touchdowns) is held in check? …Richlands has averaged over 203 yards rushing en route to wins over Tazewell and Marion. Junior Dylan Brown supplied 199 yards in those victories. Senior Gavin Cox has thrown for seven scores, while seniors Sage Webb and Drew Simmons have combined for 10 touchdowns. … Look for Union quarterback Bradley Bunch to break a few runs.
Prediction: Union 28, Richlands 10
Pulaski County (4-3) is coming off a 49-7 win at winless Blacksburg, as Chris Gallimore passed for 180 yards and 5-9 senior receiver John Lyman collected four touchdowns. Former Galax coach Mark Dixon is in his second year as the boss of the Cougars. PC posted a 4-3 record in the spring and advanced to the Region 4D playoffs but returned only four starters. …Graham took a big step toward another Southwest District championship last week with a 56-23 win against Virginia High. The G-Men have speed in receiver Xayvion Turner-Bradshaw (13 TDs), grit in quarterback Zack Blevins (12 TD passes) and size in lineman such as 6-7, 320-pound senior offensive lineman Brody Meadows.
Prediction: Graham 21, Pulaski County 14
Honaker vs. Patrick Henry
Last meeting: Patrick Henry 38, Honaker 13 (March 13, 2021 in Honaker, Va.)
These teams could meet again in a couple of weeks in the VHSL Region 1D playoffs. … Patrick Henry (4-2) hasn't played since a 19-7 loss to Holston on Oct. 8 as the Rebels failed to move the ball much. … The PH pair of Connor Beeson and J-Kwon McFail form one of the top rushing attacks in Region 1D. Cody Pruitt, Bobby Cline and Clay Mora lead the defense for the Rebels, while Connor Kausch has shown his versatility by playing a number of different positions. … Honaker (4-3) posted a 59-16 win over Hurley on Tuesday as Aidan Lowe put on a show with four touchdowns. Quarterback Sean Gill suffered a knee injury early in that contest as Isaac Perkins took over and was 5-of-6 through the air for 130 yards and three scores. … Patrick Henry's running game and offensive line will be the difference tonight.
Prediction: Patrick Henry 35, Honaker 20
Last meeting: Grundy 48, Hurley 0 (March 13, 2021 in Hurley, Va.)
Grundy's Ian Scammell is a state wrestling champion and also doubles as one of Southwest Virginia's toughest running backs. He rushed for 294 yards and totaled 36 of Grundy's points in last Friday's 48-36 win over J.I. Burton. … Grundy is averaging 24.6 points per game, but the problem is that the Golden Wave is allowing 35 points per contest. … The Wave sat 10th in the most recent VHSL playoff power point rating scale, so winning out and getting some help appears to be Grundy's path to the postseason. … Hurley (1-4) suffered a 59-16 loss to Honaker on Tuesday and the Rebels will have more problems on Saturday afternoon.
Prediction: Grundy 38, Hurley 12
Northwood at Rural Retreat
Last meeting: Rural Retreat 34, Northwood 7 (March 19, 2021 in Saltville, Va.)
It will be a special night in Rural Retreat as Dean Rhea Field at Community Stadium will be dedicated. The Wythe County School Board approved the naming of the field on Oct. 14 to honor Rhea, who is Rural Retreat's all-time winningest football coach. He guided the Indians from 1986-2003 and won Region C, Division 1 titles in 1988, 1993, 1996 and 1999. … Rural Retreat (3-4) hopes to add a victory to the festivities. Injuries and inconstancy have led to a disappointing season that began with high hopes for the Indians. …