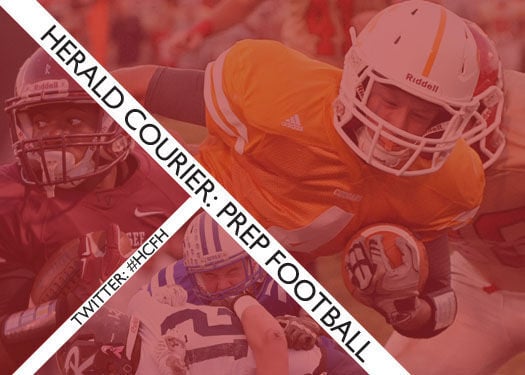 West Ridge at William Blount
West Ridge (2-2, 0-2), which has a third win if you could the COVID decision against Daniel Boone, is looking for its first-ever Big East Conference win, having rebounded from a two-game skid with a 31-9 win last week at Cherokee. William Blount (1-5, 0-2) has had similar issues, starting 0-3, defeating Heritage and then losing its last two. Ethan Bergeron accounted for 165 yards and two touchdowns last week, with Isaac Haynie snagging four passes for 109 yards. Eli Iacino also kicked the first field goal in school history and added two of the Wolves' three interceptions on the night. Eli Topping continues to lead on defense, recording 37 tackles, 6.5 tackles for loss and 2.5 sacks. The Wolves have nine interceptions, led by Peyton Greene with four and three for Iacino. William Blount resides in Maryville, but is overlooked by the mighty Rebels. These Governors haven't had a winning season since 2007. That is already guaranteed to continue one more year.
Prediction: West Ridge 28, William Blount 13.
Mountain Lakes Conference
Morristown West at Tennessee High
Last meeting: Morristown West 40, Tennessee High 15 (Oct. 28, 2016, at Bristol).
After dealing with two weeks of tragedy, the Vikings are (1-3, 0-1) will look to get back to football this week in a key Mountain Lakes Conference tilt with the Trojans (4-2, 1-1), who started 2-0, lost two straight and then won two more, including last week's 41-0 beating of Cocke County. These clubs have met often in the postseason in a series that was first held in 1982, with the Trojans leading 9-3, with the last meeting being in 2016. Abingdon took advantage of an injury-depleted offensive line to pound the Vikings 34-14 last week. This is an especially important game for the Vikings, who will play their next three games on the road, followed by the home finale with Cherokee, which could determine the final MLC playoff berth. The Alvin Sanders-led Trojans have averaged 32.5 points in four wins and were held to a combined 17 points in losses to David Crockett and Greeneville. Hunter Delaney paced West with 164 yards and three scores in last week's win over Daniel Boone.
Prediction: Morristown West 32, Tennessee High 22.
Elizabethton at Sullivan East
Last meeting: Elizabethton 58, Sullivan East 7 (Aug. 28, 2020, at Elizabethton).
It was going to be difficult enough for the Patriots (1-5, 1-1) to deal with the two-time Class 4 state champions. Consider now that Sullivan East will have to group after losing a 21-point third quarter lead last week against Unicoi County, with the Blue Devils scoring on a scoop-and-score of a fumble in the final minute. Elizabethton (4-1, 1-1), which won 41 straight games before losing to Greeneville, has won three straight, including the last two by 56 and 20 points. Elizabethton senior quarterback Bryson Rollins will play opposite Sullivan East's young sophomore signal-caller Drake Fisher, and he will be challenged by a defensive front that returned intact from last season. He will look to contact with Hunter Brown and Luke Hare to keep the ball away from the Cyclones' offense. Elizabethton has a 46-5 edge in a series that was first held in 1969, with the Cyclones winning the last 11 in a row, scoring 50.5 points per game during the streak. That includes at least 59 in the last five games.
Prediction: Elizabethton 56, Sullivan East 12.
Last meeting: J.I. Burton 48, Eastside 6 (Oct. 4, 2019 in Norton, Va.)
J.I. Burton has had a rough go of it as the Raiders are 0-4, allowing 40.3 points per game and head coach Jacob Caudill will miss the second straight game after testing positive for COVID-19. … Trey Keys and Brayden Dutton have been among the bright spots for Burton. "We have played good in spurts and then looked really bad at times," Caudill said. "We just have to find a way to keep getting better each and every week. These kids will keep fighting. We just have to keep getting better." … Meanwhile, Eastside (2-2) is trending in the right direction. A solid offensive line has paved the way for Ethan Hill to rush for more than 500 yards and given Jaxsyn Collins time to unleash passes to Jordan Gray and Eli McCoy. "I think we are really clicking right now and things are starting to roll," said Eastside coach Michael Rhodes. … This is pretty much a must-win for both teams as a victory would provide a major boost to their playoff hopes.
Prediction: Eastside 34, J.I. Burton 31
Patrick Henry at Rural Retreat
Last meeting: Patrick Henry 28, Rural Retreat 24 (March 5, 2021 in Emory, Va.)
This is one of the most intriguing games on this weekend's docket. Patrick Henry, Rural Retreat and Holston finished in a three-way tie in the Hogoheegee District preseason coaches poll. … PH is averaging 47.8 points per game with J-Kwon McFail and Connor Beeson forming one of the top rushing duos in Southwest Virginia. … Rural Retreat was doomed by turnovers and penalties in a 28-16 loss at Parry McCluer last week. "I think that we have yet to play anywhere close to our potential," said Rural Retreat coach Jamey Hughes. "Our defense has been our most consistent unit." … That defense will have to come up with a big-time performance tonight if the Indians hope to slow down McFail and Beeson.
Prediction: Patrick Henry 16, Rural Retreat 12
Wise County Central at Abingdon
Last meeting: Abingdon 13, Wise Central 7 (March 5, 2021 in Wise)
This shapes up as the game of the week in far Southwest Virginia. In the spring matchup, Wise Central built a 7-0 lead in the second quarter before Abingdon rallied behind a pair of TD passes from Cole Lambert to 6-foot-3 receiver Peyton McClanahan. Both teams struggled to run the ball. … AHS averages 36 points behind a powerful offensive line, two quick backs in Malique Hounshell and Bishop Cook, and a diverse passing game. Watch the work of AHS linemen Charlie Sturgill and Dasean Lucas. …Wise Central generates 28 points and over 280 yards rushing per game. Ethan Mullins has scored six touchdowns, while seniors Tyson Tester and Matthew Boggs have added four scores apiece. …Both of those teams lost close decisions against pass-happy Christiansburg.
Prediction: Abingdon 21, Wise County Central 13
Last meeting: Narrows 24, Holston 20 (Oct. 4, 2019 in Damascus, Va.)
Holston has won nine straight regular season games and the Cavaliers have won the first four games with Chris Akers as head coach. … Holston is averaging 35.5 points per game, while allowing 8.8 points per contest. Jordan Ezzell, Trent Johnson and Gage Quina have ran the ball well for Holston, while linebackers Lane Blevins, Dustin Bott, Brycen Sheets, Quina and Ezzell have anchored a hard-hitting defense. … Narrows (2-2) has lost two in a row by scores of 32-18 and 41-6. The young team has been led by the likes of running back Chris Via, quarterback Aidan McGlothlin, wide receiver Kolier Pruett and linebacker Sam Albert. … Look for it to be a happy homecoming in Damascus as the Cavs start a season 5-0 for the first time since 2009.
Prediction: Holston 25, Narrows 8
Last meeting: Gate City 35, Lebanon 7 (Oct. 3, 2014 in Gate City, Va.)
These old Southwest District, Highlands District and Clinch Mountain District foes renew their rivalry as Gate City is looking for a bounceback win and Lebanon is seeking its first victory of the season. … Gate City had its worst performance of the season last week in a 54-13 loss at Union. The Blue Devils are allowing 30 points per game. … Lebanon (0-4) is allowing 32.8 points per game and the Pioneers have had some key injuries. … Lebanon beat Gate City in the 2008 and 2009 Region D, Division 2 title games. Both programs still have a ways to go to reach those heights again, but the winner in this one would gain a confidence boost.
Prediction: Gate City 28, Lebanon 14
Last meeting: Chilhowie 31, Honaker 14 (Oct. 2, 1987 in Honaker, Va.)
While these teams have scrimmaged and competed against each in the preseason for many years, this is the first regular-season meeting between the schools in 34 years. … Honaker boss Doug Hubbard was in his fifth season leading the Tigers in 1987, while Chilhowie coach Jeff Robinson was in the sixth grade. … Chilhowie (4-0) is averaging 28.8 points per game as Hunter Powers anchors the offensive line, Chase Lewis has made plays and quarterback D.J. Martin has been a masterful maestro for the offense. Joey Widener has been a force to be reckoned with on defense. … Honaker (3-1) is averaging 35.5 points per game as quarterback Sean Gill has been a steady hand leading the O. "Honaker has some very talented young players," Robinson said. "This may be our most challenging opponent we have played so far this season. I expect a good crowd and atmosphere Friday night. It should be a lot of fun."
Prediction: Chilhowie 23, Honaker 19
Twin Springs at Twin Valley
Last meeting: Twin Springs 42, Twin Valley 22 (Nov. 20, 2004 in Nickelsville, Va.)
Twin Valley (4-0) and Twin Springs (3-1) are both off to good starts and very few people probably circled this contest on their calendars prior to the season as being a big game. … Twin Valley is off to the best start in program history and the Panthers are averaging 34.5 points per game. "Twin Valley is a very physical football team and execute really well on both sides of the football," said Twin Springs coach Keith Warner. "They are well-coached and will present a big challenge for us on Friday." … Mason Elliott, Eli McCoy, Ryan Horne, James Craig, Kye Hale and quarterback Abel Dingus have stepped up for Twin Springs, which posted a 38-14 win over J.I. Burton last week in what was one of the biggest triumphs in program history. "I feel that we are improving very week and it has helped to get some key players back from injury," Warner said. … Twin Springs beat Twin Valley in the 2004 Region D, Division 1 playoffs in what was the only previous gridiron meeting between the schools. That was the last postseason win for the Titans and one of the star players on that squad was Keith Warner.
Prediction: Twin Springs 28, Twin Valley 18
Bland County at Castlewood
Last meeting: First meeting
Castlewood rushed for 280 yards last week in a win over Rye Cove and Landen Taylor accounted for 198 of those yards. … Taylor (422 rushing yards, seven touchdowns) is a force on both sides of the ball and is the go-to guy for the Blue Devils. Brad Staffey has a team-high 29 tackles. "We are getting better each week," said Castlewood coach Chris Lark. "We've had to move some people around and make a few adjustments offensively but we are pleased with what we are doing. We still need to do a better job of taking care of the ball. We are giving opposing teams too many opportunities." … Bland County (2-2) and Castlewood (1-3) both own wins over Rye Cove and judging from those results it looks like this could be an evenly-matched contest.
Prediction: Castlewood 18, Bland County 14
Last meeting: Union 59, Thomas Walker 12 (Nov. 2, 2012 in Big Stone Gap, Va.)
Thomas Walker recently won three games in eight days to get back in the Region 1D playoff hunt. Zack Kidwell has been a versatile athlete for the Pioneers with 10 touchdowns – four rushing, four receiving, one punt return and one interception return. … That winning streak will come to a halt today, however, as the Pioneers welcome the defending Region 2D champions to Ewing. "Union is the best team we will have played in my five years as head coach," said TW boss Nick Johnson. "They really don't have any weaknesses. They are extremely well-coached and have athletes all over the place. I scheduled this game so we could be in a big-game atmosphere in case we get that opportunity in the playoffs. I want to see what we are made of against, in my opinion, the best team in Southwest Virginia."
Prediction: Union 55, Thomas Walker 8
Virginia High at Spotswood
This is another matchup created out of the COVID-19 scheduling nightmares. … Spotswood is in Penn Laird, a Rockingham County community located 242 miles from Bristol, Virginia. The Class 2 Trailblazers (1-3) have been outscored by an average of 34-19, with the lone victory coming in a 23-7 decision over Charlottesville on Sept. 17. Spotswood has a young roster but senior running back Tre Holsapple is a player to watch. … VHS has outscored three foes by an average margin of 55-18, but the Bearcats have not played since Sept. 19 due to COVID issues within their program. Nine different VHS players have scored touchdowns, while quarterback Brody Jones has passed for eight scores. The team speed of the Bearcats makes the difference again.
Prediction: Virginia High 28, Spotswood 7
Last meeting: Tazewell 42, Grundy 18 (Nov. 1, 2019 in Tazewell)
Tazewell allowed 478 yards rushing in a 56-19 loss last week to Class 1 juggernaut Riverheads. But freshman quarterback Carter Creasy and junior receiver Cassius Harris connected for a school-record 20 receptions for the Bulldogs. Creasy has thrown for over 910 yards on the season. …Grundy is coming off a 38-24 loss to Honaker, a game that is usually a showdown for the Black Diamond District title. "We were disappointed with our mental mistakes," Grundy coach Craig Plymal said. "We had too many assignments blow ups and that killed us. Tazewell was impressive against Riverheads."
Prediction: Tazewell 21, Grundy 13
Last meeting: Ridgeview 38, Richlands 34 (April 10, 2021 in Rose Ridge)
This is a rematch of a wild VHSL Plus-One game, where Ridgeview opened a 28-0 advantage in the second quarter and then was forced to hold off a Richlands drive in the final seconds. … With a nice blend of the run and the pass, unbeaten Ridgeview is outscoring foes by an average margin of 36-6. The Wolfpack generates over 195 yards rushing per game, while allowing just 118 on the ground. But two of the Ridgeview opponents are winless. … Richlands is a mystery team. The Blues have size, experience, depth and playmakers, but are coming off blowout losses against Graham (35-0) and Abingdon by a 42-0 margin. In those two setbacks, Richlands averaged just 38 yards rushing. Six-foot-eight senior quarterback Gavin Cox needs more protection from his line.
Prediction: Ridgeview 21, Richlands 10
Last meeting: Lee High 44, Rye Cove 14 (Oct. 4, 1991 in Ben Hur, Va.)
One team will get to celebrate a long-awaited victory this evening in Clinchport. … Lee High has lost 26 consecutive games and last won on Sept. 14, 2018, while Rye Cove has dropped 12 in a row and last triumphed on Oct. 25, 2019 … Freshman quarterback Brynnen Pendergraft has put up big passing numbers for Lee, while wide receiver Brayden Hammonds, wide receiver/kick returner Jace Perkins, wide receiver Dustin Regan and defensive lineman Connor Roop (15 tackles, two sacks) have also played well. "We are definitely a work in progress," Lee High coach Joey Carroll said. "The kids are on board and are doing what we are asking of them. You can steer a ship in the right direction, but still takes time for it to turn all the way around. We will get there." … Tonight, could be a big step in the growth of the program.