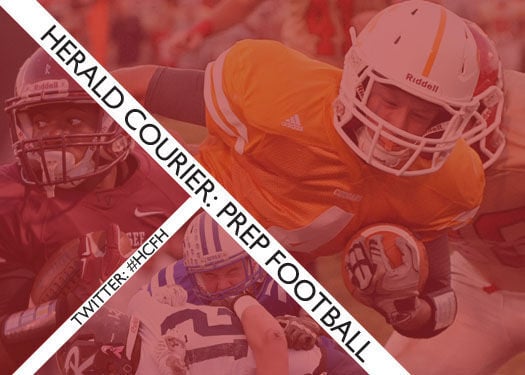 Bassett (9-2) at Abingdon (10-1)
Bassett averages 47 points and is coming off a 49-13 opening round win over Magna Vista in the first playoff game at Bassett in 14 years. Players to watch include junior quarterback QB Ja'Ricous Hairston (805 passing yards, 32 total touchdowns) and record-setting senior Simeon Walker-Muse, who has rushed for more 1,700 yards and 26 touchdowns. But the 5-foot-7, 170-pound Muse underwent appendectomy surgery 12 days ago and his status is uncertain tonight. Senior Tyheim Cline (71 tackles) and sophomore Donald Patterson were among four players who accounted for over 100 yards in total offense last week in the absence of Muse. The two losses for the Bengals were against George Washington-Danville (21-7) and Liberty Christian Academy (45-28). … The keys for Abingdon are balance, speed, experience and size. Senior quarterback Cole Lambert has accounted for 1,398 total yards and 18 scores, while 6-1 senior receiver Haynes Carter (882 yards, 9 TDs), 6-3 senior receiver Peyton McClanahan (549 yards) and senior running back Malique Hounshell (1,388 yards) have also been productive. The all-senior linebacker corps for AHS includes Timmy Jessee, Jackson Holmes, Carter and Hounshell. … "The thing that stands out to me on our team is how the guys compete in practice and how that approach carries over to games," AHS coach Garrett Amburgey said. "[Bassett] is fast and physical, and has scored a ton of points with several guys who can take it to the house. We've got to protect the ball on offense and tackle well. From watching [Bassett] on tape, I see a team that believes in what they are doing." … Bassett will break a few big plays, but Hounshell and the AHS line corps will rule again.
Prediction: Abingdon 31, Bassett 13
Ridgeview (8-3 at Wise County Central (8-3)
Last meeting: Ridgeview 12, Wise County Central 0 (Sept. 10, 2021 in Wise)
Ridgeview rushed for 134 yards and passed for 118 in the regular season meeting, with junior Koda Counts catching five balls for 70 yards. Wise Central rushed for 150 yards and passed for 53, but the Warriors were unable to finish off several long drives. Ridgeview, which relies mostly on juniors, averages 34 points behind freshman quarterback Ryan O'Quinn (24 touchdown passes), receiver Brandon Beavers (15 TD receptions) and versatile Cannon Hill (18 TDs). Former University of Virginia's College at Wise linebacker Kent Grant directs a Ridgeview defense that has held seven teams to 14 points or less. … The rushing leaders for Central's Wing-T attack include senior Matthew Boggs (1,014 yards), junior Dustin Sturgill (609 yards), senior Tyson Tester (463), senior Ethan Mullins (361) and junior quarterback Braden Church with 320 yards. All five players average at least 5.7 yards per carry. Church has passed for 694 yards, with Mullins catching 25 passes for 406 yards. Junior Ricardo Onate has converted 53 of 54 extra point attempts. Senior linebacker Logan Mullins has contributed 84 tackles, while Tester (82), Boggs (54) and Daniel Hawkins (40) have also been consistent stoppers … Despite dropping the first two games of this series in 2015-16, Ridgeview has a 5-4 edge over the Warriors. … The contrast between the Ridgeview passing game and the relentless Wise Central rushing attack will be interesting. With Boggs and Tester pounding out yards, Central will be able to limit the chances for O'Quinn and Beavers.
Prediction: Wise County Central 21, Ridgeview 14
George Wythe (7-3) at Galax (8-2)
Last meeting: Galax 35, George Wythe 0 (Oct. 15, 2021 in Wytheville, Va.)
In what is becoming a postseason tradition, the George Wythe Maroons and Galax Maroon Tide square off in the playoffs. … Galax has won the last nine meetings between the teams and included in that streak is postseason wins over the Maroons in 2018, 2019 and the spring of 2021. … Galax churned out 296 rushing yards and got TDs from four different players in a regular-season win over George Wythe. That was the first game for the Maroons in nearly a month due to COVID-19 protocols. George Wythe has experienced a layoff for the second time around too as they last played two weeks ago in a win over Fort Chiswell. This time the reason was Covington forfeited its first-round matchup against GW due to not having enough healthy players. … Leyton Fowler has been a beast on both sides of the ball for George Wythe. He leads the team with 427 rushing yards and is also the top tackler with 112 stops. … Galax quarterback Ian Ashworth has thrown for 789 yards and rushed for 770 more. He has just one interception in 120 pass attempts. Meanwhile, he has snagged 10 interceptions on the other side of the ball as a defensive back. … The lone losses for Galax were to Region 2C semifinalist Glenvar and Region 2D semifinalist Graham. "We're a pretty young team and I feel like we have gotten better as the season progressed," said Galax coach Shane Allen. "I still feel like we need to keep improving if we want to make a deep playoff run. But the kids are working hard and want to improve." Allen was the head coach at Tazewell from 2012-16 and is in his second season as the boss of the Maroon Tide. … Galax has won five straight and allowed just 33 points combined in those victories. … Either Giles or Parry McCluer awaits the winner in next week's regional title game.
Prediction: Galax 31, George Wythe 13
Grundy (6-4) at Holston (11-0)
Last meeting: First meeting
Holston is one of just two unbeaten teams left in far Southwest Virginia – Graham is the other – and the Cavaliers face a stiff challenge tonight. "Grundy is the best team we have played thus far," said Holston coach Chris Akers. … What makes the Golden Wave so tough? "Grundy is a physical team with an excellent back in Ian Scammell," Akers said. "They are physical up front and run hard. They have played the toughest schedule of anyone in our region. That being said, they are battle-tested." … So is Holston, the defending Region 1D champs. The Cavaliers are allowing just 7.6 points per game as Lane Blevins (120 tackles, six sacks), Dustin Bott (106 tackles, three fumble recoveries), Brycen Sheets (60 tackles) and Gage Quina (52 tackles) lead the way. Collectively, the team has 26 sacks. … Holston has a trio of talented running backs as Jordan Ezzell (98 carries, 743 yards), Trent Johnson (66 carries, 649 yards) and Gage Quina (86 carries, 611 yards) are all explosive. Quarterback Brycen Sheets has thrown for 700 yards and six touchdowns, while rushing for 318 yards and 11 scores. "Holston is a solid defensive team," said Grundy coach Craig Plymal. "No weaknesses can be found. They are well-disciplined in every position and will cause us problems with their athleticism." … Grundy played three Class 2 playoff teams (Tazewell, Wise County Central and Ridgeview) and while the Golden Wave lost soundly in those games, they clearly got better for it. Grundy is averaging 29.7 points per game, while giving up 29.6. The defense must perform at a higher level tonight. … Grundy was 7-for-7 on two-point conversions in last week's first-round win over Chilhowie. … As far as common opponents go, Holston beat Patrick Henry (19-7), Chilhowie (16-3) and Honaker (42-7), while Grundy defeated PH (26-8), Chilhowie (56-37) and lost to Honaker (34-28). … While Grundy has never played Holston, the Golden Wave did earn a 12-7 win over the Damascus Indians 59 years ago as Ronnie Webb scored the winning touchdown on a fourth-quarter scoring strike from Roger Calhoun. Tommy Francisco had the lone TD for Damascus. Damascus and Liberty Hall consolidated to form Holston, which opened in the fall of 1964. … The winner of tonight's clash plays either Twin Springs or Patrick Henry in next week's regional finals.
Prediction: Holston 30, Grundy 26
Last meeting: Graham 28, Union 27 (Sept. 16, 2021 in Bluefield)
Union stuck to a power-ball style last week en route 62-27 victory over Virginia High. Relying on a T-formation with consistent blocking from backs like rugged junior Johnny Satterfield, the Bears rushed for 545 yards to overcome a slow start. Senior Xavier Lomax (26 touchdowns, over 1,700 yards rushing) set the pace with six scores and a school record 440 yards on the ground. Six-foot-five senior quarterback Bradley Bunch (11 TD passes), 6-2 senior receiver Malachi Jenkins (8 TDs) and sophomore kicker Brayden Wharton (45 points) are standouts. Jenkins is effective as a receiver, defensive back and kick returner. … Since posting a 31-6 victory against rival Bluefield, Graham has averaged 54 points over the past five games. The execution of first-year quarterback Zack Blevins has been vital. A rugged leader who earned all-state honors at linebacker in the spring, Blevins has generated over 30 touchdowns. Major college prospect Zayvion Turner-Bradshaw (25 TDs) spread out defenses with his speed at receiver, while Ty'Drez Clements (15 TDS) continues to emerge at running back. The fun starts with 6-7, 320-pound lineman Brody Meadows, who has signed to play at the University of Virginia. …Union has a 5-3 edge in this high-stakes series. … The Bears will follow the same script from last week's Abingdon victory, but Graham will counter with size and depth to go with its speed.
Prediction: Graham 28, Union 21
Patrick Henry (8-3) at Twin Springs (10-1)
Last meeting: Patrick Henry 52, Twin Springs 24 (Sept. 13, 2018 in Emory, Va.)
Twin Springs won its first playoff game in 17 years last week with a 36-13 first-round victory over Eastside and the Titans have never won multiple playoff contests in the same season. … Patrick Henry won the regional title in 2019 and the Rebels have compiled a 37-8 record over the last four seasons. … Abel Dingus has passed for 872 yards and 10 touchdowns for Twin Springs, while Ryan Horne (1,309 rushing yards), Mason Elliott (631 receiving yards) and the versatile Eli McCoy (549 rushing yards, 256 receiving yards, 109 passing yards) gives the Titans plenty of options on offense. … Twin Springs rolled up 384 yards of total offense in last week's victory over Eastside, the first postseason football game for every player on the Titans' roster. "I think we handled the playoff atmosphere really well," said Twin Springs coach Keith Warner. "Our guys stayed locked in and stayed focused. They never panicked when things didn't go our way. We withstood some momentum swings and battled. At this point in the season, we are going to play really good teams, so we are going to have to overcome adversity during these games and got to the next play." … Patrick Henry had its share of adversity as running back J-Kwon McFail was lost for the season due to a broken collarbone a few weeks ago. The Rebels still have half of their formidable one-two rushing combo as Connor Beeson has gained 1,771 yards and scored 21 yards on the ground this season. Cody Pruitt and Bobby Cline have collected more than 100 tackles to lead the defense. "I have been pleased with how our team has gotten better each and every week," said PH coach Seth Padgett. … As far as common opponents go: Patrick Henry has wins over Northwood (28-21) and Twin Valley (35-12) and dropped a 19-7 decision to Holston, while Twin Springs beat Northwood (14-6) and Twin Valley (50-30) and lost to Holston by a 41-16 count. … The winner plays either Holston or Grundy in next week's regional finals.