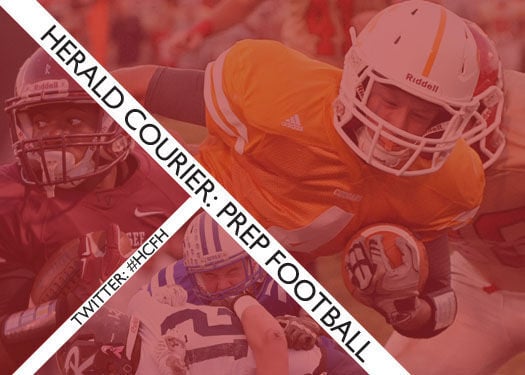 Abingdon at Tennessee High
Last meeting: Tennessee High 35, Abingdon 9 (Sept. 27, 2009, at Bristol)
No team needs reason to smile more than Tennessee High, which returns to the gridiron after another tragic death, this time to beloved assistant coach Trae Leonard. Expect the emotions to be high tonight, much like they were last week in a 40-14 loss at David Crockett. Abingdon (2-1) has sandwiched a late loss to Christiansburg between a pair of shutout wins by a combined 83-0 against John Battle and Richlands. Abingdon rolled up 492 yards against the Blue Tornado, while holding them to 108. Tennessee High (1-2), playing less than a week after the tragic drowning of junior Micah Montgomery, trailed just 20-14 at the break last week against the Pioneers, but couldn't slow down Crockett's all-everything Brenden Reid, who finished with five touchdowns. These clubs have met 13 times, with the Vikings winning 10 of them. Abingdon won three years in a row in 1924-26. The Falcons have only scored double figures once in the series.
Prediction: Tennessee High 20, Abingdon 14.
Unicoi County at Sullivan East
Last meeting: Unicoi County 29, Sullivan East 12 (Sept. 25, 2020, at Erwin)
All that awaits Sullivan East over the next two weeks are home games with the unbeaten Blue Devils, and followed by two-time Class 4A defending champion Elizabethton. The Patriots (1-4) dropped a heartbreaking one-point decision at Johnson County before falling last week to Seymour, which took advantage of four interceptions and a kick return for a touchdown in scoring 35 unanswered points. Sullivan East leads the all-time series 21-18, but have lost the last three. Unicoi County (5-0), which has two COVID wins, entered the season hoping to compete for a region championship and that hasn't changed. The Drew Rice-coached Blue Devils are 5-0 for the first time since 1984. Caleb Pelaez, Bryson Peterson, Nehemiah Edwards, Lucas Slagle and all-state punter Esteban Mendosa are players to watch for the Blue Devils. Sullivan East must avoid the turnovers and get big plays from Hunter Brown to have any chance in this one.
Prediction: Unicoi County 27, Sullivan East 18.
West Ridge (2-2) has lost two straight to Big East heavyweights Science Hill and Dobyns-Bennett, falling last week 28-14 to the Indians. The Wolfpack, which has one COVID win, is in the second of four straight road games. Cherokee (1-2) opened with a rout of Cocke County and have lost the next two by a combined 63 points. Ethan Bergeron has been West Ridge's main offensive weapon, but he was held to 34 yards on the ground last week. He has accounted for 10 of the Wolves' 13 touchdowns, either through passing or rushing the ball. Eli Topping leads the Wolves with 25 tackles, while Peyton Greene has three interceptions. Isaac Haynie has two picks and leads West Ridge in receiving yards with 115. Cherokee surrendered five rushing touchdown, two more through the air and two on defense in allowing 63 points last week to Murphy, N.C. Look for West Ridge to get back on the winning track.
Prediction: West Ridge 34, Cherokee 13.
Last meeting: Grundy 36, Honaker 3 (April 1, 2021 in Grundy, Va.)
This is one of the biggest games on the docket tonight as these two rivals finished tied atop the Black Diamond District preseason coaches poll. … Grundy (1-1) owns a 20-19 win over VHSL Class 4 Blacksburg and suffered a 42-13 setback to unbeaten Ridgeview of Class 2 last week. … With eight players in quarantine due to COVID-19 protocols, Honaker (2-1) was handled by Eastside last week in suffering its first loss. Aidan Lowe has been a playmaker for the Tigers. … Ian Scammell rushed for 116 yards and two TDs in the spring as Grundy hammered Honaker to claim the BDD title. Ethan Roberts also scored that night and both he and Scammell are back. "Grundy is a very good football team," said Honaker coach Doug Hubbard. "Big up front and backs who run hard." … Honaker's players would love nothing more than to give Hubbard a BDD title in his final season on the job. That adds plenty of intrigue and emotion to this early-season showdown.
Prediction: Grundy 24, Honaker 23
Last meeting: Castlewood 42, Rye Cove 0 (March 26, 2021 in Castlewood, Va.)
Both of these teams run the single-wing offense and both are trying to earn their first win. … Castlewood (0-3) has been outscored 107-26 in its three losses, but the Blue Devils are making progress. "We are young and we are getting better," said Castlewood coach Chris Lark. "Our losses do not indicate that, but we have improved. If we can learn to take care of the ball, things can turn around quickly." … Kaden Lasley leads Castlewood with 19 tackles, while Brad Steffey has notched two sacks. Kaleb Taylor, who had never played football before this season, has been a pleasant surprise and his stat line includes 17 tackles and a forced fumble. … Landen Taylor (231 yards, four touchdowns) and Slade Castle (140 yards) are the team's top rushers. … Rye Cove (0-3) has been outscored 94-14 and the Eagles will have a hard time stopping Landen Taylor tonight.
Prediction: Castlewood 26, Rye Cove 8
Last meeting: Lebanon 28, Chilhowie 8 (Oct. 6, 2006 in Lebanon, Va.)
These teams were supposed to play last week before Lebanon had to postpone due to COVID-19 protocols. Chilhowie was originally going to play Northwood tonight, but when the Panthers had their own COVID-19 issues it meant that Chilhowie vs. Lebanon was on the schedule instead. … Chilhowie is off to a 3-0 start, which very few folks might have predicted. "I'm actually pleasantly surprised by our start this season," said Warriors coach Jeff Robinson. "We have really come together as a team and rallied behind each other when players have been unavailable for various reasons throughout the course of the first three games. We have yet to play a game with our full roster this season. In fact, we have played each game this year with one or more of our star players out. So, to be 3-0 at this point is even more satisfying. However, we have a long season yet to go." … Chase Lewis (245 rushing yards, 171 receiving yards) has been an offensive force for Chilhowie, while Marco Silverio leads the team with 15 ½ tackles. The Warriors were dealt a blow when Jonathan Gilley broke his hand two weeks ago in a win over Narrows. … Lebanon is off to a 0-3 start, which very few folks might have predicted. "We have improved each week," Pioneers coach Michael Webb said. "But still haven't done enough to get over the hump." … Colton Barton and Grayson Olson have played well for the Pioneers. … Chilhowie hasn't beaten Lebanon since 2005 when current Warriors assistant Jared Pierce was the team's quarterback.
Prediction: Chilhowie 28, Lebanon 16
Last meeting: Union 26, Gate City 6 (March 6, 2021 in Gate City)
After opening the season with comfortable wins over Lee High and J.I. Burton, Union dropped a nightmarish 28-27 decision last week as Graham scored on a 36-yard pass with just 1:01 left in the game. Union averages 44 points and over 300 yards rushing behind early Southwest Virginia player of the year candidate Zavier Lomax. The powerful and quick senior has accounted for 460 yards rushing and seven touchdowns. … Gate City senior Carson Jenkins has been nearly as productive, as the William & Mary recruit has generated 385 yards rushing with four scores. The Blue Devils average 21 points per game while allowing 22 ppg. … Current Milligan University soccer player Luke Reed led GC in the spring game with 133 yards passing, while Lomax rushed for 157 yards and two scores for Union.
Prediction: Union 35, Gate City 7
Last meeting: Ridgeview 42, Lee High 0 (Feb. 27, 2021 in Ben)
Lee High (0-2) has allowed 118 points and 638 yards rushing in losses to Union and Patrick Henry. A bright spot emerged against PH, as freshman quarterback Brynnen Pendergraft threw for 311 yards and four scores to three different receivers. …The story for unbeaten Ridgeview is another precocious quarterback in Ryan O'Quinn. The poised freshman has passed for over 440 yards with six scores. Six different players have at least one touchdown for Ridgeview, which allows 6 ppg. … In the spring matchup, Ridgeview quarterback Nick Phillips threw for four touchdowns and ran for another score as the Wolfpack accumulated over 380 total yards. Lee High managed just three first downs and 43 yards.
Prediction: Ridgeview 42, Lee High 7
Last meeting: Holston 29, Eastside 15 (Nov. 16, 2019 in Coeburn, Va.)
Holston is off to a 3-0 start as the dudes from Damascus have outscored the opposition 121-23. "Holston is a very sound football team," said Eastside coach Michael Rhodes. "They run the football in a punishing way and defensively they are very physical and always have hats to the football." … Twin brothers Dillon Bott and Dustin Bott have dominated at times on defense for Holston. … Eastside has been aided by the return of Ethan Hill from an injury and he has rushed for seven touchdowns in two games since his return. Eli McCoy has snagged two interceptions for the Spartans. "Things are starting to click and we are playing good ball right now," Rhodes said. "But Holston will be a huge test."
Prediction: Holston 22, Eastside 12
Hurley at Tug Valley (W.Va.)
Last meeting: Hurley 22, Tug Valley 14 (Aug. 30, 2019 in Hurley, Va.)
Chris Rife, a 5-foot-11, 160-pound senior, has been a tackling machine for Hurley and was in on 18 tackles last week in an overtime loss to the River View Raiders from West Virginia. … Logan Hopkins and Alex Duty have also played well on that side of the ball for Hurley (0-2), while Payton Hurley and quarterback Caden Mullins have led the way offensively. Kevin Looney's production is down after suffering a high ankle sprain in a season-opening loss to the Phelps Hornets from Kentucky. … Tug Valley is 0-3 and the Panthers have lost by scores of 42-0, 38-14 and 55-14. The team just came out of quarantine this week after adhering to COVID-19 protocols. … A much-needed win awaits one of these squads this evening.
Prediction: Hurley 16, Tug Valley 14
Craig County at Twin Valley
Last meeting: Twin Valley 54, Craig County 42 (Sept. 27, 2019 in New Castle, Va.)
A win tonight would mean a 4-0 start for Twin Valley, a first in program history. … The Panthers rallied from a 9-0 deficit to post a 16-9 win over Northwood last Friday. Jeighkob Cooper and Matthew Lester are in the midst of a stellar season for the Panthers and have scored in a variety of ways. Garrett Horton has been a star on the defensive side of the ball. Dustin Jones hurt his knee last week against Northwood, which was a major hit to the Twin Valley attack. … Craig County (1-1) did not field a team during the COVID-19-induced 2021 spring season. Dylan Crawford and Bryce Drake provide the Rockets with a high-octane rushing attack. "Craig County is a team that could five us fits with their running game," said Twin Valley coach Jeremy Ward. "They have some quality backs that are patient and let things develop. They will cut back across the field, so we must stay focused and disciplined. Defensively, they tackle well and fly to the ball." … Twin Valley will be chasing history and also chasing down those Craig County running backs.
Prediction: Twin Valley 24, Craig County 23
John Battle at Patrick Henry
Last meeting: Patrick Henry 42, John Battle 6 (Sept. 27, 2019 in Emory, Va.)
Patrick Henry's J-Kwon McFail put together one of the season's best single-game performances in Southwest Virginia last week against Lee High. He scored five touchdowns – three via the rush, one on a fumble return and one on a kickoff return – and finished with 209 rushing yards on just nine carries. … PH (2-1) is averaging 46 points per game. "Very good team," said John Battle coach Bradley Ricker. "Big up front, very good runners, physical." … John Battle (0-3) has been outscored 146-7 in losses to Abingdon, Virginia High and Holston. Ricker has seen some strides with his young team and guys like Tyler Murray, Jesse Owens, Braedyn Bailey, Braxton Emerson, Brayden Emerson and Grayson Small have contributed in a major way. … Look for McFail (45 carries, 399 yards), Connor Beeson (58 carries, 695 yards) and other PH playmakers to put up some more big numbers tonight.
Prediction: Patrick Henry 48, John Battle 8
Rural Retreat at Parry McCluer
Last meeting: Rural Retreat 38, Parry McCluer 19 (Nov. 26, 2004 in Buena Vista, Va.)
Rural Retreat (2-0) is playing for the first time since Sept. 2 after a myriad of COVID-19 issues and the ensuing protocols led to postponements. The Indians were originally supposed to play rival George Wythe tonight, but GW had COVID-19 issues and schedule shuffling led to this trip up Interstate 81 to Buena Vista for the Indians. … Ely Blevins has been one of the area's most versatile players thus far and has spent time at quarterback, wide receiver and running back for Rural Retreat. … Parry McCluer has lost to Rockbridge County (14-6), Riverheads (49-0) and James River (23-8). … Parry McCluer beat Rural Retreat in the 1987 Region C, Division 1 title game, while Rural Retreat returned the favor in 1988 and 2004. … Rural Retreat will have to knock the rust off to win on the road.
Prediction: Rural Retreat 22, Parry McCluer 8
Thomas Walker at Claiborne County
Last meeting: Claiborne County 48, Thomas Walker 0 (Aug. 25, 2006 in New Tazewell, Tenn.)
This will be Thomas Walker's third game in eight days as the Pioneers beat Rye Cove last Thursday and topped Castlewood on Monday. … This will be the second straight contest in TW will be without head coach Nick Johnson. He is out due to COVID-19 quarantine. … Quarterback Darrin Gulley, wide receiver Alex Small, running back Xander Spears and the versatile Zack Kidwell have been leaders on offense for TW, while Riley McCurry, Dylan McCurry, Noah Cavin and Elijah Harber have played well on defense. … Claiborne County, a TSSAA 3A program, went 9-2 last season. However, the Bulldogs (0-3) are in rebuilding mode and have lost their first three games this season by scores of 40-8, 49-14 and 35-0. A win tonight on Claiborne County's homecoming could provide a major boost to Thomas Walker (2-2) and its playoff hopes.
Prediction: Claiborne County 19, Thomas Walker 18
Grayson County at Marion, 7 p.m.
Last meeting: Marion 9, Grayson County 0 (Sept. 27, 2019 in Marion)
Grayson (1-2) County earned a 27-22 win at Carroll County on Sept. 3 but dropped a 12-6 decision at Floyd County on Sept. 10. Senior running back Isaac Thompson led Grayson with 68 yards rushing. First-year GC coach Stephen James, a George Wythe graduate and former head football coach at Pulaski County and Fort Chiswell, returned just four starters from a 4-3 team that finished the spring season with a roster of 19. Players to watch include senior safety Holden Cassell and senior quarterback Canaan Jones, who passed for 270 yards against Carroll County. Grayson has switched from a T-formation to a spread look under James, but the Blues Devils have not topped 70 yards rushing in a game. … Six different players have scored at least one touchdown for Marion. The Scarlet Hurricanes committed five turnovers in last week's 34-8 loss at Gate City, but quarterback Reid Osborne has passed for five scores and sophomore running back J.B. Carroll has delivered some big runs. … With quarterback Tanner Tate setting the pace, Marion generated 281 yards and allowed just 88 in that 2019 defeat of Grayson.
Prediction: Grayson County 28, Marion 14
Last meeting: Graham 42, Galax 28 (Oct. 14, 2016 in Galax)
After opening the season with a 28-14 loss at Glenvar, Galax has defeated capable foes in Giles, Carroll County and Radford. The 34-27 decision at Radford came in overtime. The Maroon Tide returned 12 starters from a team that reached the Class 1 final under former Tazewell coach Shane Allen. Four-year quarterback Cole Pickett earned a walk-on spot at Virginia Tech, but veterans such as junior linebacker Riley Vaught, quarterback-defensive back Ian Ashworth and 260-pound senior lineman Brender Rojas are solid. … Graham gained a measure of revenge last week with a 28-27 victory against Union. The G-Men amassed 334 yards against the stout Union defense, with quarterback Zack Blevins, receiver Xayvion Turner-Bradshaw and offensive lineman Brody Meadows again setting the pace. Turner-Bradshaw has collected eight touchdowns in three games, including five TD connections from Blevins. The mobility of Blevins has given Turner-Bradshaw more room to operate.
Prediction: Graham 24, Galax 14
J.I. Burton at Twin Springs
Last meeting: J.I. Burton 25, Twin Springs 0 (March 26, 2021 in Norton, Va.)
J.I. Burton has won 16 straight Cumberland District contests and own the last three league titles. The Raiders should get a serious challenge on Saturday afternoon as they play a Twin Springs team that was picked for a second-place finish in the Cumberland District's preseason coaches poll. … Burton is off to a 0-3 start, but those losses have come to area heavyweights Ridgeview, Chilhowie and Union. "That's the thing," said Raiders coach Jacob Caudill. "When you play three tough opponents like that, sometimes you get exposed and getting exposed isn't always a bad thing. It shows you who you are and what you need to do to fix it." … Trey Keys has had a breakout season for the Raiders with 176 rushing yards and four touchdowns. Jaymen Buchanan, Xadrian Taybron, Brayden Dutton and Clay Hart have also stepped up for the team from Norton. … Twin Springs (2-1) has had two weeks to prepare for this contest and the Titans rallied for a quality 28-24 road win over Unaka in its last game. "Our guys are doing everything we ask of them," said Twin Springs coach Keith Warner. "Like everyone else we have had to fight through some [COVID-19] quarantine issues, but I think we have responded really well. We are improving on both sides of the ball." … Ryan Horne, Eli McCoy, and Mason Elliot have been among the mainstays for Twin Springs as far as making plays. … Will this be a statement game for Twin Springs or will the Cumberland District remain status quo with the J.I. Burton Raiders doing what the J.I. Burton Raiders do?
Prediction: J.I. Burton 20, Twin Springs 14
Last meeting: Riverheads 28, Tazewell 17 (Feb. 27, 2021 in Staunton, Va.)
Five-time defending Class 1 state champion Riverheads has a winning streak of 40 behind a blue-collar approach. The Gladiators have outscored their opposition by an average margin of 48-15 en route to its four victories this season. That run includes a 62-38 decision at Class 3 power Lord Botetourt. … Zac Smiley led Riverheads in the spring matchup against Tazewell, rushing for 123 yards and two scores. Tazewell led the Gladiators by a 9-7 margin at halftime. … Counting Riverheads, the first four opponents for Tazewell have a combined record of 12-1. The Bulldogs are without speedster Mike Jones, who underwent season-ending knee surgery last week. Tazewell coach J'me Harris relies on freshman quarterback Carter Creasy. The six-foot-one, 179-pound freshman has thrown for 677 yards and four scores with a 60% completion rate. Jared Mullins (28 receptions) and Cassius Harris are (26) the top targets. "We've been very pleased with Carter's development," Coach Harris said. "We need to continue to get better at running the football. On defense, we have to stop the explosive plays and cut out the mental errors."