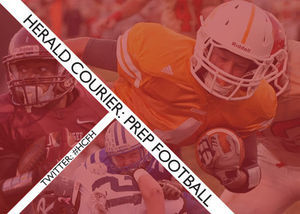 Last meeting: Honaker 50, Grundy 26 (Sept. 27, 2019 in Honaker, Va.)
Grundy (3-2) can clinch the Black Diamond District title with a victory, but the Golden Wave will likely not quality for the VHSL Region 1D playoffs unless something weird, wild and wacky happens. … Honaker (1-4) has struggled in what has been a rebuilding season, but there have been some bright spots for the Tigers. Dylan Barrett, Trevor Miller, Jayson Mullins and T.J. Hubbard have been the leaders of the team's defense, while Skylar Miller, Aiden Lowe and quarterback Sean Gill have improved offensively over the course of the season. … Honaker has had two weeks to prepare for this one after a bye week. … Ian Scammell has led Grundy's rugged rushing attack, while Hunter Scarberry might be the BDD's best tackler. "Grundy is very good offensively with some very quick backs, the defense reacts to the ball well and they tackle well," said Honaker coach Doug Hubbard. "We will have to play well in order to have a chance to win." … Honaker piled up 452 rushing yards in hammering Grundy in the previous matchup between the teams. Grundy's defense will perform much better this time around.
Prediction: Grundy 26, Honaker 16
Last meeting: Hurley 40, Twin Valley 6 (Nov. 8, 2019 in Keen Mountain, Va.)
Twin Valley's last victory over Hurley came in 2013, but the Panthers will be heavily favored against the Rebels this season. … Twin Valley (2-2) is much improved and the losses have come to Black Diamond District leader Grundy and Holston, which resides in first place in the Hogoheegee District. … Hurley (1-4) has not scored in its last four games and the Rebels are allowing 34 points per game. … Hurley had 471 yards of total offense in a 2019 triumph over Twin Valley, but the Panthers will be the squad piling up the yards and points this time around.
Prediction: Twin Valley 32, Hurley 12
Northwood at Patrick Henry
Last meeting: Patrick Henry 36, Northwood 0 (Nov. 7, 2019 in Saltville, Va.)
Patrick Henry completed a perfect 10-0 regular season with a win over Northwood in 2019 on a soggy Thursday night in Saltville. The Rebels can wrap up a Region 1D playoff berth tonight with a win over the Panthers on a chilly Thursday night in Emory. … PH (4-1) has won four straight since a season-opening setback to Holston. Connor Beeson and J-Kwon McFail are a formidable rushing duo, Ean Rhea is one of the top players in Southwest Virginia and Caleb Walk is tough on defense for the Rebels. … Sophomore Bobby Cline has 40 tackles this season for PH, while Jacob Mutter shifted from fullback to the offensive line and has helped pave the way for that rushing attack. … Quarterback Seth DeBusk and linebacker CB Johnson have been bright spots for Northwood. … Northwood's last win over Patrick Henry occurred in 2013. … Northwood boss Tim Johnson was the head coach at Patrick Henry from 2002-2007. … "Patrick Henry has top-notch football team," Tim Johnson said. "They are really good up front on both sides of the ball and have kids who are absolute problems with the ball in their hands. Offensively, I'm pretty sure [Patrick Henry coach] Seth [Padgett] has more formations than [Kansas City Chiefs coach] Andy Reid."
Prediction: Patrick Henry 40, Northwood 12
Last meeting: Abingdon 45, John Battle 14 (Aug. 30, 2019 in Abingdon)
Abingdon is averaging 43 points behind a balanced offense. Senior Martin Lucas has rushed for seven scores and over 360 yards, junior quarterback Cole Lambert has thrown for 11 touchdowns, and junior receivers Haynes Carter and Peyton McClanahan have combined for 12 TD receptions. Senior Tyler Harless has been steady at defensive back, with senior Jake Johnson setting a torrid pace at linebacker … John Battle quarterback Jack Thurston has thrown five touchdown passes, including three last week against Lee High. Shannon Wohlford is a force on offense and defense. …. Lucas starred in the 2019 matchup, generating 130 total yards and four scores.
Prediction: Abingdon 42, John Battle 0
Last meeting: Marion 41, Lebanon 38 (Oct. 4, 2019 in Marion)
Lebanon averages over 160 yards rushing behind its Power-I attack, with rugged Alden Ward doing most of the damage. Eight different players have scored at least one touchdown for the Pioneers, while Carissa Johnson has connected on four extra points. … Marion averages under 50 yards per game rushing and is allowing nearly 160 yards on the ground. That formula spells bad news for run-centric Lebanon. … Marion compiled 446 total yards against Lebanon in 2019. Tanner Tate threw for four scores, including the game-winner with 52 seconds left.
Prediction: Lebanon 28, Marion 13
Rural Retreat at Rye Cove
Last meeting: First meeting
How did this impromptu clash come to be? "I was about two hours away from telling our kids the season was over [on Monday] when I got an e-mail from [Rural Retreat] Coach [Jamey] Hughes," said Rye Cove coach Cheyenne Osborne. "We wanted to send our guys out properly. A Senior Night followed by a game. That's why we are playing and we are very excited for the chance." … Rye Cove (0-4) was originally supposed to play Twin Springs, but the Titans are currently in quarantine after a player tested positive for COVID-19. This was Rural Retreat's open week as the Indians had a game earlier this season against George Wythe canceled. "If we had won [last] Friday [against Holston], we would have just rested this week and got ready for the playoffs," said Rural Retreat coach Jamey Hughes. "Now that we may miss the playoffs, we just wanted to make sure our kids would get to play another regular-season game." … Rural Retreat (3-2) came close to running the table in the regular season as the Indians' two losses – to Patrick Henry and Holston – were by a combined seven points. … If you like no-frills football, keep an eye on Rye Cove's Mason Hardin (503 rushing yards) and Rural Retreat's Lucas Brewer. They define hard-nosed ball carriers. … Freshmen Logan Barnette, Jay Bowen and Colton Brown have played well on defense for Rye Cove. ... The lengthy trip to Clinchport will be a worthwhile trip for the Indians from Wythe County.