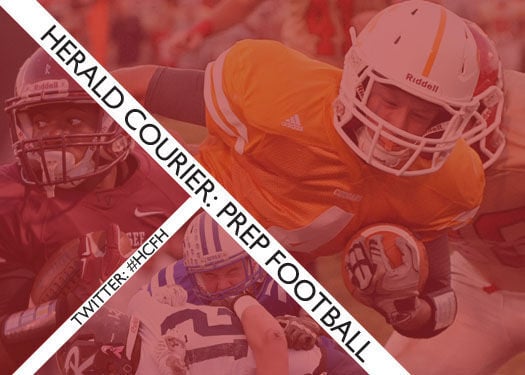 West Ridge (11-0) at Maryville (9-2)
A 9-2 record, seven straight wins and a home playoff game has been part of an amazing inaugural season for West Ridge. What awaits next is a true dynasty, with Maryville having won 14 state championships since 1998. In fact, since 2001 the Rebels have lost zero or one game 18 times, and have loss twice just two times over that span. Nothing has changed this season, with the Rebels sitting at 11-0, with only one game decided by less than 23 points. They have only lost once to any team from far Northeast Tennessee since '01, dropping a decision that season to Morristown West. West Ridge will give it their best shot, with their primary hope to keep the ball away from the Maryville offense, but eventually the Rebels will get the ball. Give the Wolves their due, it has been a remarkable first season, but West Ridge will experience the immovable obstacle that has been blocking Region 1-6A team's path to the ultimate goal for years now.
Prediction: Maryville 44, West Ridge 14.
Honaker (5-5) at Holston (10-0)
Last meeting: Honaker 52, Holston 7 (Sept. 16, 2016 in Honaker, Va.)
Expect some history to be made tonight in Damascus. Holston would improve to 11-0 with a win and match the single-season program record for victories also achieved by the Cavaliers in 1984 and 2009. Meanwhile, Honaker coach Doug Hubbard tries to prolong his 39th and final season as the leader of the Tigers. … Top-seeded Holston is allowing just 7.7 points per game as Lane Blevins (110 tackles) and Dustin Bott (98 tackles) have been the leaders. Offensively, the Cavaliers are putting up 31.2 points per game as Jordan Ezzell (702 yards), Trent Johnson (555 yards) and Gage Quina (509 yards) have gotten it done on the ground. Brycen Sheets has thrown five TD passes, rushed for 11 scores and has a defensive touchdown. "Holston has a solid team with not a lot of weaknesses on either side of the ball," Hubbard said. … Of Holston's 10 wins, six have come against teams that reached the playoffs. … Honaker is paced by Aidan Lowe, who has totaled 22 touchdowns, and is one of the fastest players in the region. Jax Horn is the defensive leader for the Tigers. … The winner will play either Chilhowie or Grundy in the second round. … Holston has more depth and weapons, but Honaker is sure to leave it on the field as they try to give their coach one more opportunity at postseason glory. "Honaker is a solid football team," said Holston coach Chris Akers. "They have size up front and have athletes at the skill positions. We have to remain focused and take things day by day, play by play. Also, they will be playing for Coach Hubbard."
Prediction: Holston 41, Honaker 14
Grundy (5-4) at Chilhowie (7-3)
Last meeting: Chilhowie 42, Grundy 6 (Oct. 25, 2019 in Chilhowie, Va.)
This matchup between fourth-seeded Chilhowie and No. 5 Grundy might be the most intriguing contest of the weekend and making a prediction on the outcome is not easy. … Chilhowie ended the season with three straight losses, but those setbacks came to Virginia High, Patrick Henry and Holston – teams with a combined record of 25-5. … Grundy running back Ian Scammell is one of the best rushers in Southwest Virginia and is the leader for the Golden Wave. Knee injuries to Jake Stiltner and two-way lineman Logan Looney have hampered Grundy. … These teams actually scrimmaged back on Aug. 12. ... Guys like Seth Thomas (57 tackles), Joey Widener (56 ½ tackles) and Hunter Powers (44 1/2) tackles) will have to step up at the line of scrimmage to prevent Grundy from controlling the ball, controlling the clock and controlling the game. "Grundy has great size and strength, along with one of the best running backs in the area," said Chilhowie coach Jeff Robinson. "They are playing good football right now." … Grundy played a rugged schedule that included Region 2D playoff qualifiers Ridgeview and Wise County Central. … This one could come down to special teams. Grundy opts to go for two every time it scores, while Chilhowie has an elite kicker in Daniel Hutton. Hutton has kicked 20 field goals over the past four seasons, going 12-for-12 on kicks from 20-29 yards, 6-for-8 on those in the 30-39 range and 2-for-5 from 40-49 yards. That could possibly make a difference. … Holston or Honaker awaits the winner in next week's regional semifinals.
Prediction: Grundy 22, Chilhowie 21
Twin Valley (7-3) at Patrick Henry (7-3)
Last meeting: First meeting
This is the first-ever matchup between these two teams who rely on a run-first offense. … Twin Valley has been this season's feel-good story in Southwest Virginia. There was a time in August when the Panthers weren't sure if they would have enough players to field a team. Now, 16 strong, Twin Valley has established a single-season record for wins and earned a share of the Black Diamond District title. … Jeighkob Cooper had 11 touchdowns in two games last week, including the game-winner with 1:40 remaining in a 36-28 win over Hurley. … Twin Valley overcame a 28-8 deficit to beat Hurley in the final game of the regular season, while Patrick Henry rallied from 21 points down to beat Northwood last Friday. … Connor Beeson (1,558 yards, 18 touchdowns) has led the way for PH, but the Rebels' offense is not near as explosive after J-Kwon McFail broke his collarbone. Cody Pruitt (106 tackles) and Bobby Cline lead the defense, while Clay Mora has anchored the offensive line for the Rebels. … PH is in the playoffs for the eighth straight season. The Rebels lost to J.I. Burton at home in the regional semifinals back in the spring. … Patrick Henry coach Seth Padgett was recently named as the head baseball coach at the school as well. … Twin Valley has never won a postseason game as the Panthers lost in the first round to St. Paul (2001), Twin Springs (2004), Galax (2014), Radford (2015) and Fort Chiswell (2016) in their previous trips. Who was the star on that '01 St. Paul team? Seth Padgett. … Twin Springs or Eastside will tangle with the winner in next week's regional semifinals.
Prediction: Patrick Henry 24, Twin Valley 16
Tazewell at Wise County Central
Last meeting: Wise County Central 39, Tazewell 20 (April 4, 2021 in Wise)
The Tazewell story is based around quarterback Carter Creasy. A 6-foot-1 freshman who has attended a variety of camps, Creasy has passed for 2,736 yards and 27 scores while competing 63% of his throws and rushing for seven scores. The 3,000-yard single-season passing mark has only been reached 27 times in VHSL history. Junior Cassius Harris has amassed 10 scores and 1,320 yards and needs just nine receptions to tie the VHSL single-season reception record set by Patriot's Nick Mathews (102) in 2014. Other standouts include senior Ethan Mills (562 yards receiving), senior Jared Mullins (58 receptions) and freshman Logan McDonald with 28 receptions. Mullins leads the team with 68 tackles. …Senior Matthew Boggs tops Central with 902 yards rushing and 15 touchdowns, while junior Dustin Sturgill (474 yards), senior Tyson Tester (423) and Ethan Mullins (343) have also been productive. Junior Braeden Church has passed for 642 yards and eight scores, while Mullins has contributed 23 receptions for 362 yards and junior kicker Ricardo Onate had compiled 51 points. Senior linebackers Logan Mullins and Tester have combined for 134 tackles. … The spring matchup between these teams came in the opening round of the playoffs. Wise Central opened a 32-0 halftime lead and rushed for a total of 383 yards. Tazewell passed for 189 yards and two scores. … Wise Central will look to pound away with its Wing-T running game, while Tazewell will pass often.
Prediction: Wise County Central 40, Tazewell 14
Last meeting: Ridgeview 49, Richlands 14 (Oct. 1, 2021 in Richlands)
Ridgeview leads this series 2-1, including a wild 38-34 decision last spring in a VHSL Plus-One contest. After Ridgeview opened a 28-0 advantage in the second quarter, the Blues rallied behind 222 yards passing from Gavin Cox and 70 yards receiving from Sage Webb. In the October rematch, Ridgeview took a 35-7 halftime lead and generated 413 total yards. Junior running back Dylan Brown led Richlands with 75 yards rushing. … Ridgeview freshman quarterback Ryan O'Quinn continues to pile up impressive stats, with over 1,700 yards passing and 21 touchdowns. Juniors Brandon Beavers (13 TD receptions) and Cannon Hill (106 points) are playmakers for the Wolfpack, while senior lineman Caden Gibson steers a defense that has held five teams under 100 yards rushing …Richlands will need to chew up the clock behind Brown (5-11, 182) and Webb, who both topped the 100-yard rushing mark last week against Virginia High. The 6-7 Cox has thrown for 10 scores, while Webb has 12 touchdowns. … After missing the spring playoffs due to COVID-19, Ridgeview wants a playoff party.
Prediction: Ridgeview 35, Richlands 13
Last meeting: Lee High 21, Graham 19 (Sept. 8, 1995 in Ben Hur)
Graham and Lee High played every season from 1992-95, with each team winning twice. …. Lee High edged Gate City for the No. 4 playoff seed from the Mountain 7 District despite falling 28-14 to the Blue Devils in week seven. It's been a season for transition for Lee under new coach Joey Carroll. The Generals posted wins over Rye Cove, J.I. Burton, Eastern Montgomery and John Battle, but also endured some blowout losses. The Generals rely on sophomore Grayson Huff (1,176 yards rushing) and freshman quarterback Brynnen Pendergaft, who has thrown 1,431 yards. … After surviving a 28-27 scare against Union in week, Graham (9-0) has breezed past most opponents with an average victory margin of 41-11. Senior Xayvion Turner-Bradshaw (22 touchdowns) has received 12 offers from NCAA Division 1 schools, with the latest outreach coming on Oct. 28 from Vanderbilt. … This game will be decided early, as Turner-Bradshaw busts off a few highlight-reel sequences.
Prediction: Graham 49, Lee High 0
Last meeting: Union 13, Virginia High 7 (Sept. 14, 2012 in Big Stone Gap)
This is the first playoff berth for VHS since 2018, while Union has advanced every season since the school opened 11 years ago. … The key here is the health of VHS running back Stevie Thomas, who has accumulated 28 touchdowns and over 1,450 yards rushing. The senior speedster was slowed by injury in last week's 35-20 loss at Richlands but is expected to play tonight. Other standouts for VHS include versatile senior Ajaani Delaney, junior center Eli Edwards (5-10, 230) and 275-pound senior lineman Kavonta Smith. The Bearcats have a plus-27 turnover margin. … Union has lost to Graham (28-27), Wise County Central (31-7) and Abingdon (23-0) this season, but the Bears are deadly inside historic Bullitt Park. Senior running back Zavier Lomax has rushed for over 1,300 yards with 20 scores while also playing solid defense at linebacker. Senior lineman Tanner Jervis, junior linebacker Johnny Satterfield and senior end Ethan Mabe will look to a set a physical tone. … Union leads the series 2-0, including a 20-17 decision in 2011 at Virginia High. … Can the Bearcats break enough big plays to keep Lomax off the field?
Prediction: Union 35, Virginia High 21
Last meeting: Northside 48, Abingdon 28 (Nov. 15, 2019 in Roanoke)
Northside had a 3-1 edge in this series, with all the matchups coming in the playoffs. … Northside (4-6) lost 42-22 last week as Jahylen Lee of Franklin County rushed for 452 yards. The Vikings feature dynamic 5-11 junior quarterback Sidney Webb, a three-year starter who passed for 325 yards against Franklin County. Six-foot-three senior Cameron Abshire and 6-2 senior Lawrence Lawrence Cole, who both play basketball, are the top receiving targets. Fifth-year Northside coach Scott Fisher returned 12 starters from a 1-4 team in the spring. Junior linemen John Farmer (6-1, 226) and Marc Desir (6-1, 275) are defensive leaders. … With senior quarterback Cole Lambert (13 TD passes) directing the show, Abingdon features an array of weapons in the run and pass game. Senior Haynes Carter (7 TD receptions) is a force at receiver and linebacker, while running backs Malique Hounshell and Bishop Cook have combined for 26 scores. Senior lineman Charlie Sturgill (6-2, 243) and senior linebacker Timmy Jessee are leaders on a defense that has posted three shutouts. … Webb is creative, but Northside will have no answer for the powerful AHS line corps.
Prediction: Abingdon 28, Northside 7
Eastside (5-4) at Twin Springs (9-1)
Last meeting: Twin Springs 48, Eastside 33 (Oct. 15, 2021 in Nickelsville, Va.)
The only football game being played on Saturday in these parts is also one of just two first-round games this weekend involving local teams that is a rematch from the regular season (Ridgeview at Richlands in Region 2D is the other one). ... These two teams combined for 81 points, 883 yards of total offense, 50 first downs and eight turnovers in last month's matchup. Ryan Horne rushed for 318 yards and four touchdowns that night for Twin Springs, while Eastside quarterback Jaxsyn Collins passed for 260 yards and three TDs. … The quartet of Abel Dingus (630 passing yards, nine TDs), Ryan Horne (1,208 rushing yards), Mason Elliott (456 receiving yards) and Kye Hale (57 tackles) have been the cornerstones for Twin Springs. … Ethan Hill (1,150 rushing yards) and Jaxsyn Collins (17 TDs passes) help Eastside put up the points. … The winner will meet either Patrick Henry or Twin Valley in the regional semifinals.
Prediction: Twin Springs 30, Eastside 28