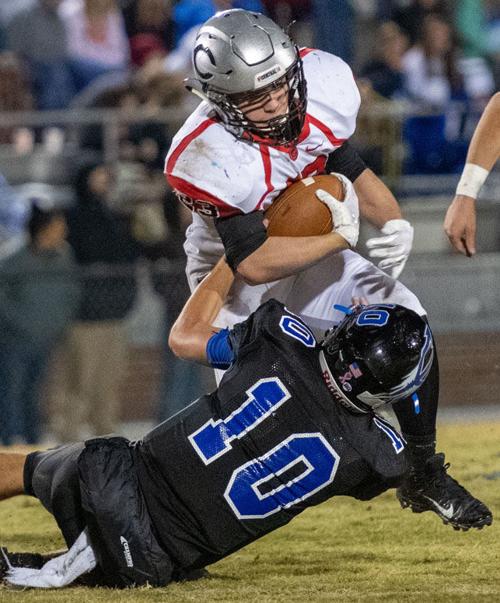 Last meeting: Galax 7, George Wythe 0 (March 13, 2021 in Galax, Va.)
George Wythe is in the playoffs for the 14th consecutive season and the Maroons will face a familiar foe. … Galax knocked GW out of the playoffs in 2013, 2018 and 2019. … These two teams engaged in a defensive battle last month. A 5-yard touchdown run by Santana Sawyers with 4:02 remaining turned out to be decisive play for Galax. … Galax (6-0) has thrived under first-year boss Shane Allen and has allowed just 51 points this season. Allen and GW head coach Brandon Harner are both graduates of Carroll County High School and served as assistant coaches together at their alma mater for many years.… George Wythe (3-2) has struggled offensively at times this season and the Maroons must get the ball in the hands of dynamic senior Braydon "Vegas" Thompson. Thompson has 387 receiving yards, 183 rushing yards and 335 kick return yards with six total touchdowns. … The trio of Leyton Fowler (54 ½ tackles), Tandem Smith (49 tackles) and Conner Fowler (35 ½ tackles) have led GW's defense. The Maroons have allowed a team to score in double digits just once and that was a 27-22 loss to Fort Chiswell. … The winner will play either Narrows or Parry McCluer in the regional title game. … Senior quarterback Cole Pickett's experience and playmaking ability – he's thrown for 870 yards and 13 touchdowns with just two interceptions in 103 pass attempts – could be the difference maker for the Maroon Tide in what promises to be another hard-nosed, pad-rattling showdown.
Prediction: Galax 13, George Wythe 8
Last meeting: Holston 32, Castlewood 6 (Sept. 13, 2018 in Castlewood, Va.)
Holston hopes to continue its history-making season. The Cavaliers won the Hogoheegee District title for the first time since 1984 and are two victories away from their first regional championship since 2009. … The Cavaliers (5-1) have won five straight since a season-opening setback to Grayson County and are averaging 32.5 points per game. Quarterback Quaheim Brooks (676 passing yards, 532 rushing yards) has been the catalyst for Holston and the dynamic dual threat has given opposing defenses fits. … Along with Brooks, Jordan Ezzell (346 rushing yards, 178 receiving yards), Trent Johnson (318 rushing yards), Ethan Norris and Logan Walden are weapons for the Cavaliers. Lane Blevins (89 tackles, Duston Bott (56 tackles) and Brycen Sheets (53 tackles) are the defensive leaders for Holston. … Castlewood is hoping to make some history as well as the Blue Devils haven't won a playoff game since 2011. … The Blue Devils (5-1) have been paced by a rugged rushing attack and the Blue Devils are averaging 35.8 points and 295 rushing yards per game. Jeremiah Allen is 47 yards shy of 1,000 for the season. "Castlewood is big, strong and very well coached," said Holston boss Derrick Patterson. "They also have some good athletes around that size, which makes for a really dangerous combination. I think what impresses me the most about them is their defensive front. Those guys really get after it and make it really difficult on the offense to get into a rhythm. Coach [Chris] Lark has done a great job in his first two seasons and it shows in how hard his team plays."
Prediction: Holston 28, Castlewood 20
J.I. Burton at Patrick Henry
Last meeting: Patrick Henry 24, J.I. Burton 0 (Nov. 30, 2019 in Emory, Va.)
J.I. Burton is in the playoffs for the 19th straight season, which is now the top active streak in Far Southwest Virginia since Richlands failed to make the postseason for the first time since 2000. … This is a rematch of the 2019 Region 1D finals and these programs are getting familiar with seeing one another in the postseason. J.I. Burton beat Patrick Henry in the 2017 regional semifinals, but the Rebels knocked the Raiders out of the playoffs in 2018 and 2019. … PH (5-1) has won five straight since a 20-12 season-opening setback to Holston. The Rebels are averaging 29.4 points per game with Connor Beeson (648 rushing yards, six touchdowns) and J-Kwon McFail (548 rushing yards, four TDs) setting the tone. Ean Rhea, Caleb Walk and Bobby Cline lead a hard-hitting defense. … J.I. Burton (3-1) hasn't played since a 25-0 win over Twin Springs on March 26 as the Raiders were shut down for a couple of weeks due to a COVID-19 exposure. They came out of quarantine on Tuesday … Esau Teasley, a 2019 all-state selection, has 382 rushing yards, 40 receiving yards and 27 kick return yards this season for Burton. Trevor Culbertson has provided a spark as well. "They are a big, physical football team with a lot of steam speed," said PH coach Seth Padgett. "The thing that impresses me most is how hard they play on both sides of the ball."
Prediction: Patrick Henry 30, J.I. Burton 24
Tazewell at Wise Country Central
In an age of pass-happy offenses and quarterback gurus, Wise Central (4-1) favors an old-school power ball approach. The Warriors average over 260 yards rushing behind clever senior wingback C.J. Crabtree. On defense, Wise Central allows just seven points and 82 yards rushing per game. … Tazewell (3-2) features senior running back Chancellor Harris (424 yards rushing), senior receiver Josiah Jordan (300 yards receiving) sophomore receiver Cassius Harris (240 yards receiving) and senior quarterback Gavin Nunley, who has passed for over 650 yards and nine scores. ...Both teams feature consistent offensive line play. Senior Josh Herndon (6-7, 315) guides the Tazewell thumpers, while junior Daniel Hawkins is a two-way line standout for Wise Central. The matchup between Chancellor Harris and Crabtree should be interesting.
Prediction: Tazewell 21, Wise County Central 20
Carroll County at Abingdon
Last meeting: Abingdon 49, Carroll County 28 (Oct. 10, 2012 in Hillsville)
First-year Carroll County coach Monty Chipman led the Cavaliers to a 4-0 start, the best at the school since 2006. The last time CC won at least four games and advanced into the playoffs was 2010. The lone loss this season was a 40-0 decision against Galax. Players to watch include senior running back Tristan Peckron (528 yards rushing, senior quarterback- Brady Dalton (657 total yards), senior slotback Brant Davidson (306 total yards), senior linebacker Josh Wall (34 solo tackles) and senior defensive lineman Eli Underwood. Dalton, who has committed to play football at the University of Virginia's College at Wise, is the son of UVa-Wise Hall of Fame member Christy (Gray) Dalton. … Abingdon, which has 17 seniors, has outscored five foes by an average margin of 42-7. Junior quarterback Cole Lambert has thrown for 13 scores and 752 yards, while senior running back Martin Lucas has contributed 448 yards rushing and nine touchdowns behind the blocking of 285-pound sophomore Desean Lucas and 243-pound junior Charlie Sturgill. The closest game for the Falcons was a 13-7 decision over Wise County Central in week two. Seniors Jake Johnson and Eli Ratcliff are stoppers on defense.
Prediction: Abingdon 28, Carroll County 0
Last meeting: Gate City 55, Marion 0 (Oct. 11, 2019 in Gate City)
Relying on a form of the single-wing offense last week, Gate City (1-5) earned its first win with a 47-13 decision against Lee High. Senior Luke Reed and junior Carson Jenkins once again set the pace on offense. The Blue Devils have been outscored by an average margin of 32-17. The last winning season for GC came in 2014. … Sophomore Logan Langston leads Marion (1-5) with two touchdowns, while senior Christian Hylton has supplied seven extra points, two field goals and one touchdown. Marion has dropped five straight games, allowing at least 28 points against each foe …In the 2019 matchup, Gate City opened a 41-0 halftime lead and took advantage of five Marion turnovers.
Prediction: Gate City 22, Marion 7
Rural Retreat at Alleghany
Last meeting: First meeting
Rural Retreat has racked up the mileage and is facing some unfamiliar foes. … Last week, the Indians went on the road and rolled past Rye Cove, 53-0, in the initial meeting between the programs. Tonight, Rural Retreat faces Alleghany for the first time. … Most years, Rural Retreat (5-2) would be hosting a first-round playoff game, but with just a four-team field in Region 1D this spring, the Indians were left out of the postseason altogether. Their two losses – to Region 1D playoff participants Patrick Henry and Holston – were by a combined seven points. "Our region council decided not to use power points for the Plus-One format on Wednesday of last week, so every team that knew they weren't in the playoffs got their games set up," Rural Retreat coach Jamey Hughes said. "We did not know if we were in or not until Saturday, so we had to scramble to find a game." … A member of Region 2C and the Three Rivers District, Alleghany (0-6) has scored just 35 points this season. Matt Howell (241 rushing yards) and Dalton Griffith (39 tackles) are the leaders for the Mountaineers. … Alleghany coach Will Fields is familiar with Southwest Virginia teams. He was the head coach at Bath County from 2002-2015 and during that time his teams battled Appalachia, Northwood, J.I. Burton, Rural Retreat, Holston, Clintwood and Honaker in playoff games. He directed the Chargers to a state runner-up finish in 2003. Fields is in his first season at Alleghany. … Rural Retreat's rushing attack is persistent and the Indians will pile up more yards tonight.
Prediction: Rural Retreat 44, Alleghany 22
Last meeting: First meeting
Grundy coach Craig Plymal and Eastside boss Mike Rhodes are close pals and that led to this matchup taking place. "Mike and I worked the Virginia High School Coaches Association All-Star Game together and developed a great relationship," Plymal said. "This was a good opportunity to play each other in what we think is a good matchup. Coach Rhodes does an excellent job with his kids and creating plays to get them the ball in space." … Grundy won the Black Diamond District title for the third time in four seasons with running back Ian Scammell leading the way. … The only two losses for Eastside (4-2) came to playoff participants Castlewood and Union. Will Stansberry, Nick Raymond and Bryson Shepherd have been consistently good all spring for the Spartans. … Grundy's defense, led by Hunter Scarberry and Logan Looney, could pose some problems for Eastside.
Prediction: Eastside 21, Grundy 14
Last meeting: Hurley 59, Thomas Walker 20 (Oct. 3, 2014 in Hurley, Va.)
This might be the longest trip teams can make in Far Southwest Virginia, but it's not uncommon. This is the 13th meeting between the programs and Hurley has won nine of the previous 12 contests. "We wanted to make sure our seniors got one more opportunity to play," said Thomas Walker coach Nick Johnson. It's gonna be a long drive, but it is worth it for those guys." … Thomas Walker (1-5) has been led by Riley McCurry, Jason Cowden, Elijah Harber, Kenny Ball and Jaron Warf. McCurry had 16 tackles in last week's loss to Castlewood. … "If we can win the game, that would put this senior class at 21-19 overall," Johnson said. "The four seasons before they entered ninth grade, Thomas Walker was 8-32 overall. They have been a huge part of helping to turn the program around." … Hurley (1-5) opened the season with a 36-28 win over Rye Cove, but the Rebels haven't won – or scored – since. … Running back/defensive back John Matt Justus and senior offensive lineman/linebacker Martin McCoy have been leaders this spring for Hurley and won't go make their last game at "The Cliff" a memorable one. However, Thomas Walker will be too tough.
Prediction: Thomas Walker 16, Hurley 12
Last meeting: Chilhowie 21, Northwood 0 (March 5, 2021 in Chilhowie, Va.)
This will be the first time these Smyth County rivals have played twice in the same season. … Jordan Williams (11 tackle), Keven Crewey (11 tackles) and Jonathan Gilley (96 rushing yards, 33 receiving yards) starred in Chilhowie's win over Northwood a little more than a month ago. The Warriors limited Northwood to 62 yards of total offense. … Seth Thomas, a 6-foot-5, 250-pound freshman, has started on both sides of the ball this year and has impressed for Chilhowie. Junior Hunter Powers and Senior Colby Crutchfield have been steady on the offensive and defensive lines. … Both these teams have struggled to get much going offensively. Chilhowie (2-4) is averaging 9.4 points per game, while Northwood (1-5) scored 44 of its 84 points this season in a win over Hurley.
Prediction: Chilhowie 10, Northwood 6