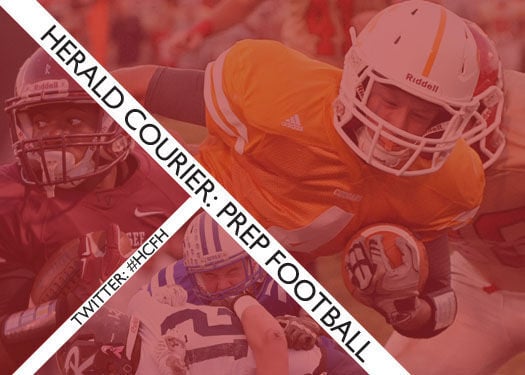 Morristown East at West Ridge
West Ridge (5-2, 1-2) returns home for its final three regular season games of its inaugural campaign. The Wolves are on a roll, having won three straight after falling to Science Hill and Dobyns-Bennett. A win in this one should secure a playoff spot for the Wolves, who will host Tennessee High in a non-conference affair next Thursday. Ethan Bergeron (638 yards, 6 TD pass; 663 yards, 12 TD rush) continues to lead West Ridge, which not only ran up 321 yards behind Ethan McClain and Austin Riner last week, but the defense held David Crockett's usually prolific offense to just 140 yards. Eli Topping has 56 tackles, which is 25 more than Peyton Greene, who is second in stops. Morristown East (1-6, 0-3) picked up its first win of the season last week, 42-7 over Cocke County.
Prediction: West Ridge 36, Morristown East 12.
Mountain Lakes Conference
Tennessee High at Daniel Boone
Last meeting: Tennessee High 14, Daniel Boone 7 (Sept. 4, 2020, at Bristol)
Only one of five teams in the Mountain Lakes Conference is going to miss the playoffs. Tennessee High (2-4, 1-1) could just about clinch a spot with a win, but the Trailblazers (1-5, 0-1) need wins even worse. Daniel Boone has lost five straight after opening the season with a win, falling to such quality non-conference foes as unbeaten Loudon, Elizabethton, Science Hill and Christian Academy of Knoxville. Tennessee High, which has two wins by 2 and 3 points, has had to endure tragedy and more than their share of injuries, forcing the Vikings to go deep into the depth chart for healthy bodies. Levon Montgomery, who ran for 245 yards in a win over Morristown West two weeks ago, is doubtful for tonight after missing last week's six-point loss to Volunteer as well. The Vikings just can't catch a break.
Prediction: Daniel Boone 14, Tennessee High 13.
Sullivan East at Greeneville
Last meeting: Greeneville 68, Sullivan East 14 (Oct. 20, 2020, at Greeneville)
The Class 4 top-ranked Greene Devils (8-0, 4-0) are averaging 51.9 points a game, having scored at least 35 in every game. They have scored as many as 78, as few as 35, and the "closest" margin of victory has been 32. Greeneville, is a definitely a candidate to win another state title, something the Greene Devils did with unbeaten records in both 2017-18. Mason Gudger leads Greeneville on the ground, having moved into third in school history in rushing yards with 3,641. Brady Quillen was 6-for-7 for 115 yards and three touchdowns in last week's win over Oak Ridge, which finished as the Class 5 state runner-up last season. Sullivan East (1-7, 1-2), which concludes its season in two weeks against much-improved Volunteer, are 4-13 against Greeneville, including seven straight losses dating back to 2004.
Prediction: Greeneville 63, Sullivan East 6.
Last meeting: Eastside 43, Twin Springs 30 (March 6, 2021 in Norton, Va.)
The winner of this contest has the inside track to the Cumberland District championship and will likely host a first-round game in the VHSL Region 1D playoffs. … Twin Springs is third and Eastside is fifth in regards to the current playoff power point rating scale. … This game could also be called the Eli McCoy Bowl as both the Spartans and Titans have players by that name. Each Eli McCoy scored two touchdowns for their respective teams in last season's meeting between the squads. … Freshman Dayton Stanley and junior Luke McConnell have joined Jordan Sexton and Ben Ward as the anchors of Eastside's offensive line. … Ryan Horne has rushed for 597 yards, Abel Dingus has passed for 482 yards, Mason Elliott has 317 receiving yards and James Craig has collected 33 tackles for Twin Springs as the Titans are one of Southwest Virginia's most improved squads. "Our kids have played very well up to this point," said Twin Springs coach Keith Warner. "We still have a lot of work to do to get to where we want to be, but I have full confidence that our guys will be ready for every challenge. We have proven a lot of people wrong this year and our kids are believing."
Prediction: Eastside 33, Twin Springs 31
Rural Retreat at Chilhowie
Last meeting: Rural Retreat 33, Chilhowie 11 (March 12, 2021 in Rural Retreat, Va.)
Both of these teams have Native American-inspired nicknames, sport orange-and-black color schemes and are known to play a smashmouth brand of football. "This will be a typical Rural Retreat-Chilhowie game," said Chilhowie boss Jeff Robinson. "Physical and tight." … Chase Lewis leads Chilhowie in rushing (558 yards), receiving (218 yards) and scoring (48 points) as he's put together a breakout season for the Warriors. Joey Widener (27 tackles), Hunter Powers (25 tackles) and Seth Thomas (25 tackles) are among the defensive leaders. … The Rural Retreat Indians have been haunted by injuries, turnovers, penalties and missed assignments thus far, but the good news for the Indians is that they have time to turn it around as the season's stretch run has arrived. Losing running back Gatlin Hight to injury in the season-opener was a tough blow. "I'm pleased with our defense and our offensive line is improving each week," said Rural Retreat coach Jamey Hughes. … Chilhowie will try to keep its perfect record intact as it begins a stretch of three games in six days (tonight, Monday against Northwood and Thursday against Virginia High) and avenge last season's loss to Rural Retreat.
Prediction: Chilhowie 24, Rural Retreat 20
Last meeting: Galax 41, George Wythe 21 (April 9, 2021 in Galax, Va.)
George Wythe (2-2) hasn't played since a 27-20 double-overtime victory over Carroll County on Sept. 17 after COVID-19 issues halted activities. … The Maroons will have to knock the rust off against a small-school powerhouse and their long-time nemesis. Galax has won the last eight meetings between the schools and eliminated the Maroons from the playoffs in 2018, 2019 and the spring of 2021. … Four-time defending Region 1C champ Galax (4-2) is tough as usual with Ian Ashworth (591 passing yards, 390 rushing yards), Riley Vaught (70 tackles), Austin Ashworth (35 tackles), AdianWhite (258 receiving yards) and Tedruhn Tucker (457 rushing yards) setting the tone for head coach Shane Allen's squad. "Offensively we have a lot of young skill guys who are getting better as the year has progressed and we have cut down on the penalties and turnovers," Allen said. "Defensively, we have given up way too many big plays this year. We have to clean up our tackling and be more physical on the perimeter."
Prediction: Galax 48, George Wythe 22
Union at Wise County Central
Last meeting: Union 14, Wise Central 13 (April 16, 2021 in Wise)
Following three straight losses, Wise Central compiled 370 total yards last week en route to a 56-0 win against John Battle. Senior Ethan Mullins (nine TDs) is one of the top playmakers in the area, while lineman Hunter Kiser, junior defensive back Braden Church, junior kicker Ricky Onate (24 points) and senior linebacker Tyson Tester have also been productive. … Many fans across the region remember that 14-13 Union victory in last season's regional championship. Central rushed for 210 yards in the loss, and it will be interesting to see how the Union defense adjusts to the Wing-T attack of the Warriors tonight. No team has been able to slow Union senior Zavier Lomax. With injured blocking back Peyton Honeycutt out of the lineup last week against Ridgeview, the relentless Lomax (14 TDs) still rushed for 182 yards and three scores. Lomax also played an important role at linebacker. Lomax makes the difference again tonight.
Prediction: Union 21, Wise Central 14
Last meeting: Ridgeview 44, John Battle 6 (Oct. 18, 2019 in Bristol)
Ridgeview was impressive in last week's loss at Union. While freshman quarterback Ryan O'Quinn (13 TD passes) has the savvy of a senior and junior receiver Brandon Beavers (10 TDs) is a constant threat to score, the defense of the Wolfpack is solid. Behind the play of Caden Gibson, Cannon Hill and Shane Deel, Ridgeview allows just 11.3 points per game. Former University of Virginia's College at Wise linebacker Kent Grant is the Ridgeview defensive coordinator. … John Battle head coach Bradley Ricker also played football at UVa-Wise. The winless Trojans have allowed at least 41 points in every game, while scoring a total of 13 points.
Prediction: Ridgeview 56, John Battle 0
Last meeting: Richlands 63, Marion 14 (March 20, 2021 in Richlands)
Richlands snapped a three-game losing skid last week with an emotional win against Tazewell. The key to that breakthrough was junior running back Dylan Brown. In blowout losses to Graham, Abingdon and Ridgeview, the Blues averaged just 43 yards rushing. Brown accounted for 108 yards on the ground last week. … Marion averages just 14.7 points, but players such as senior linebacker Ricky Carroll, senior lineman Landen Mabe, sophomore lineman Austin Coe and junior receiver Logan Langston have played well at times.
Prediction: Richlands 38, Marion 7
Last meeting: Graham 51, Virginia High (March 20, 2021 at Tennessee High)
VHS has averaged 56 points en route to five straight wins, but this is the stiffest test for running back Stevie Thomas (825 yards rushing, 18 TDs) and his fast crew. Graham has a serious edge in size and strength, especially on the line. To pull the upset, the Bearcats will need big efforts from quarterback Brody Jones (648 yards passing, 10 TD passes) and versatile Ajaani Delaney. … Graham has outscored its five foes by an average margin of 31-7, with two shutouts. Look for the G-Men to rely on the power game with rugged quarterback Zack Blevins.
Prediction: Graham 28, Virginia High 21
Last meeting: J.I. Burton 46, Grundy 19 (Oct. 8, 2019 in Grundy, Va.)
This is a must-win game for the Grundy Golden Wave. "Every week has become the game of the season for many teams on the bubble," said Craig Plymal, the team's coach. … Grundy (1-3) has lost three straight since a season-opening win over Blacksburg and like many teams in Southwest Virginia has had to play the scheduling shuffle game. … J.I. Burton (0-6) all but saw its playoff hopes disappear with last week's loss to Lee High. Barring some miraculous scenario, it appears the Raiders will most the postseason for the first time since 2001. "We are playing with fight," said Burton coach Jacob Caudill. "We're still down some kids due to different reasons, but the group we have are starting to fight and play for each other and that is all we can ask of them." Jaymen Buchanan, Brayden Dutton, Drew Culbertson and Trey Keys are among those who have played well for the Raiders.
Prediction: Grundy 26, J.I. Burton 22
Thomas Walker at Bland County
Last meeting: First meeting
This game wasn't added to the schedule until Wednesday. … Bland County was originally supposed to play Auburn, but the Eagles opted out of the contest. Thomas Walker had last Saturday's contest with Hurley postponed after COVID-19 issues with the Rebels. The Pioneers were originally going to play Sequoyah from Madisonville, Tennessee, tonight, but that game got axed as well. So, Thomas Walker will be Bland County's homecoming opponent instead. Welcome to high school football scheduling in the fall of 2021. … Thomas Walker (3-3) is on the bubble of the Region 1D playoffs, so a win tonight is imperative. … Bland County is 2-4 and is allowing 28.5 points per contest. The long trip should be worth it for the Lee Countians.
Prediction: Thomas Walker 28, Bland County 8
Bluefield, W.Va. at Tazewell
Last meeting: Bluefield 35, Tazewell 7 (Oct. 18, 2019 in Tazewell)
After opening the season with losses to Princeton and Graham, Bluefield rolled to a 66-0 home win against PikeView on Monday. Amir Hairston led the Beavers with 137 yards rushing, while Ryker Brown threw for 118 and speedster Jacorian Green added 98 receiving. Look for Bluefield (1-2) to improve with each game. …Tazewell must recover from a 27-26 loss to rival Richlands, where the Blue Tornado scored the winning touchdowns with 57 seconds remaining. As former Tazewell great Chancellor Harris continues to find his niche as a running back at Morehead State, freshman quarterback Carter Creasy is attacking the Tazewell record book for passing. Freshman Logan McDonald (4 TD receptions) is one of several targets for Creasy. A consistent running game would help Creasy and the Bulldogs defense.
Prediction: Bluefield 28, Tazewell 14
Last meeting: Castlewood 34, Lebanon 14 (Oct. 18, 2019 in Castlewood, Va.)
Lebanon got its first victory of the fall last week against Northwood as JD Tatum was among the stars in a 20-0 triumph. Tatum has made 73 tackles so far this season for the Pioneers. … Both Lebanon and Castlewood have been plagued by turnovers this season. … Castlewood is improving and Kaleb Taylor, a freshman who had never played football before this season, had 17 tackles against Bland County. "We have come a long way since week one," said Castlewood coach Chris Lark. "We've grown up a lot and have a better understanding of what we want to do on both sides of the ball." … Lebanon will have plenty of motivation. Almost two years to the date on the same field, Castlewood beat the Pioneers for the first time since 1987. Lebanon will aim for some payback.
Prediction: Lebanon 27, Castlewood 14
Last meeting: Gate City 47, Lee High 13 (April 3, 2021 in Ben Hur)
Lee High has reeled off three straight wins against Rye Cove, J.I. Burton and Eastern Montgomery, but those three teams only have a combined three victories. Along with freshman quarterback Brynnen Pendergraft and sophomore running back Grayson Huff, standouts for Lee include linemen Ethan Brock, Junior Lovell and sophomore Casey Mooneyhan. … A tradition returns for Gate City this afternoon with a homecoming parade. Gate City built leads of 27-21 and 33-28 against Abingdon on Tuesday, as seniors Carson Jenkins and Brady Edwards helped the Blue Devils compile 334 total yards. Look for another highlight-reel performance from Jenkins.