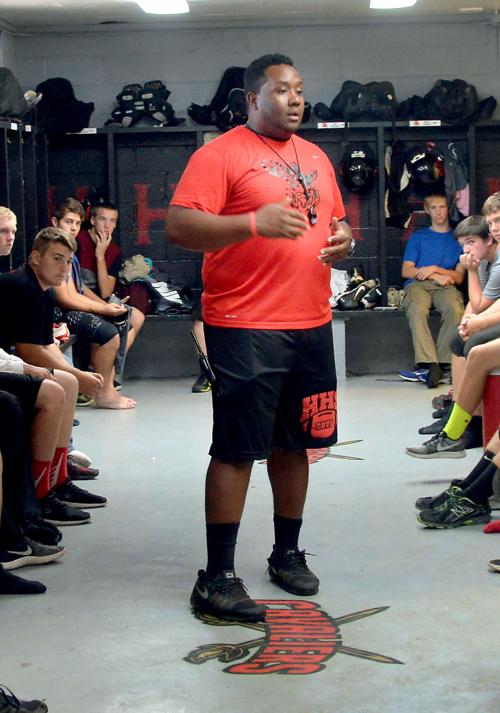 The VHSL Region 1D football champion was supposed to be crowned on Friday night in Damascus after a highly-anticipated, hard-hitting contest, but instead it was decided on Thursday afternoon by a phone call.
Holston was awarded the Region 1D title after a positive coronavirus (COVID-19) test within J.I. Burton's program led to the cancellation of the regional finals
Burton coach Jacob Caudill got the news around 2 p.m. and then administrators from the school in Norton notified those at Holston. The Cavaliers (6-1) advance to next week's Class 1 state semifinals to face either Galax or Narrows.
It marks the first regional title and state semifinal appearance for Holston since 2009.
 "I hate it for Burton," said Holston coach Derrick Patterson. "I think those kids deserve an opportunity to get to play and we want to play. Obviously, we're excited to be moving on to the next round, but to say we wanted it to happen this way would not be accurate. … Coach Caudill called and spoke with me and wished us the best of luck going forward."
Caudill had got inklings late Wednesday night of the possibility of a positive test and after the health department looked into the matter he was given the news his team would be placed on quarantine and unable to play.
A Zoom call with players and coaches was held on Thursday afternoon.
"It was tough," Caudill said. "Very emotional. Especially for the seniors, who wanted that chance to see what was going to happen on Friday night. They reflected on their last four years as a varsity football player at John I. Burton and some of them handled it better than others."
Junior wide receiver/defensive back Ethan Lindsey was among those disheartened by the news.
"I was devastated that we got a positive test," Lindsey said. "I know that we would've beaten them. We worked too hard to be stopped by a virus. The team was very upset. We are all sad that we won't get to play another game with the great seniors of our team."
The Raiders (4-1) missed regular-season games against Rye Cove and Eastside due to COVID-19 issues with opponents. They returned from a 10-day quarantine last week after being exposed and posted a 24-20 playoff win over Patrick Henry.
"It's definitely a tough one," Caudill said. "The kids have worked so hard and they've came out and practiced hard. These boys were ready."
This is the third case thus far of COVID-19 ending a team's season in the VHSL playoffs.
Manchester was unable to play Highland Springs in the Region 5B finals and King William did not play its first-round game against Amelia in Region 2A due to positive tests.
"For the record book, Holston is the region champion," VHSL spokesman Mike McCall said in an e-mail. "It's straightforward. The game is recorded as a no-contest because of COVID-19 and Holston advances. Holston's and J.I. Burton's record remains the same as they entered the contest."
Hogoheegee District champion Holston has won six straight since a season-opening loss to Grayson County. The Cavaliers posted a 46-7 first-round playoff win over Castlewood and will now prepare for the state semifinals, while also trying to stay virus-free.
"That's something we've done our best to try and make sure we are handling it the right way," Patterson said. "But you've also got to have some good luck as far as kids staying healthy and somebody in the program not contracting it. We've been really fortunate so far."