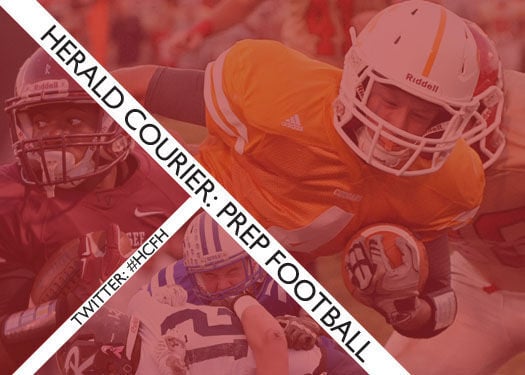 It has been a memorable inaugural season for West Ridge, with the Wolves sitting at 8-2, having won six straight, with a home playoff game tonight with the Blue Raiders. Cleveland (6-4) is seeded third in Region 2-6A, with three of those losses coming to teams with a combined record of 27-2. They're led by Memphis commit Destun Johnson, who is approaching 900 yards receiving and has missed some time with injuries. Cleveland has lost its last five playoff games, last advancing to the second round in 2014. West Ridge was missing three captains for the majority of last week's win over Jefferson County to earn a home game, and all three are back this week. Look for the Wolves to try to churn out yards and keep the ball away from the athletes from Cleveland. It has been a terrific first season for the Wolves. Look for it to go at least one more week, with a probable trip to Maryville up next.
Prediction: West Ridge 23, Cleveland 20.
Tennessee High at Knox Central
Last meeting: Tennessee High 19, Knox Central 16 (Aug. 18, 2018, in Knoxville)
All Knox Central did from 2016-19 was win 46 games, two state titles, and lose in the finals and semifinals the other two years. The Bobcats (6-3) are still loaded with talent, and will be a mighty challenge for the Vikings (3-6), who earned a 5A playoff berth with last week's 30-12 win over Cherokee, led by Levon Montgomery, who had 202 yards and three touchdowns. Tennessee High has been hit hard by tragedy, heartbreak and injuries this season, but the Vikings have battled on. Tennessee High must start fast, quickly adjust to the Knox Central speed and keep the ball away from the Bobcats' offense. That might be too much to ask in this one.
Prediction: Knox Central 35, Tennessee High 13.
Last meeting: Castlewood 36, Eastside 14 (March 19, 2021 in Castlewood, Va.)
It appears the eighth and final seed in the Region 1D playoff field will go to either Eastside or Honaker and the math will be carefully calculated after tonight to see who gets that spot on the VHSL playoff power point rating scale. … First, Eastside has to take care of business tonight and that shouldn't be a problem as the Spartans are heavy favorites. Jordan Gray has more than 1,000 receiving yards and Ethan Hill is nearing the 1,000-yard rushing mark for the Spartans. Blake Jones and Braedon Hensley are the defensive leaders. That quartet should prove to be too much for the Blue Devils. "It's been a roller-coaster of a season, but I am proud of the strides and progress our kids have made," said Eastside coach Michael Rhodes. … Castlewood has struggled with a young team, but Landen Taylor and Brad Steffey have been the leaders for the Blue Devils and have given max effort from the season's first whistle.
Prediction: Eastside 48, Castlewood 8
J.I. Burton at Thomas Walker
Last meeting: J.I. Burton 44, Thomas Walker 6 (Nov. 8, 2019 in Norton, Va.)
Thomas Walker can clinch a playoff berth and make some history tonight. A victory over J.I. Burton would be TW's first-ever over the Raiders as the Pioneers have lost the previous 17 encounters with the team from Norton, all by double digits. … TW missed out on a Cumberland District title with a 16-12 loss to Twin Spring last week as the Pioneers couldn't hold a 12-8 halftime lead. Zack Kidwell has eight receiving touchdowns, six rushing TDs and three passing TDs for the Pioneers. Noah Cavin leads the team with 77 tackles. "I think we have really played above expectations this season," said Thomas Walker coach Nick Johnson. "And right now we are playing as good as anyone in the region." … J.I. Burton (2-7) began the season as the Cumberland District preseason favorites, but will miss the playoffs for the first time since 2001. "Well, it's not the season that we wanted by any means," said Burton coach Jacob Caudill. "But the kids that played and stuck it out, played hard and have gotten better every week and as coaches that is all we can ask for." … Brayden Dutton (62 carries, 380 yards, seven TDs) has been the top rusher, while Xadrian Tayborn leads the team with 89 ½ tackles. "J.I. Burton is the best two-win team probably in the state," Johnson said. "They are a few plays away from being 5-4 and playing for a playoff spot. They are very athletic, have good size on the line and it is going to be a dogfight."
Prediction: Thomas Walker 28, J.I. Burton 25
Last meeting: Holston 35, Chilhowie 0 (April 2, 2021 in Damascus, Va.)
Holston won its first Hogoheegee District title since 1984 in April. Now, the Cavaliers can win back-to-back league championships in the span of less than eight months. … The Cavaliers can complete just the second 10-0 regular season mark in program history with a win this evening. The other occurred in 1984. … Holston's defense is allowing just 8.2 points per game as Lane Blevins (100 tackles, 23 for loss), Dustin Bott (84 tackles) and Brycen Sheets (52 tackles) lead the way. The trio of Trent Johnson, Jordan Ezzell and Gage Quina have combined for 1,553 rushing yards, 289 receiving yards and 27 total touchdowns. … Meanwhile, a Chilhowie victory would create a three-way tie for the league crown with the Warriors, Holston and Patrick Henry sharing the trophy. "I feel this group has outperformed the expectations," said Chilhowie coach Jeff Robinson. "After being picked fifth [our of six teams] in the preseason coaches poll, not many people outside of our locker room thought we would be playing for a share of the district championship in the last game of the season." … Jonathan Gilley (513 rushing yards, 106 receiving yards), Chase Lewis (755 rushing yards, 301 receiving yards), D.J. Martin (596 passing yards, 246 rushing yards), Daniel Hutton (six field goals) and linemen Joey Widener (49 tackles) and Hunter Powers (37 ½ tackles) will look to make Senior Night memorable for Chilhowie in a game that should be closer than that 35-point blowout in April. "Should be a great atmosphere on Friday night," Robinson said. "The whole town of Damascus will be here."
Prediction: Holston 21, Chilhowie 14
Patrick Henry at Northwood
Last meeting: Patrick Henry 30, Northwood 13 (April 1, 2021 in Emory, Va.)
Patrick Henry will limp into the playoffs as injuries have piled up for the Rebels. PH was minus three starters in Tuesday night's loss to Grundy as the Golden Wave ran roughshod over the Rebels. … PH can still lock up a home playoff game with a win tonight, however. "I have been pleased with how our kids have played hard each and every week and how we have rallied as a team around several key injuries," Patrick Henry coach Seth Padgett said. "We have had to play several kids out of position and I am pleased with how those kids have responded to their new positions." … Connor Beeson (18 touchdowns) and Cody Pruitt (85 tackles) have been constants for the Rebels. … Northwood had some upheaval after head coach Tim Johnson stepped down at midseason and Greg Prater took in the interim. This will be Prater's fifth game calling the plays this season and it his second stint as an interim boss. He also coached the final two games of the 2018 season on an interim basis. .. C.B. Johnson, K.J. Comer, Blaine Joannou, Nick Prater and Denim Kirk have played well defensively for Northwood. "To sum up our season, I would say that it's been tough with low numbers on the roster," Greg Prater said. "But the 19 kids listed on the roster have worked hard. Most don't come off the field. Their heart and determination has kept us in some games this year. Trying to play injury free has been a plus as we've only had a few miss some games."
Prediction: Patrick Henry 18, Northwood 10
Last meeting: Lebanon 69, Rural Retreat 56 (Oct. 13, 2006 in Rural Retreat, Va.)
Here's a prediction that is a lock: There will not be as many points scored by these teams tonight as there were the last time they met. … Lebanon racked up 515 rushing yards in that memorable game 15 years ago and starting quarterback Zac Jessee of the Pioneers threw just one pass. … Both teams began the season with playoff aspirations, but fell short of cracking the Region 1D field. … Rural Retreat (4-4) will be on the outside looking in at the playoffs for a second straight year as injuries and inconsistency cost the Indians. "It has been a tough year," said Rural Retreat coach Jamey Hughes. "We have played with every team on our schedule, but we haven't been able to get over the hump." … The same problems have plagued 2-7 Lebanon. "The season has been both frustrating and rewarding," said Lebanon coach Michael Webb. "Frustrating that we haven't won more games than we have, but rewarding in our team has improved through the year and competed." … Running back Grayson Olson, tight end/defensive end Nick Belcher and linebacker Thai Tatum (78 tackles) have performed well for Lebanon. … A win tonight would help ease some of the sting of some of those struggles for these squads.
Prediction: Rural Retreat 28, Lebanon 15
Last meeting: Union 33, John Battle 12 (March 12, 2021 in Bristol)
After being blanked 23-0 in the rain last week at Abingdon, Union hopes to use this game as a springboard to another playoff run. The Bears average 35 points behind relentless running back Zavier Lomax. The senior has contributed over 153 yards rushing per game while scoring 19 touchdowns and playing solid defense at linebacker. This might be a chance for the Bears to polish their passing attack with 6-4 senior quarterback Bradley Bunch. …The season began on a down note for John Battle when senior leader Miguel Blanco was sidelined by injury. Entering Tuesday's game against Tazewell, the Trojans had scored a total of 19 points. But behind fearless sophomore quarterback Braxton Emerson, Battle generated over 380 total yards and earned its first lead of the season before falling 41-18. …Union has averaged 38 points en route to nine straight wins in this series.
Prediction: Union 42, John Battle 0
Last meeting: Abingdon 59, Lee High 3 (March 12, 2021 in Abingdon)
Lee High is paced by sophomore Grayson Huff (1,026 yards rushing, 15 scores), freshman quarterback Brynnen Pendergaft (1,264 yards passing, 14 TD passes), senior receiver Jace Perkins (635 total yards) and junior receiver Brayden Hammond with 363 yards receiving. Huff leads the team in tackles with 51, while junior Connor Roop has 10 tackles for loss. … Abingdon has relied on a balanced offense, physical defense and depth en route to its third Mountain 7 title in the past four years. Senior Bishop Cook, who was recently honored as the AHS homecoming king, has been a key piece to the Falcon machine. In last week's win against Union, Cook supplied an interception and two scores. Cook has nine touchdowns on the season.
Prediction: Abingdon 48, Lee High 7
Last meeting: Ridgeview 34, Gate City 13 (March 19, 2021 in Gate City)
With Carson Jenkins limited to 57 yards rushing last week, Gate City managed just 135 total yards against Wise County Central. For the season, the Blue Devils average 24 points with Jenkins supplying 17 touchdowns. More balance would be helpful as GC has thrown for just three scores. … Ridgeview lost 21-19 last week to a Bluefield team that advanced the Class AA semifinals last season before falling 21-19 to eventual champion Fairmont Senior. Ridgeview freshman quarterback Ryan O'Quinn has passed for 16 scores and over 1,500 yards, including a 277-yard effort in the rain against speedy Bluefield. Brandon Beavers has 12 TD receptions for the Wolfpack. As is the case with Gate City, the Wolfpack could benefit from more balance on offense heading into the playoffs. …Ridgeview has a 5-1 edge in this series.
Prediction: Ridgeview 35, Gate City 14
Virginia High at Richlands
Last meeting: Richlands 37, Virginia High 0 (March 8, 2021 in Bristol, Tenn.)
Virginia High opened the coach Derrick Patterson era in August by compiling 367 yards en route to a 37-14 win over Tazewell. The offensive fireworks have continued ever since, as 11 players have scored. Six-foot-four junior quarterback Brody Jones has served as the ringmaster for the Bearcats by throwing for 19 scores and over 1,180 yards. Sophomores Donnie Thomas and Dashaun Taylor are rising stars. … Richlands (3-5) is hoping to avoid its third losing record since 2017. The Blues opened this season with a 38-13 win against Gate City, but average just 20 points per game. Senior receiver Sage Webb leads the team with nine touchdowns while 6-7 senior quarterback Gavin Cox has thrown for nine scores. … The last victory for VHS in this series was a 46-13 decision in 1999.
Prediction: Virginia High 35, Richlands 14
Fort Chiswell at George Wythe
Last meeting: George Wythe 14, Fort Chiswell 7 (Sept. 2, 2021 in Max Meadows, Va.)
This is the second meeting between these Wythe County rivals in two months. The first encounter was a Mountain Empire District clash, while this one will be classified as a non-district game. … Luke Jollay (22 carries, 86 yards) and Leyton Fowler (20 carries, 69 yards) led GW on the ground in that previous clash with Fort Chiswell as sophomore Tandom Smith's 1-yard touchdown plunge early in the fourth quarter was the go-ahead score. … George Wythe (5-3) has already clinched a playoff berth for the 15th straight season and the Maroons have assured themselves of a 25th consecutive non-losing season. "Our team has made major improvements since the beginning of the season," said GW coach Brandon Harner. "Offensively, we are starting to find a rhythm, but we need to continue to improve to make a deep run in the playoffs. I am very pleased with the progress our young has made this season." … Fort Chiswell (0-9) has lost three games by seven points or less, including last week's 34-28 quintuple-overtime loss to Tazewell.
Prediction: George Wythe 20, Fort Chiswell 18
Last meeting: Twin Valley 6, Hurley 0 (April 1, 2021 in Hurley, Va.)
A Twin Valley triumph Saturday would mean a three-way tie for the Black Diamond District championship between the Panthers, Grundy and Honaker. … Twin Valley (6-3) has authored one of the best stories in Southwest Virginia this fall with a roster of less than 20 players. A win would also give the Panthers the most wins in a season in program history. "This season has been a blessing," said TV coach Jeremy Ward. "As is already known, we were not sure if we would be able to put a team together at the beginning. We have been able to compete each week and regardless of what happens Saturday, we have a winning record." … Ward has preached to his team not to have a letdown after Wednesday's emotional 50-36 win over Honaker. "Hurley is a team that is dangerous," Ward said. "They have a solid rushing attack and their defense gets to the ball quickly. We must execute on both sides and not overlook them." … Jeighkob Cooper had seven touchdowns in the win over Honaker – six rushing, one via kickoff return and another on a fumble return. "He is a great player and even greater young man," Ward said. … Look for plenty of celebrating in Oakwood, Garden Creek, Whitewood, Pilgrims Knob, Keen Mountain and the surrounding localities if Twin Valley triumphs on Saturday afternoon.
Prediction: Twin Valley 24, Hurley 12
Last meeting: Farragut 35, Science Hill 13 (Oct. 2, 2020, in Johnson City)
Science Hill is just 1-7 all-time against Farragut (4-6), all of which have been played since 1999. The Hilltoppers (7-3) played a brutal schedule, which was meant to prepare them for a postseason run. Four of Farragut's losses have been by a combined 13 points. Science Hill enters with four straight wins, with Jaxon Diamond leading the way at quarterback for the Hilltoppers. Look for it to be five in a row after this one. The winner meets either Jefferson County or Bradley Central in the second round.
Prediction: 28, Farragut 14.
Dobyns-Bennett at Maryville
Last meeting: Maryville 35, Dobyns-Bennett 28 (Nov. 20, 2020, in Maryville)
Maryville football seems to go with the old adage about death and taxes. Dobyns-Bennett (7-3) finished in a three-tie for second place in Region 1-6A, but the tiebreaker sent the Indians to face the mighty Rebels (10-0), who have played in 24 state championship games since 1970 and won 17 of them, with the last coming in 2019. The Indians are 2-7 against the Rebels, with both of those wins coming in 1944-45. Dobyns-Bennett fell just short 35-28 in last year's playoffs, but these Indians' better days are ahead of them. The winner meets Cleveland or West Ridge next week.