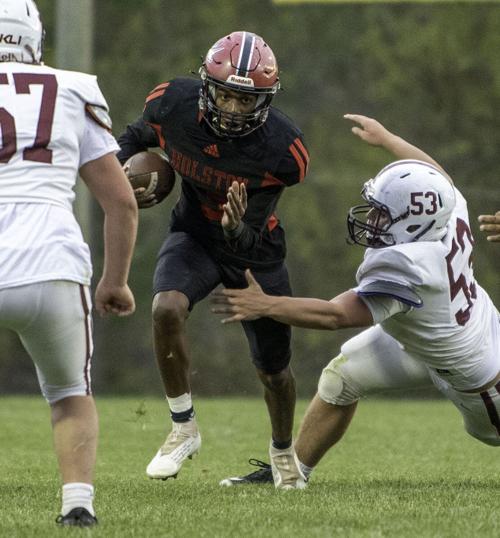 DAMASCUS, Va. – Quaheim Brooks appeared to be out of options.
The date was April 2, and the senior quarterback for the Holston Cavaliers football team was surrounded by five Chilhowie Warrior defenders.
What happened next became commonplace for the Bristol Herald Courier Offensive Player of the Year.
Relying on his quickness and moves to escape the pressure, Brooks connected with Ethan Norris for an 83-yard touchdown. Holston then powered to a signature 35-0 victory.
Brooks finished the season with 1,646 total yards and 21 touchdowns. Not bad for a guy who never played any organized sport until the eighth grade.
"And I was not very good that first year," Brooks said.
There is much more to the Brooks story than glowing stats.
This transformation from football newcomer to a second-team all-state game-breaker began when Brooks and his brother Jo'Lon moved in with Eddie and Phoebe Heath of Damascus. Brooks was 12 at the time, six years older than his brother.
The Heaths have served as foster parents for nine years. They currently care for three other foster kids.
"At first, Q and his brother came to live with us on a temporary basis," Eddie Heath said. "They needed a place to stay, so we just decided to adopt them."
The Heaths soon introduced the Brooks brothers to athletics.
"Q and Jo'Lon were mischievous when they came to us and their grades were not the greatest," Eddie Heath said. "They just needed an opportunity and somebody to believe in them."
Enter Holston head football coach Derrick Patterson.
"The life story with Q, being able to overcome the adversity of being in foster care and having to work through that, says a lot about his toughness, mentality, and character," said Patterson, now the head football coach at Virginia High.
Patterson molded Brooks from a raw athlete still searching for stability and affirmation to a confident team leader who controlled games with his arm, quickness and intelligence.
"Our team fed off Q's energy and leadership over the past two years," Patterson said. "His work ethic improved tremendously, he got a lot stronger and faster, and he did a really good job of taking coaching to improve his accuracy and knowledge of the game. His growth as a quarterback was impressive."
Patterson was just as impressed at the mental progression of his star player.
"You could see Q's maturity grow as we went through this past season," Patterson said. "Q is a young man who has the ability to make an impact in everything he does if he takes the same mentality that he did in football. He is a special young man."
The education of Brooks at quarterback was far from smooth in the beginning. For example, there was his first career start as a junior against Eastern Montgomery.
"I was really nervous," Brooks said. "I had been a backup at quarterback as a sophomore and I spent that following summer learning the position, but I didn't how it felt to actually run the offense."
Operating from the shotgun position, Brooks stuck to the essentials as the Cavaliers opened the season with a victory.
"I don't how many yards we gained as a team, but I know that mostly I handed the ball off and didn't play very well," Brooks said. "I don't think that I completed a single pass in those first two games."
Then came the breakthrough performance against Washington County foe John Battle. By creating room with his legs and reading his receivers, Brooks passed for 234 yards and three scores as the Cavaliers posted an 18-13 victory. The winning score came on a five-yard connection to Logan Walden with 33 seconds left.
Holston was 3-0 at that point and defensive coordinators around the Hogoheegee District became increasingly worried about the multi-talented new quarterback for the Cavaliers.
"Everything just went up from there," Brooks said. "I got out of my head, my nerves went away, and I just played."
With Brooks finding his comfort zone each week, Holston helped author one of the most compelling stories in far Southwest Virginia with a 29-15 victory at Eastside in the Region ID playoffs. Brooks accounted for 140 total yards and two scores and intercepted a pass, as the Cavaliers earned their first playoff win since 2009.
"That was a day to remember," Brooks said.
The next chapter was even sweeter as the Cavaliers stormed the Class 1 semifinals this past season before falling to Galax.
"I feel proud in helping to turn around our program," Brooks said. "We went from records of 0-10 and 1-9 to the state semifinals. That's a pretty cool achievement."
No person was prouder of Brooks and the new-look Cavaliers than Heath. Even though he didn't play football, Heath knew that his adopted son was working magic and helping to galvanize the town around a group of committed teens and their compassionate head coach.
"I would sit in the bleachers and watch Q play and he would make all these turns and moves and just adjust to whatever it took to make a play work," Heath said. "I didn't know he could do some of that stuff. I was like, this dude has talent."
That talent carried over to the basketball floor where Brooks guided the Cavaliers to their first outright district championship since 1984. Naturally, Brooks ran the show at point guard.
"Q basically kept everybody together, especially when times got tough and we needed a boost late in games," said Chad Bailey, who served as an assistant to Holston head basketball coach Jeff Austin. "And for all the tangible qualities Q gave us on the basketball floor, he gave us a lot more intangible things with his leadership."
Bailey, who teaches U.S. Government and World History at Holston, also noticed the development of Brooks in the classroom and hallways.
"Q always did what was asked of him, and he just really came out of his shell," Bailey said. "Q really grew into a leader at our school."
With each victory came more newspaper stories and television interviews. For Brooks, it was another adjustment.
"I used to be a wild and crazy kid, and I didn't like to talk much," Brooks said. "The Heath family and Coach Patterson gave me daily encouragement, and they are still supporting my dreams. That means a lot."
Brooks is currently working at the Food City in Damascus, lifting weights with former football teammate Austin Faris and preparing to attend Virginia Highlands Community College this fall.
That longtime job at Food City has led to some lively conversations at the checkout line.
"People used to constantly ask me about games and the season or want to talk about me being on TV. I'm still not a big talker but I'm more social now," Brooks said.
In two years, Brooks hopes to attend Emory and Henry and join the football program. Just don't expect to see him back at his former position.
"My days at quarterback are over. It seemed like high school went by in a blink of an eye, but I've got a bunch of great memories from my time at Holston. That's what I treasure most – the friends and memories."
The younger Brooks may soon be generating headlines at Holston. The 5-foot-8, 165-pound Jo'Lon plans to compete for the eighth-grade football and basketball teams at Damascus Middle School this season.
"Just like Q, Jo'Lon is learning and coming right along," Heath said. "These kids didn't have the chance to play sports when they were younger, so my wife and I wanted to give them that opportunity. It's been a great way to get their minds opened up and keep them motivated for success in all parts of life."
Heath admitted that his home can be loud at times.
"But it's been worth it," Heath said. "My wife puts a lot of effort into these kids, and we are so proud at the young man Q has become. If people realized all the hurdles Q has faced and what he was like when he came to our house, they would be just as proud as we are.
"Just like when tacklers would close in on him on the football field, Q just keeps going."