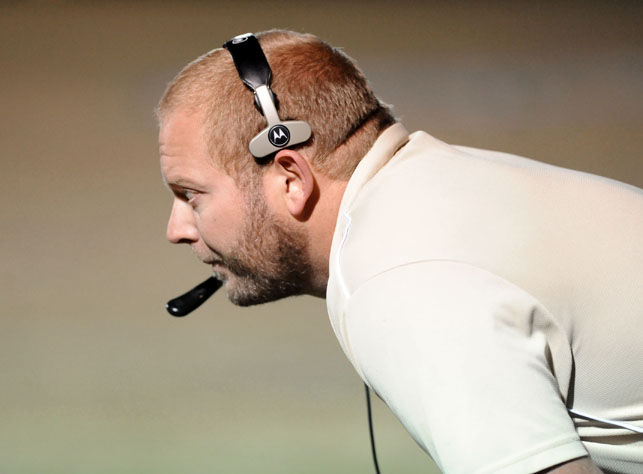 Rye Cove High School junior Jonathon Howell ripped off a 42-yard touchdown run in the fourth quarter of his team's 34-14 loss to the Hurley Rebels on Sept. 28. That ended up being the final TD scored by the varsity football team at Rye Cove in 2021.
Administrators at the small Scott County school announced on Wednesday that the Eagles have forfeited their four remaining games against Eastside, Twin Valley, J.I. Burton and Twin Springs due to safety concerns after the roster shrunk to just 11 healthy players.
Rye Cove will continue to field a JV team, a squad which has a roster comprised mostly of eighth-graders, and the Eagles will be back on the field for varsity competition in 2022.
Head coach Cheyenne Osborne's Eagles had 14 players available to begin last Saturday's game with the Lee High Generals, but three of them – including Howell – were injured. With Lee ahead 32-0, the public address announcer let those in attendance know that the final two quarters would not be played out of precaution.
The choice was made on Wednesday to not play the final four contests.
"It was a difficult decision and not a decision that anybody made lightly or by just one person," said Rye Cove athletic director Michael Paul Berry. "We took our time with it and the end of the day we felt like the best thing to do for us was move forward this season with JV only."
Rye Cove lost its first six games this season and has dropped 13 in a row with the team's last win coming on Oct. 25, 2019 against Twin Valley. The Eagles won the Region D, Division 1 title in 2000, but the program has endured struggles recently with 10 straight losing seasons.
This season began with low numbers and the opening game was postponed due to COVID-19 issues within the program. There were just two seniors who played in the game against Lee High.
"The season has really been tough," said junior lineman Jackson Barnette. "With our numbers it has limited practices, but we made do with what we had."
Barnette suffered a torn ACL on Sept. 24 in a 33-12 loss to Castlewood, a game in which Rye Cove led in the third quarter.
Playing the numbers game in the gridiron has not been reserved just for Rye Cove, however.
John Marshall High School, a Class 2 program located in the heart of Richmond, announced on Wednesday it would not finish the season due to a lack of participation.
Mountain View High School in Quicksburg (formerly Stonewall Jackson High School) of the Class 2 Bull Run District canceled the remainder of its season on Sept. 10 after its roster had dwindled to 14.
The Jenkins Cavaliers from Kentucky also didn't make it through the season either.
Northwood currently has 18 players on its roster, while Castlewood and Twin Valley have 19 players available. Gate City had 22 players dressed for Friday night's win over Lebanon as 13 players for the Blue Devils were out due to either injuries or COVID-19 quarantines.
"Three, four kids get quarantined and a couple get banged up in the game, you're looking around and the sideline's pretty bare," said Northwood coach Tim Johnson. "It's definitely a concern. … Just from the physical standpoint, it is a fine line of what we can and don't need to do in practice. We want to work on things like tackling and we do, but we can't afford to get people beat up and have a kid get knocked out of that week's game during a Wednesday practice."
Rye Cove was originally supposed to travel to Carl McConnell Stadium to play the Eastside Spartans in a Cumberland District clash on Friday.
"With it being a district game we have to take the forfeit, so it counts as a game on our record and we can't add another game," said Eastside coach Mike Rhodes. "I hate it [for Rye Cove] and know how hard Coach Osborne has said those guys have worked this year. These last two seasons have been tough [with the pandemic-shortened spring 2021 season] and you hate to see kids get shorted games and the experiences that go with it."
The players in Rye Cove's program experienced a roller-coaster of emotions since Saturday. The JV team will play on Monday against J.I. Burton.
"The news of our season ending is pretty hard to think about. This is my last year, and I hate that it has to end like this," said senior tight end/linebacker Roscoe Haines. "This was an amazing group to play with. I love every single one of those boys and I mean it. They were so much fun to be around, we really were a family and I could feel that when I was with them. They have a very bright future in terms of talent that is coming and what's already there. I can't wait to come back and watch them play next year."