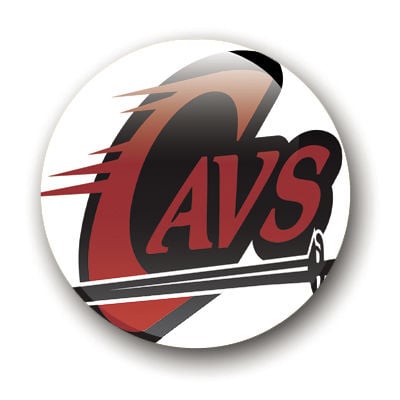 DAMASCUS, Va. – Holston High School's defense is unbendable, unbreakable, unrelenting and has been a big reason why the Cavaliers have so far been unbeatable.
Another dominant effort from the D and a trio of touchdowns from both Jordan Ezzell and Trent Johnson highlighted an impressive 42-8 triumph over the Grundy Golden Wave on Friday night in the VHSL Region 1D semifinals.
Holston (12-0) established a single-season program record for victories and the Cavaliers will attempt to claim their second straight regional championship when they host either Twin Springs or Patrick Henry next weekend.
The Cavs certainly made a believer out of Grundy coach Craig Plymal, whose team entered the game averaging 29.7 points per game and had hung 56 points on Chilhowie in a first-round win the week before.
Yet, the Golden Wave (6-5) was subdued by the dudes from Damascus and didn't get on the board until 6:38 remaining when Isaiah Boyd ripped of a touchdown run and Ian Scammell provided the two-point conversion.
" They're defending regional champs for a reason," Plymal said. "They hang their hat on their defense and they are that fundamentally sound. I was impressed with them defensively, yes sir. … They're 12-0 and they proved it."
How about these numbers? 0, 16, 7, 12, 6, 7, 0, 12, 14, 3, 7, 8.
Those are the point totals of Holston's first 12 opponents.
A week after opening the postseason with a 42-7 win over Honaker, Holston took the shine off another team from the Black Diamond District.
" I think our best two games have been the last two games and that's what you want to do," Holston coach Chris Akers said. "Peak in the playoffs."
Grundy's offense went three-and-out on its first possession and that set the tone for the rest of the game.
" We just like to show up and play," said Holston junior linebacker Dustin Bott. "We've got the greatest linebackers I've ever seen at Holston. We just make plays. We knew what we had to do and who we had to stop."
That would be Grundy junior Ian Scammell, who entered the game with 2,133 yards this season and 4,640 for his career. Scammell finished with 127 yards on 22 carries, but didn't get past the 100-yard mark until gaining 29 yards on his final carry of the night.
Dillon Bott, Caleb Casey and Brack Stamper up front, Lane Blevins, Dustin Bott, Jordan Ezzell and Gage Quina at linebacker and Noah Tweed, Trent Johnson, Brycen Sheets and Landon Sanders in the secondary are a formidable 11.
" Our linebacking crew will come and pop you," Ezzell said. "They pop me in practice and I'm on their team."
Ezzell took a hard shot from a Grundy defender on his first carry Friday, but the Golden Wave didn't get any other chances to corral the speedster. He finished with 60 rushing yards on eight carries and a TD, while catching four passes from quarterback Brycen Sheets for 136 yards and two scores.
A 56-yard TD reception 49 seconds before halftime put the Cavaliers firmly in control with a 21-0 lead.
" We thought if we could get up a few touchdowns it would change what [Grundy] wanted to do," Akers said. "The touchdown to Ezzell before halftime was the backbreaker. We just ran four vertical routes and our QB Sheets did a really good job reading the safety. He found the right one as Jordan was wide open."
Trent Johnson finished with 82 rushing yards and three TDs of his own.
The defense did its usual job, the offense put up points and Holston got to 12-0 for the first time.
It was pretty much a flawless performance.
" Making school history," Dustin Bott said. "You can't beat it."
H – Johnson 7 run (Hall kick)
H – Ezzell 4 run (Hall kick)
H – Ezzell 59 pass from Sheets (Hall kick)
H – Johnson 6 run (Hall kick)
H – Ezzell 56 pass from Sheets (Hall kick)
H – Johnson 20 run (Hall kick)
G – Boyd 21 run (Scammell run)
First Downs: G 9, H 19; Rushes-Yards: G 43-227, H 46-285; Passing Yards: G 11, H 136; Comp.-Att.-Int.: G 1-5-0, H 4-4-0; Fumbles-Lost: G 3-1, H 1-0; Penalties-Yards: G 7-82, H 2-20; Punts-Average: G 3-29.7, H 0-0