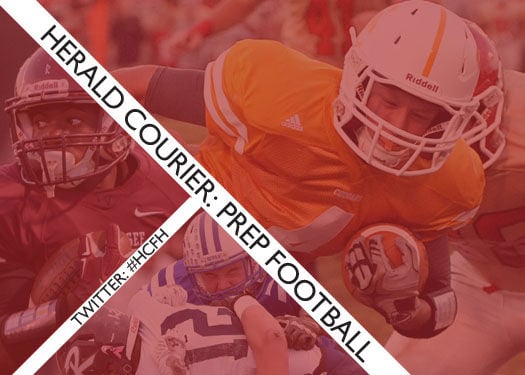 RUTLEDGE, Tenn. — Sullivan Central Cougars football coach Chris Steger declined comment after Friday's game at Grainger, but a pair of blue-collar backs dubbed "Thunder and Lightning" made a loud statement for the Grizzles.
Seniors Dawson Holt and Reggie McBee combined for 363 yards rushing as Grainger rolled to a 44-12 win over Central at The Den.
"Dawson and Reggie are just special players," Grainger coach Chad Tate said. "The biggest thing about those two guys is that they are just tougher than everybody else."
Holt accounted for 222 yards rushing and four scores at quarterback. McBee added 132 yards, two scores and solid blocking.
"We got a pretty good setup going," McBee said. "Dalton and I can run inside or outside, and I love blocking for him. The defense knows what's coming, and we just bring it."
The Cougars (2-5) entered the game on a four-game losing streak but that didn't faze Tate.
"I didn't sleep for two weeks worrying about Central," Tate said. 'They have a great quarterback and great receivers.
"Our defensive line was able to apply pressure on the quarterback to make him uncomfortable, and our secondary did a good job not letting balls get over their heads."
The game began with a thrill for Central as 5-foot-9, 154-pound junior Peyton Greene returned the opening kickoff 53 yards. Just two plays later, Greene broke free on a flood pattern and scored on a 16-yard pass from durable 5-11 senior quarterback Will Nottingham.
That's when Grainger took over with a ball-control running game led by an all-senior line corps that cleared large paths for Holt and McBee.
Following a 59-yard completion to senior Brody Grubb, McBee scored on a 2-yard run on Grainger's opening drive.
With McBee blasting up the middle and Holt evading defenders with imaginative cuts, Grainger went up 14-6 with 1:05 left in the first quarter behind a 14-play, 45-yard drive that covered seven minutes and 50 seconds.
Midway through the second quarter, Holt showed why he earned all-state honors last season. After creating room with a pump fake, Holt cut across the field en route to a 50-yard scoring run. Following McBee's two-point conversion run, the Grizzlies had a 22-6 advantage
The Cougars were aggressive early with an up-tempo offense, no-huddle looks and three attempts to convert on fourth down.
Completing passes on the run and bouncing off defenders, Nottingham passed for 100 yards in the first half.
Greene struck again at the 8:43 mark of the third quarter with a 78-yard punt return that set up a 1-yard scoring by Nottingham. The two-point conversion failed.
After Central just missed recovering the ensuing onside kick-off, Grainger drove 53 yards to score on nine running plays to go up 28-12 with 4:12 left in the third quarter.
Holt and McBee then provided the icing four minutes later. Using a crunching lead block from McBee, Holt broke free for a 52-yard TD run.
"Our linemen are seniors and they have really grown up as group. We saw that tonight," Tate said.
Central was hurt by three fumbles and one interception.
Friday was the first game for Grainger (5-3, 1-2) since Sept. 18. The Grizzles collected a pair of 1-0 victories when Sullivan East and Chuckey-Doak were forced to cancel games due to positive COVID-19 tests.
"I'm proud of the guys for hanging in through all that adversity and coming out with a win against a good team," Tate said. "Central is much improved, and I thought we played a great game."
Holt is nearing 3,000 total yards in his prep career.
Nottingham led Central with 47 yards rushing and 175 yards passing, with 6-1 senior Connor Wilson serving as the primary target.
Senior linebacker Jay Moody paced the Cougars on defense with double-figure tackles.
Sullivan Central 6 0 6 0—12
SC – Greene 16 pass from Nottingham (run failed)
G – McBee 2 run (McBee run)
G – Holt 1 run (pass failed)
G – Holt 50 run (McBee run)
SC – Nottingham 1 run (pass failed)
G – McBee 1 run (run failed)
G – Holt 52 run (McBee run)
G – Holt 72 run (Overbay run)
First Downs: SC 12, G 15; Yards Rushing: SC 55, G 370; Passing Yards: SC 175, G 58; Comp.-Att.-Int: SC 18-28-1; G 2-6-0; Fumbles-Lost: SC 6-3, G 4-0; Penalties-Yards: SC 6-65, G 15-118; Punts-Average: SC 1-27, G 4-26
Be the first to know
Get local news delivered to your inbox!