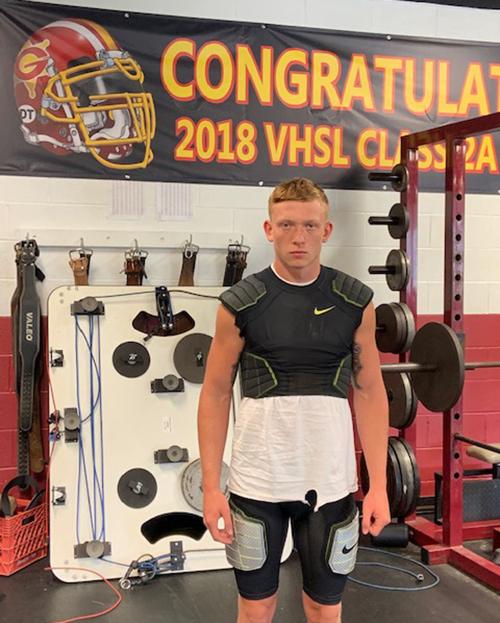 BLUEFIELD, Va. – A word of advice for those observers who are ready to write off Graham after the loss of Cam Allen.
Graham head coach Tony Palmer is confident that senior Devin Lester will do just fine in replacing the talents of Allen, who is now playing at Purdue after leading the G-Men to the Class 2 state championship last season.
"Devin is an athlete. He can do a whole lot of things," Palmer said. "I think Devin was the best quarterback in the area last year other than Cam Allen and we were just fortunate enough to have them both on the same team."
Lester had a stellar junior campaign, accumulating more than 1,800 all-purpose yards for the G-Men, either as a receiver, running back, returning kicks, and he also produced on defense for Graham.
He plans to do the same, if not more in the year ahead.
"It will definitely be hard," he said, "but my goal is to do what I did last year."
Lester, who committed earlier this summer to Old Dominion, will take over the quarterback role from Allen, a position he has played for most of his life.
"Ever since little league I have played quarterback," Lester said. "When I came to Graham, my sophomore year was my first year playing slot and then I had to move around that year.
"Last year was my first full year of playing slot and it is going to be a big change coming back to quarterback."
He is ready for the chance.
"I am excited about going to quarterback," Lester said. "Quarterback is a hard position, but I think we will be all right."
He just won't have Allen on his side again. That duo was potent together last season in the G-Men's 14-1 season that included 14 straight wins and a state championship.
That doesn't mean the G-Men don't have weapons remaining, including Isaiah Justice, Joey Dales, Tre Booker and there is now the addition of Mount View transfer Marqus Ray.
"It will definitely be weird," Lester said. "Me and Cam went through a lot last year, but I think we have other people to step up like Marqus, Isaiah, Joey and Tre, I think they will step up too."
Ray was considered one of the better players at his position among Class A programs in West Virginia. He has fit in just fine at Graham.
"He is definitely doing really good," Lester said. "He is a great athlete so he is going to help us out a lot at the slot position and corner."
Palmer knows that Lester will make sure to get all of them involved.
"He has got a lot to choose from at this point," Palmer said. "Devin is pretty cerebral so he will go down the field and he will take what the defense gives him."
Graham will enter this season with a large target on their back. Winning a state championship will do that to any team.
"It just makes us go harder in practice knowing that," Lester said. "Coach preaches to us that we have a target on our back so I think it pushes everybody on the team to work harder because nobody wants to lose on our team."
Up first is the usual opener in Bluefield, with Graham facing the Beavers, the lone team to beat the G-Men last season on their way to a Class AA state runner-up finish in West Virginia.
"Definitely," said Lester, whose G-Men will meet Bluefield in front of around 10,000 fans on Aug. 30 at historic Mitchell Stadium. "We are coming back for revenge and I think our kids that really haven't played in Graham-Beaver, I think they will be all right and be successful."
Graham has been thinking ahead to this season since last December when the G-Men completed an impressive five-game postseason stretch, winning by margins of 24, 21, 28, 44 points and followed those with a 31-9 rout of Goochland in the state title game.
"We have been working out all summer so once the game time starts I think we will all be clicking on everything," Lester said.
That definitely happened in 2018. .
"We all came together, bonded together and we just got that connection with each other knowing that he has my back and I have his," Lester said.
Finding that bond again is a definite priority for this season.
"Definitely," Lester said. "I think since we did that last year I think we will start earlier this year and click in like we did in the playoffs last year. I think that is what we will do."
Lester has already determined his future, having committed to play for Bobby Wilder at Old Dominion, which plays in Conference USA.
"Coach Wilder and all their coaching staff has shown me a lot of love and I really liked it up there at Old Dominion and how they run their program," Lester said. "That is what let me to commit so early."
While the G-Men were known for points last season, scoring at least 25 points in all but one game, the defense was stingy has well, surrendering 13 or fewer points in all but three games. They surrendered 19 and 18 in two of the other three.
"I think we are going to be really good still on defense," Lester said. "We have a couple of kids stepping up in different positions so I think we will be all right there."
So does Palmer, whose G-Men lost some talented athletes, but there is plenty remaining in Bluefield, led by Lester, who will have big shoes to fill with Allen now playing in the Big Ten.
"Devin has the ability to do some of the same things," Palmer said. "I believe other than Devin I think we are faster this year in the slot positions. The guys who are on the outside with Dales and Justice, both of them have gotten bigger and stronger.
"I am looking forward to see what we can do."
So does Lester, who has been hampered by injuries in recent seasons, but isn't concerned about anything now but playing football. He is ready to go.
"That is the plan," he said, "to stay healthy and show what I can do."