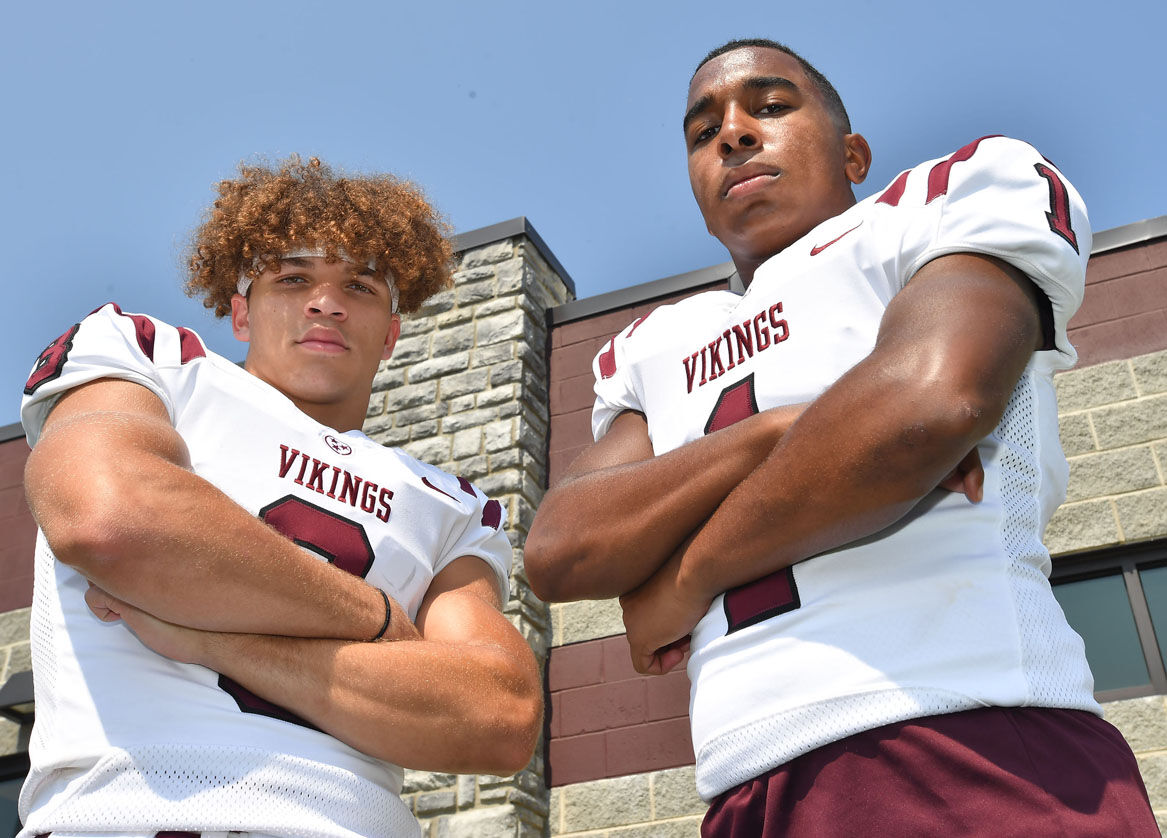 BRISTOL, Tenn. – Tennessee High is working to get the season started on the right Foote.
Nysaiah Foote is doing his best as a senior leader for the Vikings. He has been waiting for this chance.
"Totally, I have dreamed of this," Foote said. "I have been around this program since I was a little kid so finally getting a chance to do that is amazing."
Tennessee High held its football media day on a steamy Friday morning at the Stone Castle, with the Vikings continuing the countdown to Aug. 20 and the season opener against Dobyns-Bennett.
"I am very excited, especially playing with this team and the group of guys I am getting to play with," said Foote, who starts at receiver and safety for the Vikings. "It is very exciting."
Levon Montgomery agrees. The senior running back and cornerback anticipates getting plenty of opportunities to open the eyes of college scouts in the season ahead.
"I love it because last year they were talking to me about how I am going to be good [this] year as long as I hit the weight room," he said. "I am looking forward to it."
That duo will play key roles for a program that endured heavy graduation losses, including the linebacker duo of Bryce Snyder and Connor Bailey, along with Jaden Keller, who is now playing at Virginia Tech.
"It is a big loss. He did everything we asked him to do and more," Foote said. "His presence alone taught me a lot. He helped me a lot and prepared me for this year."
Don't feel sorry for the Vikings. There is still talent available.
"We lost a lot of key players," Montgomery said, "but we have got enough talent to back it up and still be good."
Foote has seemingly always been around Tennessee High football. His grandfather, Narcellus "Coach Squeaky" Black, a longtime employee at the Boys & Girls Club of Bristol, has been a volunteer coach with the Vikings for many years.
"I grew up here my whole life," Foote said. "My grandfather is part of the coaching staff so I have been around all these coaches since I was like 3 years old so it is home."
Much will be expected from Foote on both sides of the ball.
"Nysaiah is going to be a two-way guy, he is really stepping into the leadership role," Tennessee High interim head coach Matt Chandler said. "He runs the show in the back end of our defense, you can count on him at receiver, you can count on him just stepping into being a leader."
Foote will be calling the defensive signals for the Vikings from his safety spot on the field, while also expanding his role as a key target for much-improved senior quarterback Steven Johnson.
"I am very excited having Steven throwing the ball. We have been playing since we were little a little so it is just a dream," Foote said. "He has improved a lot. He has added muscle. He has added arm strength so it has helped a lot."
Tennessee High also plans to get the ball in the hands of Montgomery, who will share duties in the backfield with his brother, Micah Montgomery, along with Micah Kennedy and Marquis Phelps.
"Levon is physically gifted, going to be a bread-and-butter running back and safety for us," Chandler said. "We are going to try to get the ball in Levon's hands a whole lot. He is a worker too."
Those are words Montgomery has been waiting to hear. He hasn't carried the ball as much as he would have liked in recent seasons, but has made a difference when he has.
"It is definitely going to be more exciting," said Montgomery, who moved to Bristol with his family from Florida at age 5. "I feel better about myself carrying the ball because I know I have gotten better from last year. I look forward to it really."
Both Foote and Montgomery have been busy in the weight room, which is now run by Mike Mays, the former Tennessee High head coach, who stepped down in May to become the strength and conditioning coach for the school system. He has been replaced on an interim basis by Chandler, who is in his 20th season with Tennessee High football.
"I have worked really hard in the offseason this year," Foote said. "Coach Mays and Jaden helped me a lot in the weight room and I have gained some weight."
Ditto for Montgomery, who has taken Chandler's focus on conditioning to heart.
"During dead period, me and Steven went to the weight room every day. Coach Mays really helped me on discovering the weight room my junior year," Montgomery said. "He still helps a lot. He is always in the weight room. I will still always look at him as sort of the head coach figure, he is doing good.
"Coach Chandler is doing a really good job in stepping up as the head coach. You have got to be in shape. Coach Chandler's main thing is conditioning."
Tennessee High fell short of defending its Mountain Lakes Conference title last season, but the Vikings hope to finish on top again in what is a revamped five-team league in the year ahead.
"Totally, I have been waiting for this moment to get it back," Foote said. "I want to bring another championship back to Bristol and that is the goal."
Foote was impressed with how Tennessee High played in a heartbreaking playoff loss to Knox Halls, in which the Vikings missed most of the previous two weeks due to COVID-19 protocols.
"It was [heartbreaking], but I was proud," Foote said. "We came off two weeks of quarantine and came back and played the way that we did, it speaks for our team."
Both Montgomery and Foote plan to be senior leaders, while striving for goals in the season ahead.
"My goal is to just get looked at it," said Montgomery, who has had contact with some college coaches.
"I need to show out on film, be a dog, be a leader, be a great teammate."
Foote feels much the same, looking to finish his Tennessee High career on the right Foote.
The goal is to be the best person I can be on and off the field," he said. "Team-wise, just win, just win each game and that's it, really."