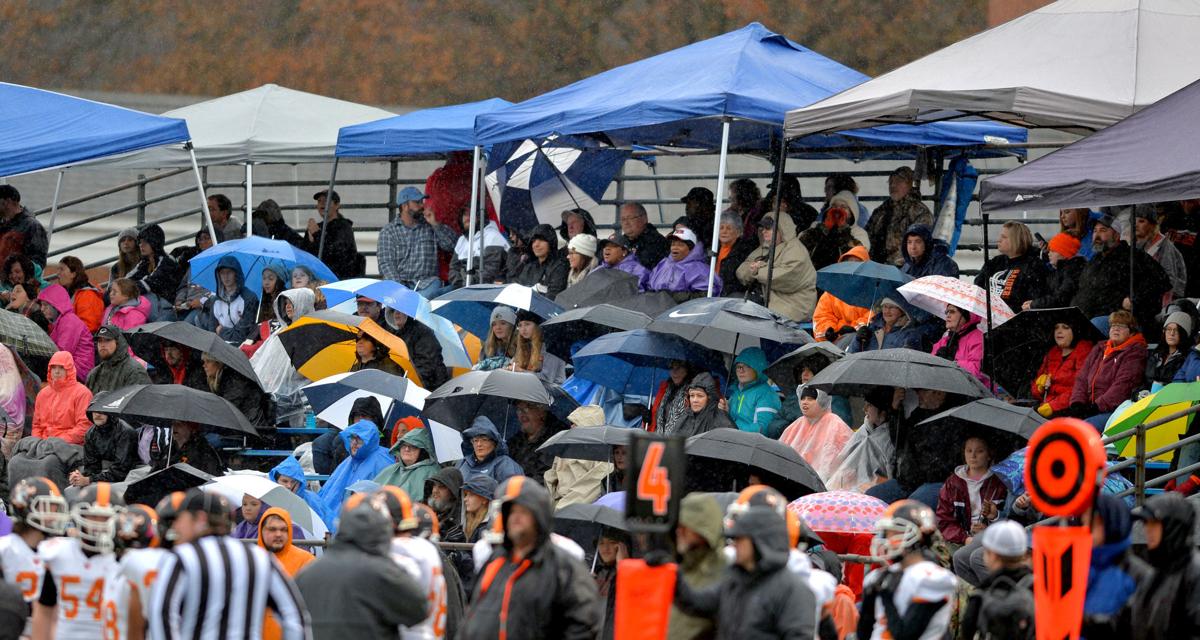 EMORY, Va. – The Patrick Henry Rebels will have the homefield advantage on Saturday afternoon when they square off with the Galax Maroon Tide in the VHSL Class 1 state football semifinals.
Make that the homefield away from home advantage.
The Rebels will play their fourth straight game at Emory & Henry College's Fred Selfe Stadium and the facility with artificial turf located less than a mile down the road from PH has turned out to be a delightful dwelling.
Patrick Henry has actually played five postseason contests at E&H over the past two seasons and has won them all by at least 23 points.
"Our kids love playing on the turf and Emory & Henry has outstanding facilities," said Patrick Henry coach Mark Palmer. "We are very excited and the kids play with confidence as we are 5-and-0 there over the last two seasons."
Last week's 24-0 win over J.I. Burton in the Region 1D finals was played in a steady rain, so the surface was important.
"It is amazing," said Patrick Henry senior running back Cody Smith. "The grip and speed on the field is perfect for our offense. We treat the field like it's ours."
Emory & Henry officials are glad to help.
"Emory & Henry and Patrick Henry make great neighbors and we are always happy to open our doors to PH student-athletes," E&H athletic director Anne Crutchfield wrote in an e-mail. "Our schools share facilities quite often. Our newly revived track and field team practices at their facility, while PH's swim team uses our pool.
"We have been fortunate to host a number of high school events on our campus. Last spring, Abingdon High School played their entire home soccer and tennis schedule on our campus. We have also worked with Holston, Chilhowie, Northwood and Virginia High Schools just to name a few. Emory & Henry is tremendously grateful for the support that we receive from our community. It is truly our pleasure to be able to partner with our area schools to provide a great game-day experience for their student-athletes."
It provides some neat moments for those who have ties to both places.
Patrick Henry assistant football coach and head boys basketball coach Fred Selfe is the grandson and namesake of the man the stadium is named after.
Palmer's football coach during his playing days at Ervinton High School was Curt Newsome, who is now the gridiron boss at E&H.
Patrick Henry (13-0) will play the biggest game in program history on Saturday and a huge crowd is expected as well since the closest VHSL playoff game besides that one will be in Salem.
The Rebels will have two unbeaten records to uphold: their overall mark and their undefeated record at E&H.
"Emory is a great place to play and the team is very thankful that they are letting us use their facilities and field," said Patrick Henry tight end Caleb Walk. "It feels like we are right at home there."
How Patrick Henry High School's football team has fared in games played at Emory & Henry College's Fred Selfe Stadium the past two seasons:
Patrick Henry 47, Honaker 7
Patrick Henry 61, J.I. Burton 36
Patrick Henry 41, Honaker 14
Patrick Henry 29, Holston 6
Patrick Henry 24, J.I. Burton 0