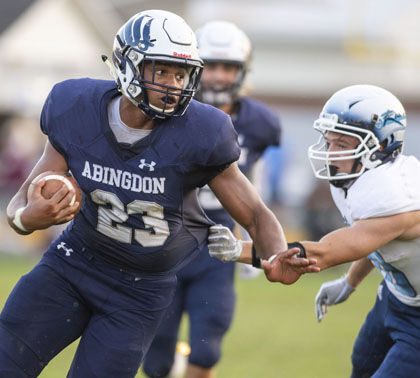 ABINGDON, Va. – As a middle school guidance counselor, Abingdon Falcons football coach Garrett Amburgey stresses the importance of structure.
That's another reason why Amburgey is so enthused for today's 2 p.m. opener against Gate City.
"Our guys are thankful for the opportunity to play the game they love and for the chance to be around each other," Amburgey said. "Getting that sense of normalcy, with practice and games, back into their lives has been huge."
The last matchup between AHS and Gate City in 2019 created a buzz for weeks. The Falcons trailed 28-21 after three quarters before rallying for a 35-28 win.
Running back Martin Lucas engineered the comeback with 218 yards rushing and three touchdowns, including the game-winner with 19 seconds left.
"That was a great game for players and fans," Amburgey said.
A stronger and bigger version of Lucas will lead the Falcons today.
"I'm sure opposing teams will key on Martin," Amburgey said. "He's a tough back to stop, but we've got a lot of other guys that can make plays."
The options for AHS include junior running back Malique Hounshell (689 yards rushing) along with the receiver trio of Peyton McClanahan (28 receptions, 404 yards), Haynes Carter and Ethan Doane.
AHS posted a 5-6 record in 2019, falling 48-28 to Northside in the first round of the regional playoffs. Lucas missed the final four games with a broken foot.
"We had to replace a bunch of new starters going into our last season, so we were able to get a lot of experience," said Amburgey, who returns nine veterans on defense. "Now those guys understand what it takes to win games."
Gate City is coming off a 4-7 record in 2019. The Blue Devils dropped five of their first six games.
In last week's 16-6 loss against John Battle, GC senior quarterback Luke Reed (6 TD passes, 55 total points) suffered an ankle injury in the opening minutes and junior running back Carson Jenkins (10 TDs) did not play.
"There is a lot of pride in the Gate City football program and community, so we know they are going to compete hard," Amburgey said.
Like all teams in the area, AHS has dealt with winter weather extremes in recent practices.
"Our guys have handled the cold and other challenges well," Amburgey said. "I've seen great effort and energy. That's the biggest thing.
"We understand that nothing is guaranteed to us during these times, so we're going to enjoy every day and every opportunity we have."