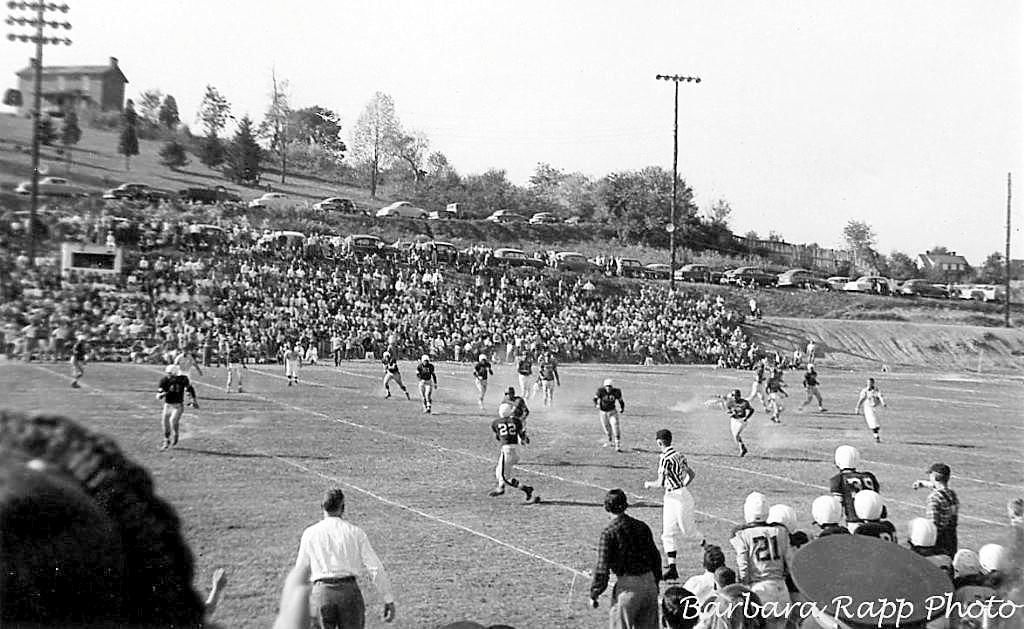 Sam McKinney made numerous big plays for Abingdon High School's football team during his career but the biggest came on Nov. 4, 1977.
The senior quarterback capped off a pulsating game-winning drive for the Falcons by plunging into the end zone from one yard out with 12 seconds remaining for the go-ahead score in a 28-20 Southwest District triumph over the Graham G-Men.
The scoring march began with 3:20 remaining, covered 50 yards and was kept alive when McKinney narrowly avoided a sack on 4th-and-7 and completed a pass to Jeff McCray for a first down. Blake McKinney (Sam's brother) had key catches on that drive as well and Jim Fern picked up some crucial yardage on the ground.
What made the victory even more significant was it was Latture Field's final game as home of the Falcons after more than four decades of hosting high school football.
The venerable patch of land on West Main Street will be the site of prep football again today as the Abingdon Falcons meet the Patrick Henry Rebels at 7 p.m. in a VHSL Benefit Game.
The teenagers that will be taking the field will be playing on a piece of real estate that has hosted many memorable events.
"Latture Field was electric and I know that is sometimes overstated, but you have to remember the field is right in town," McKinney said. "Lots of people could walk to the game. Some schools back then had wooden bleachers, these were concrete. Some people would actually sit in their cars and watch the game from the pavement behind the press box. Also, fans were so close to the field."
The William King High School Mighty Midgets called Latture Field home at one time and the eight Woolwine brothers – Sam, Bob, Dewey, Fred, Jimmy, Elwood, Lewis and Dave – were star players in succession for the school.
There was that night in 1972 at Latture when George Pope and Doc Wilson were the heroes in Abingdon's 20-19 victory over Chilhowie. That matchup between AHS coach Larry Bales and Chilhowie boss Ron Bales was unique in that they were cousins.
Abingdon played baseball at the facility until the 1980s and Los Angeles Dodgers legend Tommy Lasorda – then just a scout – was on hand for a game at Latture Field between the Abingdon Falcons and Damascus Indians in 1962.
Paying homage to a place with so much history and mystique was an idea that first came to Abingdon football coach Garrett Amburgey's mind last November.
"Last year we practiced at Latture in preparation for a playoff game due to all the rain we received late last fall," Amburgey said. "We really enjoyed those practices and started talking about having a scrimmage or a benefit game there as a throwback game."
Youth league football games have been held at Latture Field for years and most of Abingdon's current players were introduced to the sport there.
"I've played on Latture Field from kindergarten all the way up to seventh grade," said AHS junior Eli Ratcliff, an outside linebacker and fullback. "Whether it was flag football or [youth] tackle [league] I've grown up around it. Some of the best and most influential lessons I've learned have been while practicing and playing there. I basically lived on the field every day after school. … The coolest part for not only me, but the team, will be getting to relive our childhood memories. Many of us on the team played against each other in Little League, so we never got the opportunity to play together as one team. Now, we can play with each other along with the town of Abingdon behind our back."
There has been plenty of planning for tonight's exhibition game. Additional parking at several of the businesses within walking distance of the field will be offered for fans.
"Kevin Worley from the Town of Abingdon Parks and Recreation Department has been great to work with," Amburgey said. "He has helped with many things such as bringing in additional seating and a restroom trailer to best accommodate fans. Our athletic director, Jeff Johnson, has done a great job as well preparing for the game. The Abingdon Youth Football League will be running the concessions as a fundraiser for the league. The youth league is so important to our football program and it will be fun to play in front of our youth players and raising funds for the league through concessions is an added benefit."
It should be a pretty good draw.
"It's going be packed and loud," said Abingdon star running back Martin Lucas. "There is going to be a lot of people there and it's going to be a really fun game to play in."
As for the matchup, Abingdon is the defending champion of the rugged Mountain 7 District, while Patrick Henry is the preseason favorite to win both the Hogoheegee District and Region 1D titles.
"I feel playing Abingdon with the size of their offensive and defensive lines, the skill players they have and being as well-coached as they are prepares our team for the start of this season," said PH coach Mark Palmer. "Playing great competition can only make us better. … To be a part of playing once again on this landmark field is going to be exciting. It should make for an electric atmosphere."
This isn't your normal preseason tune-up.
"Ever since Coach Amburgey announced it to the team we have been psyched about it," Ratcliff said. "Even the alumni of AHS are excited and it's the big talk around town right now."