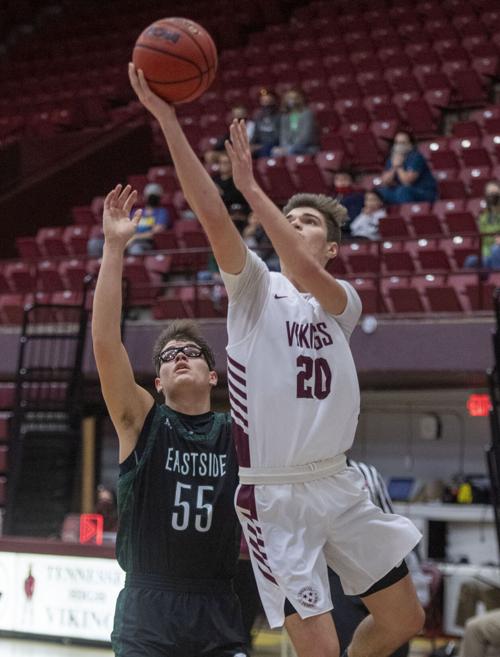 JONESBOROUGH, Tenn. – A deeper bench and a deeper understanding of South Greene's matchup zone defense allowed Tennessee High to turn the tables Tuesday in a Hardee's Classic quarterfinal.
Brandon Dufore, a 6-foot-6 junior wing, scored 19 points and point guard Ty Hopson scored 17, propelling the Vikings past the Rebels for a 59-44 victory.
The Vikings will play the David Crockett-Cloudland winner in Friday's final semifinal at 4:30 p.m.
Tennessee High (1-2) had started the season with consecutive losses, including a 45-41 loss to South Greene on Saturday at Viking Hall.
"That matchup zone is hard to prepare for, because you'll never see anything like that for the rest of the year," Tennessee High coach Michael McMeans said. "But we made some adjustments over the weekend and I thought they worked and helped us get some easy buckets and let us set the press up. At times we were pretty good in our press today ,but we've gotta stop fouling. I mean we hack people to death.
"But we're young and dumb, and that will change as we get more experience going forward. But these kids play hard and that's the key."
Hopson scored 11 points in the first half. He scored eight in the opening four and a half minutes and made a 3-pointer three seconds before intermission – thanks to a hustling offensive rebound from Maddox Fritts – to give the Vikings a 28-18 halftime lead.
Tennessee High opened the game on a 15-2 run, which Dufore capped with a put-back.
"Brandon is about 6-6 and he's gotten bigger," McMeans said. "He's worked his butt off in the weight room and he's gotten a ton stronger. So that's helped his game a lot."
The Vikings had Nysaiah Foote and Marquis Phelps for the first time this season. They'd been nursing injuries from football season.
"Both of those guys, I thought, impacted the game – just giving us a different type of energy," McMeans said. "Marquis is just all over the place. He changes things with his energy. He's on every loose ball and gets a bunch of rebounds."
Clint Lamb led South Greene with 12 points.
"Tennessee High did attack a little bit better," Rebels coach Terry Hoese said. "Obviously, Saturday they did a good job coming off ball-screens. So we worked hard all day yesterday defending ball-screens and things like that, and I felt like we did a pretty good job there.
"The biggest difference was his kids made shots. I think No. 0 (Hopson) was 0-for-8 Saturday at Tennessee High and he comes out tonight – and I don't know what he ended up with, but he didn't miss a shot in the first quarter."
Hoese said his team was outscrapped by the Vikgins.
"And they had more kids today that didn't play today, which gave them more people and kind of kept them fresh," Hoese said. "They just played harder than we did. I'll give him credit, he had his team ready to play and they were the better team tonight.
"When it comes down to it," Hoese said, "when there's balls on the ground and the other team's beating you to 'em every time – I've prided myself for 24 years on us getting those loose balls, and we got outplayed tonight."
Junior 6-foot-9 center Dawson Arnold scored 14 of his 18 points in the first half and guard Jackson Dean scored all 18 of his points in the first half with six 3-pointers for the Wolves.
West Ridge will play Daniel Boone in the opening semifinal on Friday at 3 p.m.
Arnold was going against his longtime friend Lucas Slagle, a 6-foot-6 post for Unicoi who was making his season debut after missing four games with a knee injury.
A day before his 17th birthday, Dawson punctuated the performance with his first dunk in a varsity high school game. It gave West Ridge a 69-59 lead with 2:55 remaining.
Point guard Cooper Johnson scored 14 points for West Ridge. Wade Witcher added 11, including an impressive transition slam that concluded the game's score with 11 seconds remaining.
Unicoi County (1-4) got 21 points from Grant Hensley and 15 from Slagle. Eli Johnson added 13.
Creed Musick (15) and Brayden Blankenship (13) combined for 28 points for the Trailblazers. Luke Scott added nine.
Joseph Slagle scored 12 points for the Rangers. Landon Ramsey added 10.
The David Crockett-Cloudland game was still in progress at press time.