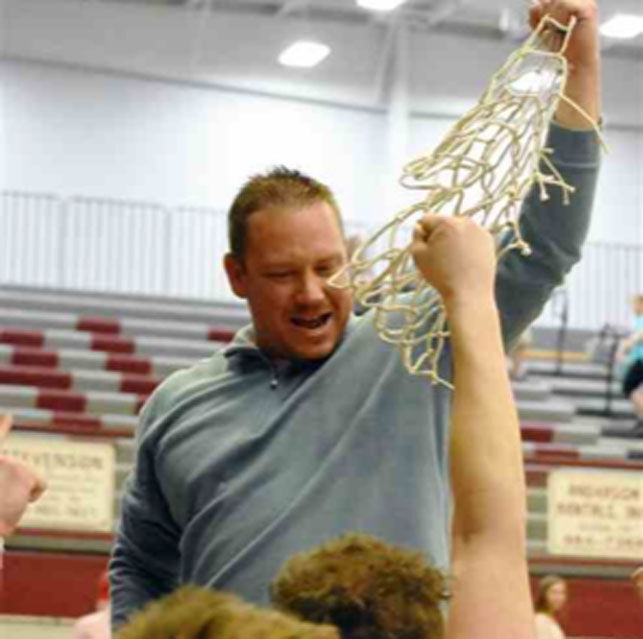 Sullivan South played Tennessee High during all four seasons of Michael McMeans' tenure with the Rebels, and he liked what he saw from the Vikings.
"Their freshman and JV team was probably the best freshman and JV team I have ever seen since I have been coaching high school basketball so that was extremely encouraging for me," said McMeans, who has been selected to replace Roby Witcher as boys basketball coach at Tennessee High. "I know some of their juniors and seniors they are going to have coming back are great athletes and I think the system we are going to put in and run and the things we are going to do, I think those kids will fit in perfect with."
McMeans, who played at Sullivan South and graduated there in 2000, led the Rebels to a school record 30 wins last season, in addition to the District 1-AA championship and the school's first-ever trip to the Class 1-AA state tournament. Unfortunately, the COVID-19 pandemic forced the cancellation of that event.
"It was very disappointing. It was really mostly disappointing to the kids, and me too. It was just gut-wrenching for me just to have to tell them we weren't going to get to go," said McMeans, who played two years of basketball at Milligan before transferring to East Tennessee State. "They worked so hard, they had done everything I had asked them to do. If it had been a few weeks earlier we would have gone to play, but it was just a heartache, it was something I don't know if I will ever get over until I get back again."
He hopes that opportunity comes with the Vikings, replacing Witcher, who spent the last 15 seasons with the Vikings, finishing with a 22-11 record last year. He succeeded Dale Burns, who was Tennessee High's coach for the previous 27 seasons. Between them, that is more than 800 wins.
"It was obviously one of those jobs that hadn't been open probably in roughly 40 years," McMeans said. "It was one of them jobs that when it came open, I have always thought it was one of the top jobs in the area. They have always got great talent up there and people seem great. It is one of those you just look at as one of the top jobs and when something like that comes open - especially since it hadn't been open in forever - that it looked like a great opportunity.
"That is one of the reasons you take a job like Tennessee High because you feel there is an opportunity there to be able to get back to state tournaments.
Tennessee High athletic director Barry Wade said there was plenty of interest in the position, but McMeans managed to stand out over the others.
"We are excited to have Michael McMeans join our staff at THS," said Wade, in a press release. "Michael has had a lot of success at Sullivan South, and we are looking forward to him bringing his energy and excitement to THS. Coach McMeans likes to play fast and likes to play an attacking style of basketball. We are looking forward to getting him to THS to let him start building relationships with our athletes."
The 38-year-old McMeans, who will also teach physical education at Tennessee High, already has his expectations in mind.
"For me it is always winning. That is why you take a job like Tennessee High is because I think they are a sleeping giant and I think they are capable of winning," said McMeans, who is excited to be a part of the Arby's Classic that is held at Viking Hall every December. "My goal every year is to win, win conference championships and for me, just getting a taste of getting to go to the state tournament last year, I want that again so bad and I want if for the kids I am going to coach...
"I think winning everything in front of us is going to be the goal. We will start with the district and region and work our way toward the state tournament. That is how I am going to approach it with those kids when I get them at Tennessee High. I think that will be our year-in and year-out expectation we will have."
As for when McMeans' first season will begin, that remains to be seen due to continued issues with the COVID-19 pandemic.
"I think everything is up in the air. I think high school football has done a pretty good job of playing games. I know it is kind of goofy sometimes, from week to week you may not know who you are playing, but when athletic directors care, coaches care and people care about making sure these kids have the best experience they can have then people can make things happen," said McMeans, who credits his wife, Kayla, for encouraging him to achieve his goal of being a coach and teacher. They have two young boys, ages 8 and 5.
"Kids are so adaptable and it doesn't matter to them," he added. "You just tell them who you are playing the next night and they are good to go. We may see some of that in basketball, you might think you are going somewhere on Friday night and it changes and you are going somewhere else.
"That will be okay because the kids want to play, they need to play and I think with a bunch of people willing to make it work that it will work out."
Be the first to know
Get local news delivered to your inbox!