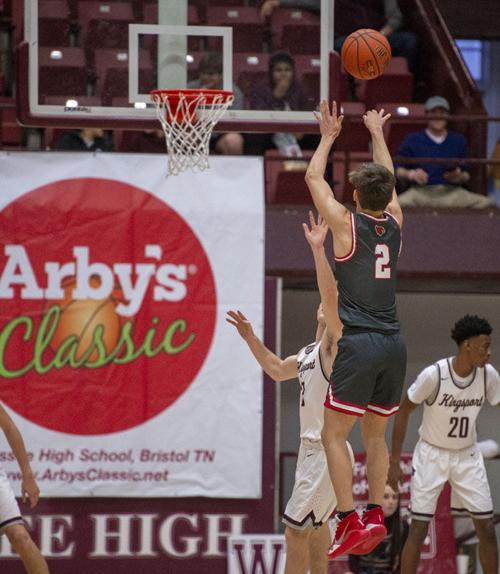 BRISTOL, Tenn. – For 37 straight years, basketball fans in the Mountain Empire and beyond gathered at Tennessee High's Viking Hall for a holiday reunion.
They came to watch superstars, super teams and local heroes.
But there was no joy at Viking Hall last Christmas. The Arby's Classic was canceled due to COVID-19.
"It was very painful," tournament director Richard Ensor said. "I was always doing something related to the tournament and teams during the holidays. Not having the tournament was a big loss for a lot of people."
The Arby's joy returns to Viking Hall this year in a grand way with action beginning on Dec. 27. The tournament features teams from nine state and four squads ranked among the top-25 teams nationally, including No. 8 Dr. Phillips (Orlando, Florida) and No. 9 Long Island Lutheran (Brookville, New York).
"In terms of quality teams, this is the best field we've had," Ensor said.
Several area coaches gathered Sunday at the new Arby's location on West State Street for a press conference and bracket draw.
Second-year Tennessee High coach Michael McMeans drew Long Island Lutheran in the first round.
"That means we may be playing the best team in the tournament, but all these teams are great," McMeans said. "Coach Ensor is a master of attracting top talent, and our kids are excited for the challenge."
With three freshmen, four sophomores and four juniors, THS might have the youngest roster in the event.
McMeans knows all about the Arby's Classic challenge. Just consider his freshman year experience with Sullivan South in 1996.
"When we walked into the gym, we saw John Henderson and Albert Haynesworth sitting in the gym and taking up like three rows. We knew that we were getting ready to play a different level of talent after that," said McMeans, referring to two former National Football League players who starred in football at the University of Tennessee. "One of the draws of this tournament is competing against guys that might compete in NFL or NBA someday. It's a good way for young players to grow."
The Abingdon Falcons will look to grow in the first round against South Carolina power Dorman, which features 6-foot-10 University of Alabama recruit Noah Clowney.
"I've heard the Clowney name and my kids have talked about him, but we haven't done any research before today," AHS coach Aaron Williams said. "We just know that the field will be strong."
The Falcons return five players and two starters from a VHSL Class 3 runner-up team, including 7-foot junior Evan Ramsey and 6-2 senior guard Haynes Carter. Ramsey collected 24 points, 15 rebounds and five blocks in the 58-55 state championship loss to Hopewell.
"It's an honor being invited to the Arby's and it generates excitement in our program and community," Williams said. "Kids get to know each other through social media, so we will know more about Dorman soon."
Several players on the Abingdon basketball team, including Carter, will compete for the Region 3D football title this weekend.
Union Bears basketball coach Zack Moore is familiar with multi-sport athletes, as nearly half his players saw their football season end Saturday in the Region 2D semifinals. The Bears began basketball workouts two weeks ago.
Moore returns six of his top eight regulars, including the Class 2 player of the year in 6-6 Bradley Bunch.
"We're obviously coming off a very good season, and I like the experience we have coming back," Moore said. "Those guys have been in our system and know what to expect."
Union will face No. 22 Knox Catholic in the Arby's opener. Catholic is led by University of Tennessee recruit B.J. Edwards.
"This will be our third time in the Arby's," Moore said. "I like this tournament because we get better by facing quality competition. It seems like every team is either a defending state champion or runner-up."
One of the most recognizable figures in Arby's history is back with a new team in West Ridge. John Dyer coached in the first edition of the tournament with Johnson County and returned to guide Sullivan East during some memorable games.
"The Arby's Classic is a Christmas tradition in the Tri-Cities," Dyer said. "All the kids on my team grew up watching the tournament, and they are excited to play in it for the first time."
Dyer, who once traveled to Cincinnati to scout an Arby's foe, was hospitalized by various medical issues for nearly two months during the holidays last year.
"It's a blessing beyond measure to be back in coaching and competing in the Arby's," Dyer said.
West Ridge will be paired against Amarillo, Texas, in the opening round.
Other first round pairings include Volunteer against Dr. Phillips, No. 19 Berkmar (Lilburn, Georgia) against Knox Bearden, and Greeneville vs. traditional power Myers Park (Charlotte, North Carolina).
One major cog of the Arby's will be absent. Tournament co-founder Dale Burns died Nov. 27 from cancer.
"It will be tough to look over on the first row of bleachers and not see Dale with all the coaches," Ensor said. "Dale started this event and we talked 3-4 times per week after I became director. He will be missed."
For McMeans, the return of the Viking Hall holiday reunion has deep meaning.
"My dad brought me to my first Arby's Classic at age 10," McMeans said. "When the tournament was canceled last year, it left a big void in our schools and communities. We're all happy to see the tradition resume."