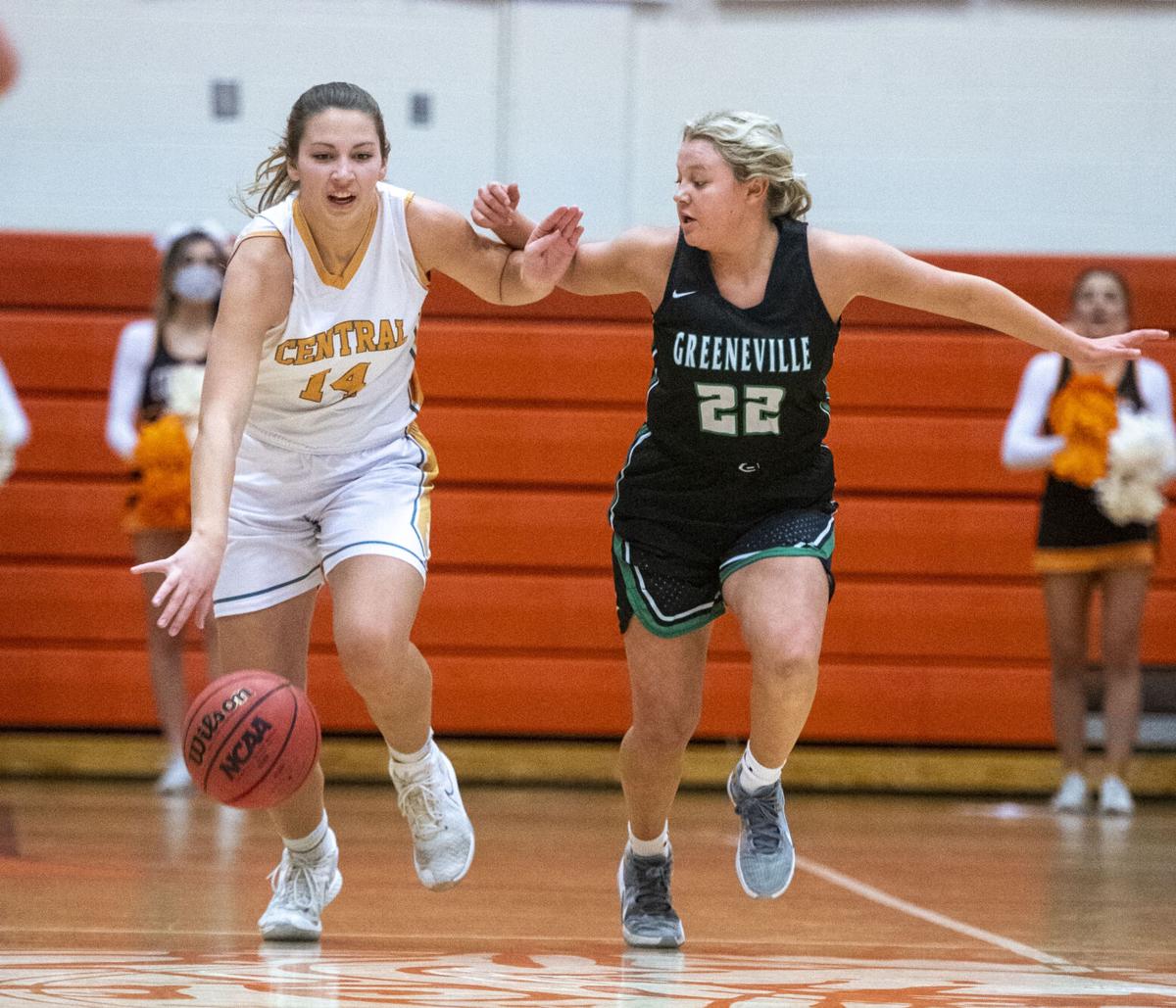 Key returners: Jenna Hare, F, sr; Hayley Grubb, G, sr; Riley Nelson, G, sr; Hannah Hodge, F, sr; Abby McCarter, G, sr.
Other key players: Olivia Ashbrook, Kara Hicks.
Outlook: Expectations are high at Sullivan East for a squad that returns four starters from last year's Three Rivers Conference champions, who finished with an 11-1 league mark and a 25-5 record on the season. The Patriots also captured the District 1-AA tournament title for the first time in 20 years.
Leading the way for 11th year head coach Allan Aubrey (208-122) is junior Jenna Hare, once of the region's top talents, having averaged 18.9 points, 8.6 rebounds and 2.2 assists per game last season. She reached the 1,000th-point mark for her career in the season opener this week against Dobyns-Bennett.
She is surrounded by experienced talent, guided by point guard Riley Nelson (8.2 ppg, 6.1 reb, 7.4 ast), shooting guard Hayley Grubb (12.2 ppg, 6.0 rpg, 2.2 ast) and forward Hannah Hodge (5.8 ppg, 4.3 reb, 1.0 ast).
Abby McCarter is expected to step into the starting lineup to replace Aubrey's daughter, Emma, who is contributing at Carlow University in Pittsburgh.
Junior Kara Hicks and sophomore Olivia Ashbrook will also be expected to see action off the bench.
Aubrey sees "a lot" of experience and skill for his squad. He added that the Patriots are looking to develop depth and will have to compensate for a lack of size.
Sullivan East is the early favorite to defend its Three Rivers Conference title, with Elizabethton, Volunteer, Tennessee High and Unicoi County also part of the revamped league.
The Patriots will host the Food City Thanksgiving Tournament next week.
Coach's quote: "We are playing for championships. We believe we have an extremely talented team with a lot of experience. To shoot for lower than championships would be underselling our team. We have a great conference and region that we know will be challenging. But we fully expect to compete and win."
Key returners: Kendall Cross, Mac Newport, Anna Kate Kinch, Brooklyn Carter.
Other key players: Bridget Flaherty, Brooke Thomsen.
Promising newcomers: Keeley Canter, Macie Strouth, Mazzy Wilson, Chase Wolfenbarger.
Key losses: Riley Fritts, Annie Hayes, Tori Ryan (all 3-year starters).
There will be lots of new faces on the court this season for head coach Kim Bright, who is in her 12th year overall leading the program and fourth in her second stint with the Vikings.
A trio of three-starters starters have moved on, with the Vikings expected to be led on court by point guard Kendall Cross, who provided 5.6 points, 3.5 rebounds, 2.7 assists and 1.1 steals per game last season. Mac Newport, who scored just over a point a game last year, will also work in the backcourt.
Forward Anna Kate Kinch, guard/forward combo Brooklyn Carter and center Keeley Canter, a varsity newcomer, are projected as starters to open the season.
They is more, including Bridget Flaherty and Brooke Thomsen, along with fellow varsity newcomers Chase Wolfenbarger, Macie Strouth and Mazzy Wilson.
Bright likes the experience and skills provided by Cross, who will combine with Newport and others to provide speed and quickness to attack the basket. There is also a team chemistry and buy-in she points out as a positive, while adding that the Vikings are continuing to develop size in the post.
There is, however, a definite issue with inexperience with Cross the only returning starter and Newport the only other player to see significant minutes last season. Bright is also looking for consistency.
Tennessee High has dropped in classification from Class 4A to 3A, but the opponents will be familiar, including Three Rivers Conference favorite Sullivan East, along with Elizabethton, Volunteer and Unicoi County.
The Vikings will gain experience with a pair of tournaments this season, including next week in the Hardee's Classic at David Crockett, and Tennessee High will host the Arby's Holiday Hoops for Doc girls tourney on Dec. 16-18.
Coach's quote: "Returning one starter from last year's squad will be a motivating challenge. We may take our hits early and but our goal is to be ready to be playing our best for conference play and tournament time. We plan to be an up tempo, defensive-minded team this season. We are looking forward to watching these young ladies develop and grow on and off the court."
Last season: first season.
Key players: Allie Jordan, Chloe Nelson, Allison Lambert, Emma Niebruegge, Rachel Niebruegge, Jaelyn West
Other key players: Lilly Crawford, Marleigh Pendleton, Bradlie Warner.
Promising newcomers: Fallon Taylor.
Kristi Walling developed one of the area's top girls basketball programs at Sullivan Central over the last four seasons, and has several of those players with her in the inaugural season at West Ridge.
There is plenty of competition for playing for the Wolves, with forward Jaelyn West (12 ppg, 7 reb), center Allison Lambert (8 reb) and the sister guard duo of Emma Niebruegge (10 ppg) and Rachel Niebruegge (7 ppg) having played for Walling as Cougars.
She also inherits a pair of double figure scorers from Sullivan South in center Chloe Nelson (10 ppg, 5 reb) and guard Allie Jordan (12 ppg, 6 reb).
Other contributors including senior Marleigh Pendleton from Sullivan Central, and the senior trio of Lilly Crawford (Sullivan North) and Bradlie Warner (Sullivan South).
Freshman Fallon Taylor is also a talent to watch.
According to Walling, the Wolves do have depth with a deep bench and plenty of options to put into a rotation for playing time. The biggest challenge, she added, has just been getting a new program off the ground and keeping to running smoothly. They started strong, defeated Cherokee 65-24 in the season opener on Tuesday.
West Ridge will be a Class 4A school, the largest division in Tennessee. The Wolves will compete with Science Hill and Dobyns-Bennett, who appear to be the early season favorites, along with David Crockett and Daniel Boone.
Walling and the Wolves will play in two in-season tournaments, next week at the Hardee's Classic in Jonesborough, and the Arby's Holiday Hoops for Doc girls tournament at Viking Hall next month.
Coach's quote: "I am very excited about this season. I feel that the girls have done a great job of coming together as one and are really starting to buy into what we want to do and what we want to accomplish this season."