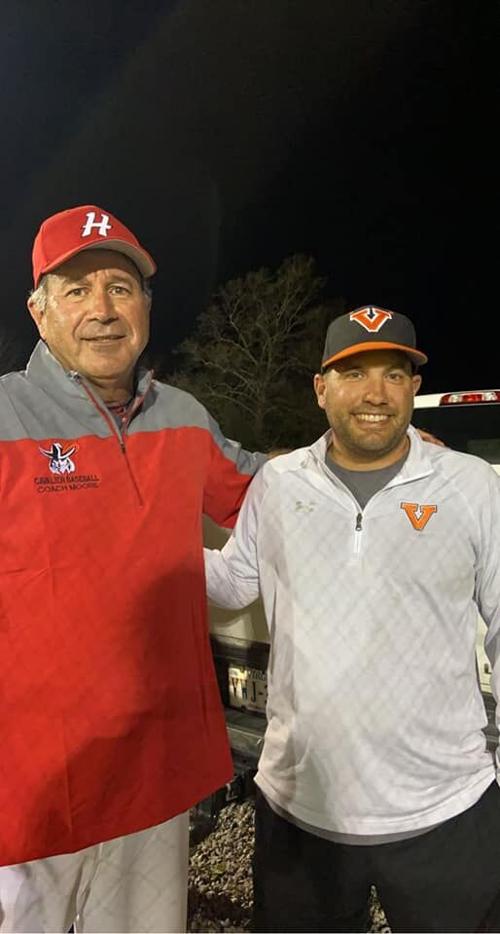 DAMASCUS, Va. – When Bill Moore informed his family that he was seriously considering the opportunity to become the next head baseball coach at Holston High School, his eldest son had just a tad bit of trepidation.
"I said 'Are you sure?' and dad replied, 'I know I am.' I told him to give it a shot since it was something that he's always wanted to do," Adam Moore said.
Bill Moore was eventually tabbed as the replacement for Bryan "Rabbit" Hughes and the 65-year-old joked shortly after being hired that he was probably the oldest rookie head coach in VHSL history.
He's now likely the oldest undefeated rookie head coach in VHSL history as his Cavaliers cruised to an impressive 18-4 season-opening win over the Eastside Spartans on Wednesday night at historic Backer Park.
Moore did not follow a typical path to his first varsity win.
A 1973 graduate of John Battle High School who was a standout outfielder for coach Don Pridemore's Trojans, Moore had coached various levels of youth-league baseball throughout the years in Bristol and had success.
Three years ago, Moore was approached by Hughes to join the coaching staff at Holston.
Semi-retired from UPS Freight in Bristol, he took his friend up on the offer and initially directed the junior varsity squad at the small school in Washington County.
He certainly had some familiarity with the Cavaliers.
Adam Moore completed an eight-year run leading the Cavaliers in 2012. His stint included two state tournament trips, 87 wins and a Group A, Division 1 state runner-up finish in 2012.
In another neat twist, Bill Moore might also be the only man in VHSL history to take over a program that his son once led.
Bill Moore's debut leading the Cavs turned out better than his son's did many years ago. Adam Moore's first game as the head coach of the Cavs was a loss to Fort Chiswell.
"Adam said I one-upped him," Bill Moore said.
Adam Moore is now the pitching coach for the Virginia High Bearcats and was among those in attendance on Wednesday.
"I think I was more nervous than dad was," Adam said.
"I was nervous; I'll admit that," Bill said. "I was forgetting to do stuff."
His team didn't forget how to hit as the Cavaliers sent 15 men to the plate and scored 11 runs in the bottom of the first inning. Jordan Ezzell had a two-run single and two-run homer in the opening inning alone.
Ezzell was one of five guys on the Holston roster – Dustin Bott (1-for-1, three walks, two RBIs), Dillon Bott, Caleb Casey and Colt Millinger were the others – who were playing a state semifinal football game five days earlier.
"We've been hitting the ball well in batting practice, so it was great to come out and see that tonight," Moore said. "I was proud of them, but we have a lot of work left."
It has been a seamless shift from the old coach to the new boss for the players.
"He coached pretty much all of us on JV," said Holston senior second baseman Braxton Vannoy. "So yeah, it was a pretty easy transition."
Vannoy added two hits for Holston, which saw all 10 guys on the roster reach base at least once.
Eastside coach Chris Clay probably felt like he aged 65 years after watching his team issue 15 walks. The Spartans play J.I. Burton today in a marquee Cumberland District showdown.
"I hope we play better Friday," Clay said. "Holston played good and we didn't play good and that's kind of the long and short of it."
Moore is already focusing on getting more wins as the Cavaliers have games against J.I. Burton, Chilhowie and Northwood on the docket next week. His enthusiasm is that of a man half his age.
"I love the game and love being around these kids," Bill Moore said. "They keep me young."
Bill Moore did take time to pose with a photo with his oldest son not long after the final out had been made. It was a memorable moment for the Moore family to say the least.
"It's kinda come full circle," Adam Moore said. "He's going to do good things here."