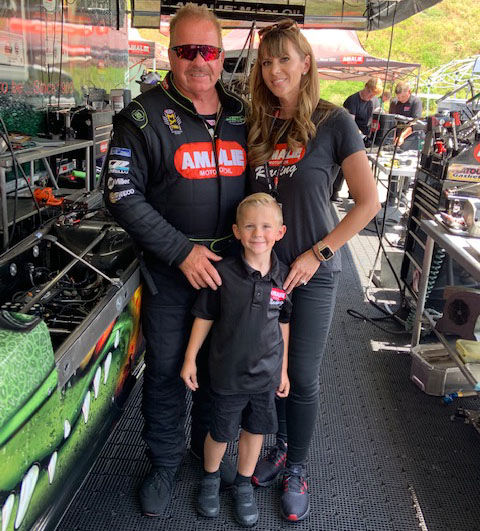 BRISTOL, Tenn. - Terry McMillen is all about family. What better time to celebrate than Father's Day.
"I just want to wish every father a Happy Father's Day," said McMillen, the 64-year-old driver of the Amalie Motor Oil Xtermigator NHRA Top Fuel Dragster. "Thank you for being a great father and role model for your kids because that is what life is all about.
"They are only going to be as good as what we can teach them and what we can nurture them through."
There is no where McMillen would rather be on such a special day.
I think it is just really cool to be in Bristol on Father's Day weekend racing," said McMillen, who is joined in Bristol by his wife, Cori, and son, Cameron, who is already driving a Junior Dragster at age 5. "You look at the turnout and the fans that are here.
"They are out here because of Father's Day and the family took them to a day at the races. That is pretty exciting."
Finishing on top today in the Thunder Valley Nationals would certainly be a memorable way to end it.
"To win. We are not here to lose. It is Father's Day weekend and it would be pretty awesome to win," said McMillen, a 35-year veteran driver, who won his first NHRA race two years ago at Las Vegas and captured the prestigious U.S. National last year in Indianapolis. "It is just an awesome facility anyway.
"I have always loved it because it is cut in the mountain and the sound effects that you hear when these cars are going down the track is pretty amazing."
Cori is certainly a fan of what McMillen does for a living, and enjoys the drag racing lifestyle, which includes a grueling schedule that covers the country beginning in January and continuing into November.
"I love it. Being able to watch him do what they love, it doesn't get better than that," Cori said. "Just being able to see him living his dream and the fact that his dream happens to be going 300 miles an hour, that is what it's all about...
"We get to travel with our family and we are together all the time. We have fun. We stop at different places and do fun things along the way."
That goes for Cameron too, who definitely knows what he likes best about driving his own race car.
"I can go really fast," said Cameron, who also enjoys fixing his dragster and pulling his parachute to slow down his car at the end.
"He loves it. I love watching him race. He is really good at it," added Cori. "We have fun."
It's not just about going fast. McMillen is bringing Cameron along slow, with an understanding that if he doesn't do his chores and keep his grades in shape, there will be no activity with his car.
When we are out in the shop he has to work on his own car. I am there to help and work, but he has got to learn to do it himself because if I do it then he never learns anything," said McMillen, who resides in Elkhart, Indiana. "It is all about an education, but more important than that it is just about family being able to spend time together.
"That is something that really doesn't happen anymore because of the environment that we live in now."
There is a reason for that philosophy. McMillen wants his kids to know how to use their hands to do repairs, such as on a washing machine, and not just sitting on a couch at home.
"That is kind of the whole scenario. My goal for the youth is to see them grow up so they are more mechanical, they can do more things with their hands because it is a trade we are losing," he said. "It is just those type of things that when you are teaching somebody that and they are not on the phone watching videos all day, that is pretty overwhelming and it is really great to see."
Life hasn't been without tragedy for McMillen, who has three older children, one of whom died a few years ago. The memories are still clear, especially on such a special day for dads.
"He was learning to drive my Funny Car and he passed away," said McMillen, who also has a granddaughter driving her own junior dragster at another track this weekend. "I was ready to quit and then there were just a bunch of great friends that got behind me and said, 'He wouldn't want it that way' so we went back at it and we went in bigger and better and now we are here.
"It is just kind of special being out here doing it because that is what he would want to do. My other boys, they all own cars so they love it as well. It is kind of in the family, it is in our blood and they grew up around it."
McMillen certainly understood what Clay Millican was going through two years ago when he won on Father's Day in Bristol, just two years after the death of a son in a motorcycle accident.
"That was an amazing time for him because he has just lost his son the year before that and for him to win that was just overwhelming," said McMillen, who has signed a contract with Amalie that will carry him to age 69, and possibly into his 70s. "We are really good friends and we are really close.
"When that happened it was tragic. The other side of the coin is I have already been through some of this so I was a sounding board that he could talk to sometimes. It doesn't make it any easier, it is never going to go away, it is always going to be there and it always should be."
Father's Day is all about family. Cameron had a message for his father on this special day, while sitting on his lap during a break between qualifying runs.
"Happy Father's Day," said Cameron, with a big smile.