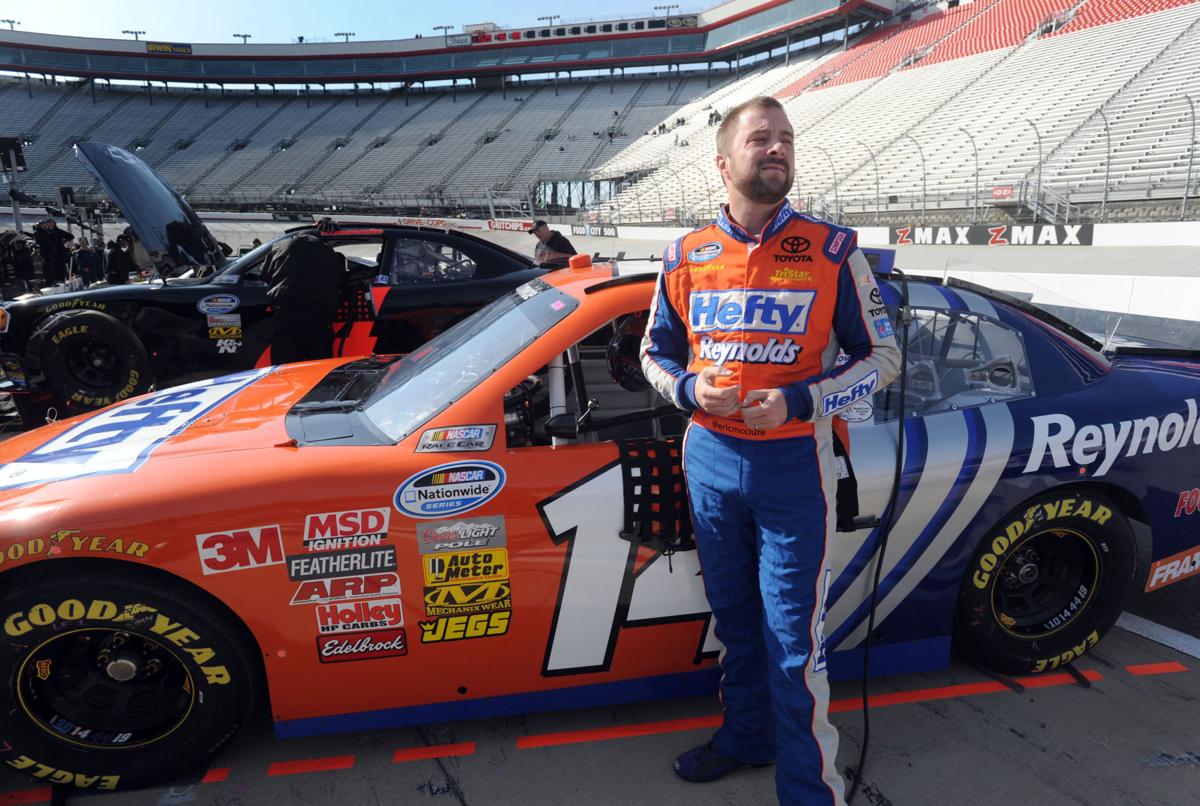 ABINGDON, Va. – Eric McClure endured long odds, extreme conditions and gruesome crashes during a 14-year run competing at the top two levels of NASCAR.
But nothing prepared the Chilhowie native for the ordeal he faced over the past six months.
"It's definitely been a battle," McClure said
The onslaught began in March.
Following multiple trips to the emergency room and visits with various doctors, McClure was admitted to Abingdon's Johnston Memorial Hospital with a rare lung infection.
During a 10-day stay, McClure underwent numerous tests. He eventually had surgery to insert a chest tube before being sent home with intravenous and oral medications.
Just as McClure was feeling better, more problems arose on the night of July 31.
"I had fallen asleep in my chair while watching TV. The next thing I remembered was waking up and going to the bathroom," McClure
According to McClure, the subsequent pain was more excruciating than the aftermath of his head-on crash in a 2012 Xfinity Series race at Talladega Superspeedway.
"I couldn't move my legs. They were locked up like in a major cramp and my feet were so numb I couldn't feel them. I had never felt anything that painful," McClure said.
After dragging himself to bed, McClure called his parents. McClure's aunt, who works as a nurse, suggested a 911 call when she arrived in the morning.
McClure was transported to JMH where another round of tests indicated signs of weakness in his heart muscle along with serious issues with the color of his urine. McClure was soon transferred via ambulance to Bristol Regional Medical Center.
The mystery was finally solved on Friday, Aug. 2, yet more challenges awaited.
"A doctor told me that I had rhabdomyolysis. That put me on compartment syndrome and full kidney failure," McClure said.
According to the American Family Physician website, rhabdomyolysis is a potentially life-threatening syndrome resulting from the breakdown of skeletal muscle fibers with leakage of muscle contents into the circulation. Compartment syndrome is a condition resulting from increased pressure within a confined body space, especially of the leg or forearm.
McClure was put into dialysis immediately. The outlook was grim.
"I jokingly asked the doctor to not let me die. He very seriously told me that he would try," McClure said. "He also told me that I needed to get my affairs in order and that the weekend would be critical."
Shortly after the dialysis procedure began, McClure was forced to undergo emergency surgery for a fasciotomy. A fasciotomy is a limb-saving surgical procedure where the fascia is cut to relieve tension or pressure commonly to treat the resulting loss of circulation to an area of tissue or muscle.
"I was told that 33 hours had passed since the onset of symptoms. There was no guarantee I'd get all of the use back, and could lose a limb," McClure said.
Shortly after his condition stabilized on Aug. 4, McClure experienced tingling and swelling in his arms. Next came another emergency surgery, and this time the fasciotomy was more invasive.
"I had 40 to 45 pounds of fluid retaining," McClure said. "I was told I would be in dialysis three days per week and they would pull fluid off in addition to getting rid of the poison."
The plan for long-term treatment included at least three to six months of dialysis.
"And if it continued past that, I was to consider a transplant," McClure said
Just before he was wheeled into surgery for his arms, McClure logged onto Facebook with a prayer request. McClure described the outpouring of support as "amazing."
"I received hundreds of messages, texts and calls, as did my parents," McClure said. "Over the next several days we found out that people added me to prayer lists at churches all across the country.
"I heard from all sorts of friends, strangers and race fans. My best friend even arranged a phone call with Marty Raybon from the country music group Shenandoah, who prayed with me over the phone."
McClure said he initially wanted to keep his situation private.
"I was in the hospital confidentially but rumors had circulated with false diagnosis and I wanted to clear things up," McClure said. "More importantly, I was in desperate need of prayer. I was told this condition was so rare that no one there had seen compartment syndrome from all four limbs at the same time."
Finally, McClure's nightmare eased.
"The dialysis and aggressive treatments allowed the kidneys to heal quicker than predicted, and the doctors were excited and amazed," McClure said. "My right leg started to regain feeling, and then my arms began to show progress and finally my left leg started to regain some feeling.
"Just this week my left foot regained total feeling and my left wrist has some sensation in it. My other wrist is still numb and there are some other challenges."
After a two-week rehab period at the Encompass Health facility in Kingsport, McClure is currently undergoing outpatient therapy while living at home.
The graduate of Chilhowie High School and Emory & Henry College said he's now in the process of writing his autobiography.
During his NASCAR career, McClure was diagnosed with four concussions resulting from wrecks, including a 2010 crash at Bristol Motor Speedway and a 2015 incident at Kentucky Motor Speedway.
"I have multiple scars on my legs now and long scars on my arms, which will remind me for the rest of my life of the mercy God showed me in a time of this challenge," McClure said. "I'm learning to enjoy life and try new things.
"I no longer take little things for granted. Whatever the next chapter of my life is, I know that this journey - the pain, the tears, the laughter, new relationships - will be what has prepared me."
The odds may still be long, but McClure has embraced the struggle. He even completed a two-mile run on Wednesday.
"I was told to prepare for the worst. But now, I'm on my way back to normal – the new normal," McClure said.