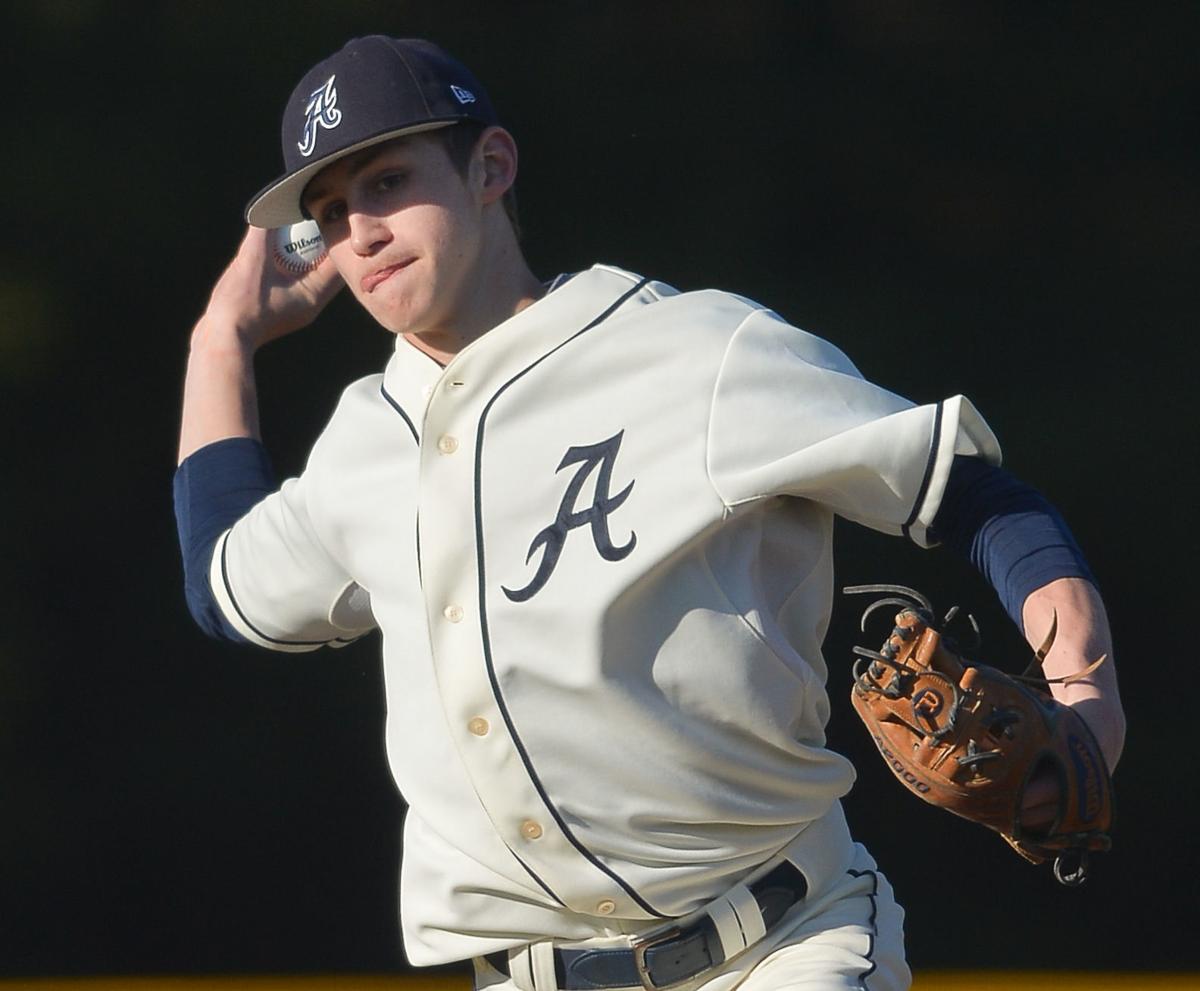 Expectations are high for 16th-year coach Mark Francisco.
The Falcons feature 11 seniors, including college-bounds stars such as senior Chase Hungate (Virginia Commonwealth University), senior Luke Francisco (Carson-Newman), senior Caleb Collins (Southwest Virginia Community College) and sophomore Ethan Gibson, who has made a verbal commitment to play at Virginia Tech.
Collins joins fellow seniors Brant Boggs and Will Jennings in the outfield, with senior Brody Dotson also in the mix.
Seniors Jake O'Quinn and Alex Odle handle first base, with Francisco at second. Hungate and Gibson share time at shortstop, with senior Jake Thacker at third. Senior J.I. Hayton and junior Cole Lambert are the catchers.
Six-foot-3 senior left-hander Ethan Ketron is joined at pitcher by Hungate, Gibson, Thacker and Francisco. Ketron was dominant as a sophomore.
AHS (22-4) defeated every Mountain 7 District foe in 2019 en route to the regular season and tournament titles. Following Region 3D tournament wins against Magna Vista and Staunton River, the playoff run finally ended with a 1-0 loss at Fluvanna County and current VCU pitcher Andrew Ward.
The Falcons outscored Ridgeview and Union by a total of 36-0 to open the 2021 season.
"We have a great group of young men that are a pleasure to coach," Coach Francisco said. "They love baseball and come to the field every day focused on getting better. Our region is probably as deep in talent as it's ever been, but the ultimate goal of this group is to be playing toward the end of June."
Third-year coach Jonathan Salyer must replace six seniors, including current Walters State Community College player Jon Compton.
Freshman Luke Bledsoe has the task of replacing Compton at catcher, while senior Jake Taylor (2.07 ERA) and junior Ryan Jessee return as pitcher. Sophomore John Little rounds out the staff.
Returning starters include senior Isaac Vincent (outfield), junior Carson Jenkins (outfield), junior Trevor Herron (second base) and junior first baseman Carter Babb. Taylor and Jessee (.361 batting average) share time at shortstop. The speedy Jenkins hit .365 in 2019, while Babb posted a .329 average with 21 RBIs.
The other starters are junior outfielder Evan Lane, sophomore third baseman Ethan Fleming and senior designated hitter Easton Castle.
Despite a 3-hitter from Taylor and Mason Barnett, the Blue Devils (12-12) fell 4-2 to Virginia High in the first round of the 2019 Region 2D tourney.
The Blue Devils opened the 2021 season with a win over Union and a loss to John Battle.
"We don't have a ton of varsity experience so getting everyone up to speed in a short time frame is key," Salyer said. "Due to the shortened schedule against only district teams, we will just have to feel out our team as we go."
The 2019 season was one to remember for Trojan fans.
Behind coach Jimmy Gobble and left-handed pitcher Landon Moore, the John Battle knocked off Graham and Virginia High in the Region 2D playoffs before falling 5-0 against eventual VHSL Class 2 champion Chatham.
Moore also pitched Battle to the Class 2 finals in 2017. Eli Todd and Evan Smith were the only other seniors on that 2019 team.
The list of veterans this season includes Zach Smith, catcher Bryson Almany, Jacob Hutton and Nolan Sailor. Smith plans to play baseball at King University.
John-Alan Richardson, Gavin Ratliff and Noah Sills will also serve vital roles.
The Trojans collected 10 hits en route to a 4-3 win over Gate City to open the 2021 season.
No information was provided from Lee High.
The Generals posted a 4-13 record in 2019, falling 8-5 to Union in the opening game of the district tournament.
Lee High opened the 2021 season by making seven errors in a 16-4 loss to Wise County Central.
Dewayne Stanley is the new coach for the Wolfpack.
The first obstacle for Stanley came when sophomore pitching ace Cannon Hill was sidelined by an injury during basketball season.
Sophomores Brandon Beavers and Koda Counts now handle the mound duties along with freshman Terran Owens. Sophomore Blake Baker is the catcher.
The infield includes sophomores Hunter Goodman (first base) and Owens (second) along with Counts at third and senior football star Trenton Adkins at shortstop.
Sophomore Brady Fleming will be joined in the outfield by senior Hunter Neece and junior Tyler Mullins. Junior Bryson Mullins is the designated hitter.
The Wolfpack (2-15) lost to John Battle in the opening round of the 2019 district tourney. Ridgeview opened this season with a 17-0 loss against Abingdon.
"This will be the first year on the varsity for most of our players, as well as my first year," Stanley said, "I'm looking for improvement as the year goes on."
Third-year coach J.W. Salyers thinks the key to success will be how quick his dual-sport athletes can transition from the extended football season for the Warriors.
Catcher Evan Stanley and outfielder Ben Brickey are the only seniors in the starting lineup.
Junior starters include Logan Sartin (center field), Hunter Louden (third base), Preston Joyner (second base) and first baseman Tyson Tester.
Sophomores Ashton Bolling (shortstop) and Breaden Church (left field) round out the lineup. Junior Ethan Mullins is the designated hitter.
After falling 11-3 to Gate City in the first game of the 2019 district tournament, the Warriors (9-12) ended the season with a 14-4 loss to Lebanon in the first round of Region 2D play. Wise Central led 4-3 before allowing Lebanon to score 11 runs in the bottom of the sixth inning.
Brickey allowed just one hit as the Warriors opened this season with a win against Lee High.
"Most of our players worked hard during the time off," Salyers said. "We have a group of players and coaches who believe this team can improve throughout the short season and contend for a spot in the region playoffs."
The Bears have a tough act to follow after the Union basketball team won the VHSL Class 2 state title and the football team took the Region 2D crown.
Youth is the word for third-year coach Dave Wyrick.
Seniors Brody Gibson and Zach Mullins are working at pitchers along with juniors Alex Richardson and Seth Cox.
Other starters include John Ryan Hurley (shortstop), Eli Blanton (catcher), Espn Evans (second base), Reyshawn Anderson (third base), Dakota Houston (outfield) and Gabe Sneed.
After advancing to the Mountain 7 District tournament championship game in 2019, the Bears (15-10) defeated Grayson County in the Region 2D tourney before falling 10-1 to powerful Lebanon.
So far this season, Union has been outscored by a total of 36-0 in losses to Gate City and Abingdon.
"We have four upperclassmen that we will need to get leadership from, along with 12 underclassmen," Wyrick said. "We're just excited to get the opportunity to play."