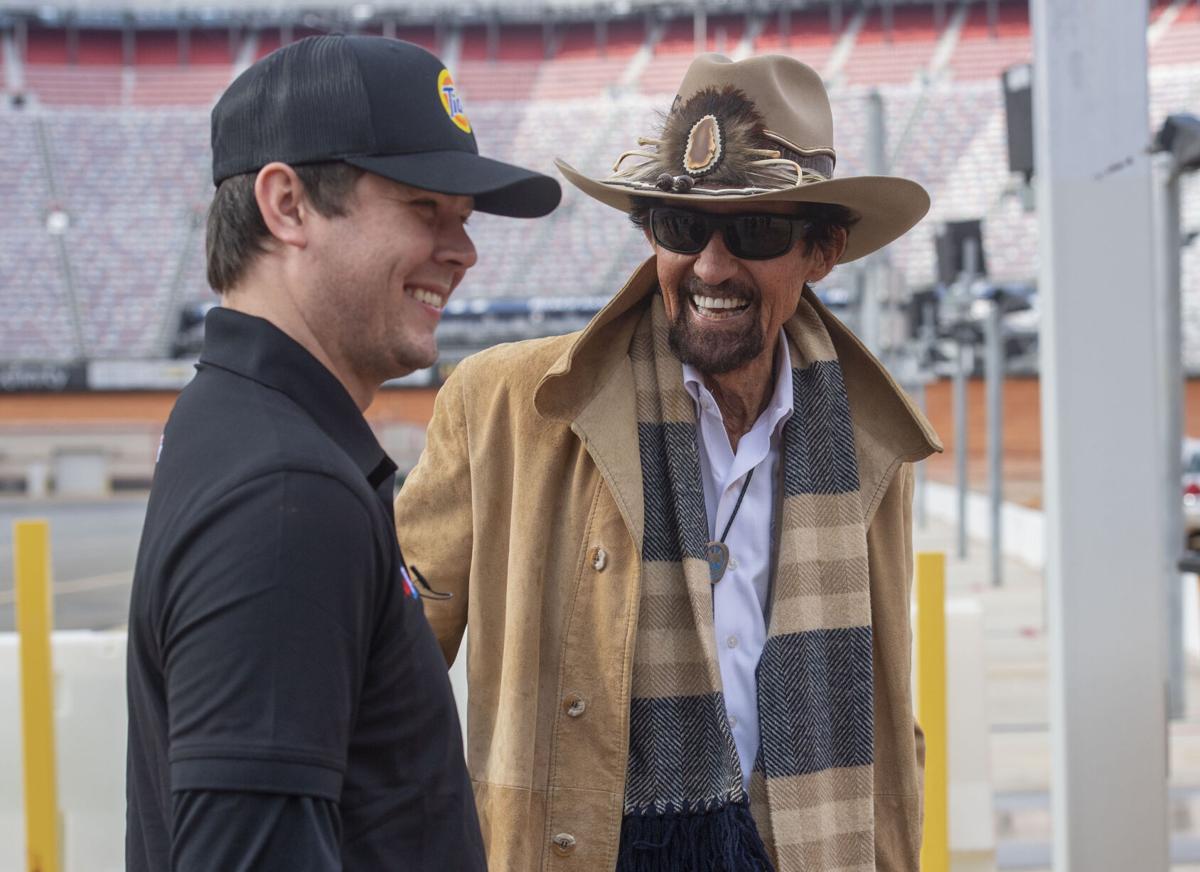 BRISTOL, Tenn. – Richard Petty won the last NASCAR Cup race held on dirt in 1970 and the seven-time series champion is curious to see how the next Cup race plays out at Bristol Motor Speedway.
On Friday afternoon, Petty and his Richard Petty Motorsports (RPM) team announced a partnership with Food City and Tide for the March 28 Food City Dirt Race at BMS.
As part of the agreement, the No. 43 RPM Chevrolet Camaro ZL1 driven by Erik Jones will carry the Tide brand as the primary sponsor.
Petty and Jones took a brief walking tour of the half-mile layout Friday.
"When we first started racing, we ran a lot of dirt tracks but we never ran a banked track on dirt," Petty said. "We could have had a good time on something like this."
Like many NASCAR fans, the 24-year-old Jones is anxious about the unique dirt adventure that has been a hot topic on motorsports social media sites.
"I'm looking forward to this race, but I just don't really know what to expect," Jones said. "I've done a little bit of dirt racing, including the Truck race on dirt at Eldora. I will just pull from that experience and hopefully apply it to this race."
Jones has earned two wins (2016, 2017), three top-five finishes, and four top-10 finishes in six career Xfinity starts at BMS.
The Food City Dirt Race will mark the first time the NASCAR Cup Series event on dirt since Petty won in 1970 at the State Fairgrounds track in Raleigh, North Carolina.
"How awesome is it that we have the opportunity to serve as the primary partner of the iconic Richard Petty Motorsports No. 43 Chevrolet Camaro for the running of this historic event at the Bristol Motor Speedway," said Steven C. Smith, Food City president and chief executive officer."
Tide has a long history as a NASCAR sponsor with drivers such as Darrell Waltrip, Ricky Rudd and Ricky Craven.
According to BMS general Jerry Caldwell, the Food City Dirt Race is already a socially distanced sellout. That attendance figure is expected to be in the same 30,000 range that BMS allowed for the July 15 All-Star event.
Caldwell said Friday that the track transformation process has gone smoothly.
"Our team still has a little grooming work to do, but other than we're going to be ready for the start of the Dirt Nationals (March 19-20) and then the NASCAR weekend is all is the talk in our sport," Caldwell said.
The Food City Dirt Race will be broadcast live on FOX on Sunday, March 28 at 3:30 p.m.
"I don't know that I want to do this race now as a driver," Petty said. "I would rather start on a flat track, but this is going to be interesting because nobody really knows what's going to happen.
"Dirt tracks now are so much different than what we ran on. It is sort of like having a slick asphalt track. I hope they put up some strong walls here because they are going to use up some."