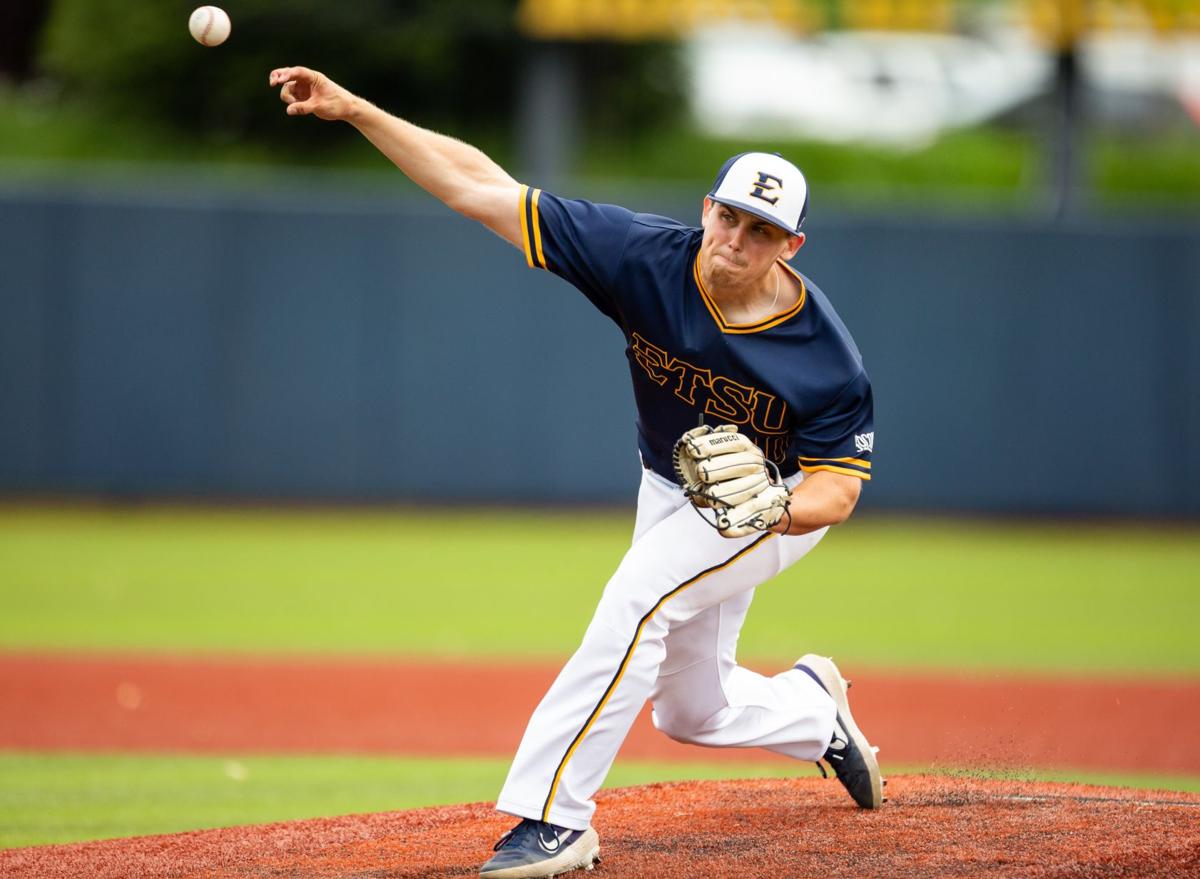 A shortened season went a long way in making East Tennessee State University pitcher Landon Knack a likely selection in the 2020 Major League Baseball Amateur Draft.
The former Science Hill High School standout was 4-0 with a 1.08 ERA over the course of four starts for the ETSU Buccaneers this spring. He racked up a NCAA Division I-best 51 strikeouts, while issuing just one walk in 25 innings and opponents hit a measly .136 against the right-hander in a season that came to an end in March due to the coronavirus (COVID-19) pandemic.
His fastball was clocked as high as 98 miles-per-hour and in his last outing of the season on March 7, he struck out 16 batters over six scoreless innings to overpower the Wagner Seahawks.
Those are the reasons Knack is expected to be chosen on Thursday when rounds 2-5 of the draft are held. He is No. 112 on MLB.com's list of the top 200 prospects and while the draft process can be unpredictable — even more so this year since the event has been slashed from 40 rounds to only five — Knack is self-assured about today's proceedings, which begin at 5 p.m.
"With the draft being cut down it definitely changes things for a lot of guys," Knack said. "I have gotten good feedback and feel confident about getting picked. … It's a fun time to experience all the things leading up to it. Obviously, there are some nervous jitters about it, but I'm excited for it."
Knack has always had a knack for being in the spotlight, but was best known as a hitter during his days at Science Hill. A power-hitting first baseman, he compiled a .432 batting average and six home runs as a senior with the Hilltoppers.
An injury slowed the start of his career at Walters State Community College, but in 2018 he went 13-0 on the mound as the Senators finished as runner-up at the National Junior College Athletic Association World Series.
"I'd thought of myself as a hitter first up until that last year at Walters State," Knack said. "That was when I realized what I had on the mound. After that year, I finished up I realized my future was pitching."
What kind of scouting report would the 6-foot-2, 220-pound Knack give about himself?
"I would describe myself as a competitor who knows how to pitch," Knack said. "I'm a guy who wants to attack hitters from start to finish and make them earn it, but I have the command and pitch ability to get hitters out at a high rate."
ETSU pitching coach Micah Posey can vouch for that assessment.
"Best strike-thrower I have ever seen," Posey said. "His last three years of college between ETSU and Walters State he threw 215 innings and had 30 walks. That's barely one walk per nine innings. I may never see that again."
The 22-year-old fifth-year senior is still fine-tuning his skills. Knack's slider, curveball and change-up complement his fastball and give him an imposing repertoire.
"Off the field the most impressive thing has been his curiosity and willingness to learn," Posey said. "He really pushed the envelope to try new things and evolve. He was never satisfied."
Knack also has the benefit of leaning on a guy who has been through the draft process and is currently playing professional baseball.
His brother-in-law is Will Craig, a Science Hill graduate as well who was a first-round draftee by the Pittsburgh Pirates in 2016 and slugged 23 home runs last season for Class AAA Indianapolis.
"Will and I have a great relationship," Knack said. "I've been staying at his house in Nashville recently and working out down here. We talk baseball all the time, and he's really helped me a lot through this process."
The process will be stressful for every player but a thrill for those 160 lucky standouts that are selected.
Former Abingdon High School standouts Thomas Francisco (East Carolina University) and Will Harless (Radford University) would have had a serious shot at getting chosen if the draft had been its normal length. Francisco is a draft-eligible sophomore and has compiled a .338 batting average in the first 65 games of his collegiate career.
George Wythe High School senior pitcher Avery Mabe is listed among the top players from Virginia on the MLB's online draft tracker. The right-hander has signed with the University of Virginia Cavaliers.
Pitcher Ryan Hagenow from Farragut High School in Knoxville, Tennessee, is ranked the 68th-best prospect by MLB.com. Hagenow hurled a three-hitter and outdueled Gavin Cross in Farragut's 2-0 triumph over Tennessee High in a 2019 TSSAA Class AAA sub-state game played at Bristol's Tod Houston Field.
Meanwhile, Knack's emergence as a prized prospect could enter a new phase today.
"Landon was passed on in last year's draft," Posey said. "He didn't get selected in a 40-round draft. He never complained or cast blame, he just looked to get better. This year he should hear his name called in a five-round draft. That's a testament to his character and work ethic."