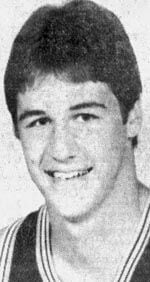 Greg Spurling grew up in Knoxville, Tennessee.
He played basketball at Carson-Newman College in Jefferson City, Tennessee.
Spurling was the longtime athletic trainer at now-defunct Virginia Intermont College in Bristol.
He now lives in Abingdon, Virginia.
There was also a time when he was a rising prospect in the Valley of the Sun.
The 6-foot-11 Spurling was chosen by the Phoenix Suns in the fifth round with the 101st overall selection of the 1986 NBA Draft, eight picks before the Detroit Pistons took former Marion High School and Old Dominion University star Clarence Hanley.
Spurling was playing for Long Island of the United States Basketball League when he found out that he had been drafted.
"After a [USBL] game, a guy came up to me and handed me a business card and when I got back in the locker room I sat down and looked at it," Spurling said. "It was from Richard Percudani, a scout for the Phoenix Suns. I read it and said 'Oh my goodness.'
"Well, I didn't think about it for a couple of weeks and we were at practice and [USBL] Coach [Gerald] Oliver called us all together and said, 'Well, say goodbye to Greg and wish him well.' I thought he had cut me and I was thinking that was a pretty bad way to embarrass me in front of the entire team. He then told everybody I had been drafted by the Suns."
Spurling called his family and the next day was on a flight to Arizona.
One of the first Phoenix players he met was Larry Nance, the winner of the 1984 NBA Slam Dunk contest.
"He was in there goofing off before practice," Spurling said. "He was doing a 360-degree windmill and stuff. I said to him, 'Man I saw you on TV in the dunk contest and I just don't believe it.' He said 'What are you talking about rookie?' I said 'That dunk on TV. I think it was just all smoke and mirrors.' This guy, still in his warmups, jumps up and dunks two basketballs at once. He was 7-foot and had a 45-inch vertical leap. I was thinking, 'Oh God, I have to guard this?' "
Bill Martin from Georgetown was also in training camp with the Suns and provided another moment that Spurling remembers fondly.
"We used to have to run a mile and a half and Walter Davis always beat everybody," Spurling said. "You had to run a certain time or you would be fined. Well, I got behind Alvin Adams, because they had said he was a good guy to get behind as he'd pace you and make you get your time and I did. Well, Billy Martin takes off and this guy ran a mile and a half in like 7:59. They gave him a thousand dollars for beating Walter Davis. It was hilarious."
Spurling never appeared in a regular-season game with Phoenix, while he later spent time in training camp with the Chicago Bulls and had a lengthy stay in the Continental Basketball Association.
That initial opportunity with Phoenix opened some doors for Spurling.
"Getting drafted sure does help," Spurling said. "Getting drafted kind of gives you a leg up on being [an undrafted] free agent. They've been doing their homework and know what you've done."
There was another thing that stood out to Spurling at the game's highest level.
"The work ethic you see," Spurling said. "All those guys were consummate professionals."