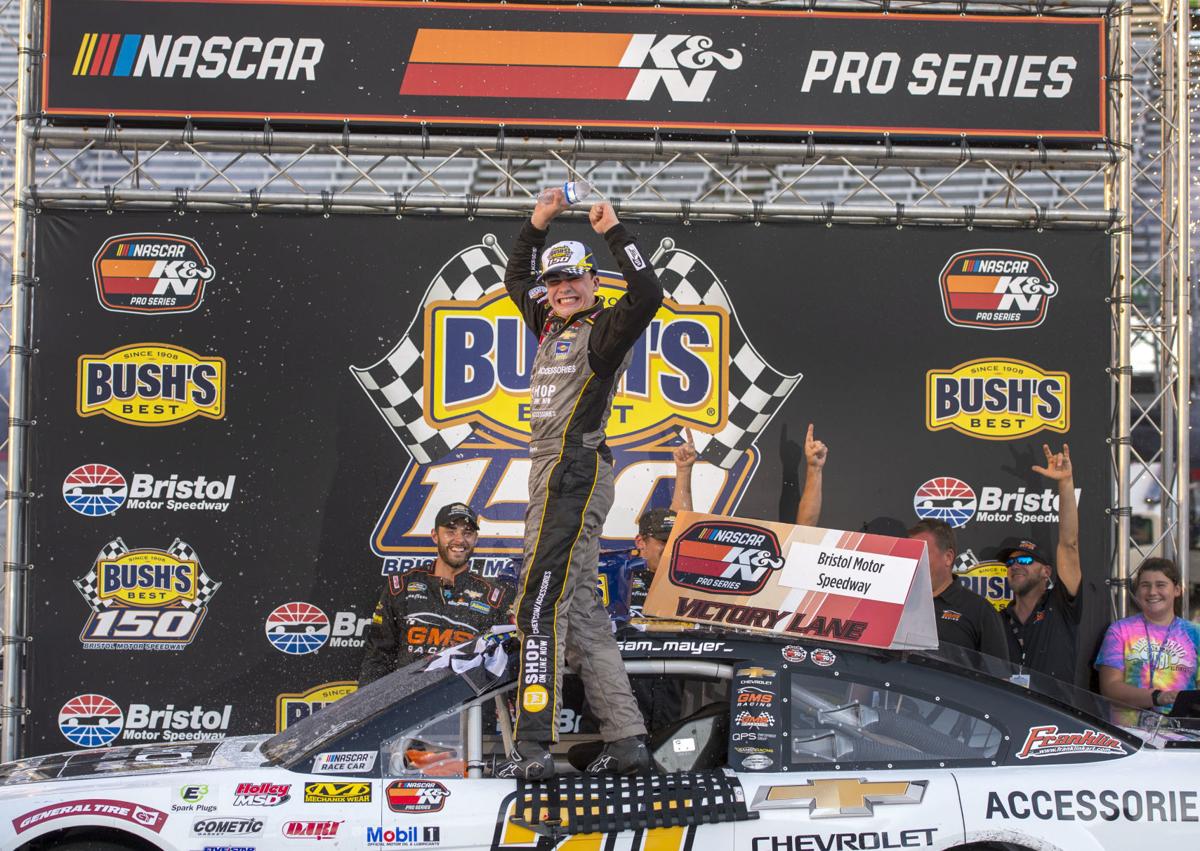 Sam Mayer has several reasons to smile entering tonight's ARCA Menards Series Bush's Beans 200 at Bristol Motor Speedway.
The 17-year-old Wisconsin native and son of former IndyCar racer Scott Mayer swept the two ARCA East Series events at BMS last year in commanding fashion.
On Wednesday morning, Mayer signed a deal with the powerful JR Motorsports Xfinity team. He will drive a JRM Chevrolet in the second half of next season before moving up to fulltime ride in 2022.
"I hope I can learn as much as I can in the second half of next season and be ready to go race fulltime for the NXS championship in 2022," said Mayer, who was affiliated with the JRM Late Model operation in 2018.
The immediate concern for Mayer is continuing his hot streak in his GMS Racing ARCA entry and running well in tonight's UNOH 200 Truck Series race.
In 11 ARCA starts this season, Mayer has four wins and 10 top-five finishes. That dominant run includes three victories in the ARCA East Series, where he leads the championship standings by 21 points.
Mayer led a total of 163 laps at Bristol last season, including every lap of the April race.
"Thunder Valley is one of the coolest places on the planet," said Mayer, referring to BMS. "To come out there and win means a lot."
So just how impressive was Mayer at Bristol last April? Consider that he broke the track record qualifying with a lap of 14.978 seconds at 128.107 mph and topped the speed charts both practice sessions.
In the August race, Mayer authored a last-to-first rally after being involved in a bumping incident with rival Chase Cabre on the opening lap.
Mayer grabbed the lead with 13 laps remaining when he powered around Spencer Davis, who led over 100 laps.
Tonight's race will feature other familiar names such as Ty Gibbs, Daytona race winner and former points leader Michael Self from Park City, Utah, California's Hailie Deegan, Chandler Smith and Auburn University senior Bret Holmes.
Gibbs, the 17-year-old grandson of NASCAR team owner Joe Gibbs, is a four-time winner in 2020. Gibbs also has experience at BMS in the Short Track U.S. Nationals.
The consistent Holmes, who works with his father in a construction company, grabbed the points lead with a fourth place finish last week.
Smith, who finished second to Mayer last Saturday at Toledo Speedway, has two wins this season in his No. 20 entry owned by series legend Billy Venturini. Smith, a former Bandoleros series national champion from Talking Rock, Georgia, will also drive the No. 51 Kyle Busch Motorsports entry in tonight's UNOH 200 Truck race.
The highly-touted 19-year-old Deegan, who has been involved in several controversial crashes in recent races, has recorded 13 top-10 finishes this season. She posted finishes of 16th and ninth at Bristol last year.
Be the first to know
Get local news delivered to your inbox!