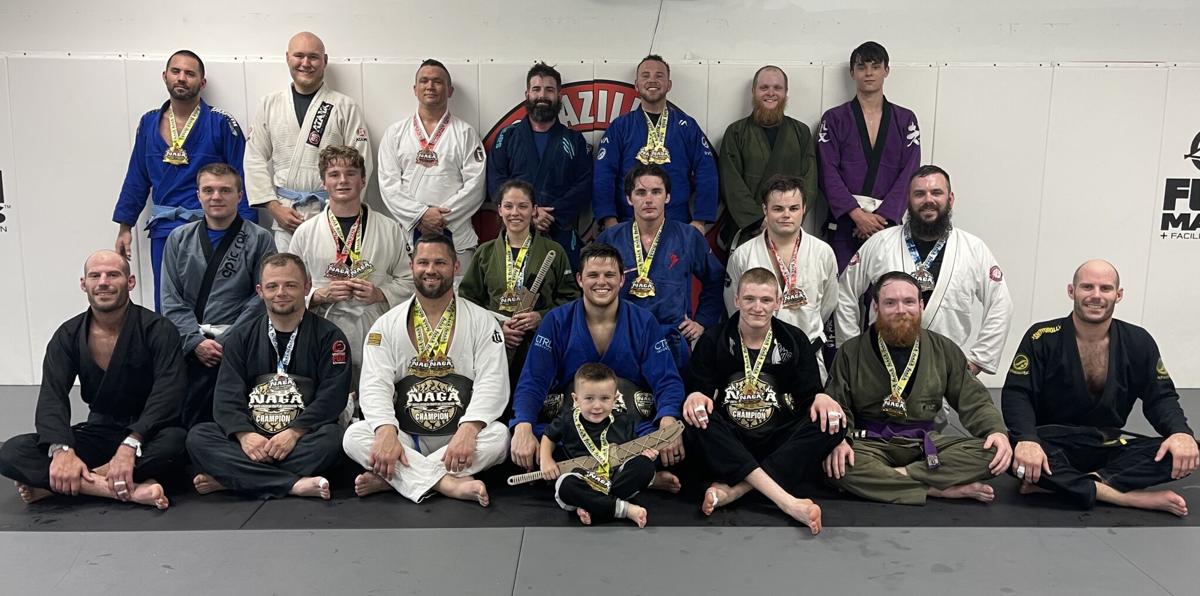 That first step into any gym can be an overwhelming experience.
Logan Griffin knows all about it.
"It can be terrifying - because trust me I was there one time - to come in the door." said Griffin, who co-owns Bristol Brazilian Jiu Jitsu in Bristol, Virginia with his twin brother, Taylor. "You have no idea what you are getting into, you don't know if it is going to be a good place or a bad place, if it is dangerous, if they take care of each other."
Griffin assures all that won't be a problem. In fact, the Bristol native is so confident in what is happening at the Goose Center Shopping Center on Travalite Drive that he'll tell you it's the biggest thing going in town.
"I like to exaggerate, but if I don't believe in my product nobody else will," said Griffin, who, along with Taylor, has a black belt in Brazilian Jiu Jitsu. "When I say the biggest thing in Bristol, for me, I would be a fool not to brag on myself and be a little bit cocky about it."
Expect to find a busy place upon arriving at the location, with clientele from all walks of life who come from across the region to train in this particular brand of martial arts.
"This is my thing, this is my baby. I am in here blood, sweat and tears every single day," said Griffin, during a phone interview last Friday. "We are here every single night, we are here all weekend. You name it, doctors, lawyers, construction workers, college students, high school students, little kids, old women who have never done an athletic sport in their life. They are all on these mats here at Bristol Jiu Jitsu.
"That is something you are not going to find anywhere else, at least around here."
Griffin has been as far away as San Diego and as close as Knoxville to learn all he can about what is one of the most popular forms of self-defense.
"The easiest way to explain it to the untrained person is, it is like amateur wrestling, college wrestling, like high school wrestling," Griffin said. "Instead of us trying to pin our opponent on the mat, our objective would be to submit our opponent via chokes, via leg locks, via arm locks, multiple joint manipulations and stuff like that. It is also a huge sport and that is really the special thing about our school is we are still heavily involved in the sport aspect."
Word has spread since the Griffins opened their business in November of 2016.
"We have been open for almost five years and really taken the community by storm," Griffin said. "What I mean by that is that anybody that is into martial arts – specifically like Jiu Jitsu – we get guys from Clintwood, we get guys from Lebanon driving to our 6 a.m. class. We have Johnson City guys, we have Kingsport, Bluff City, Blountville."
He also understands that the influx of members helps the community in other ways.
"People from around the region are coming to Bristol creating revenue on the Bristol, Virginia side," Griffin said. "These guys come and they train and they go out to eat. The community might not realize that, but it is a powerful thing we have going on over here.
"Really, more than that, that stuff is all cool, but more than that, what we have been able to do is take these local athletes around here, introduce them to what our passion is, Jiu Jitsu, and have extreme success in these high level tournaments that nobody in this area has ever achieved. We are still brand new as coaches to this in this area."
Griffin recently took competitors from his gym to a major tournament in Charlotte, N.C. and returned with plenty of well-earned hardware.
"Our team got second place in the whole division out of all the big cities around Charlotte," Griffin said. "You have got Raleigh, Charlotte, from Georgia, South Carolina, even some teams from Florida.
"Here is a small little town like Bristol, Virginia that is able to go compete against these big major cities. That is what I want to highlight on this whole thing, is the fact that we are putting in the work every single day and in our respective community we are getting some heads turned our way."
A picture that accompanies this article includes those competitors, both male and female, who went to Charlotte.
"In that picture alone is an assistant principal at John Battle, who was able to win like eight matches against guys that are way younger than him. He has been training with us since day one," Griffin said. "In that picture you will see a kid from Saltville who was working on the interstate that [beat] the best guy in the whole tournament in less than one minute and who was ranked number one in the whole entire world.
"In that same picture you will see another kid from Saltville. A tree trimmer, risking his life every single day, who competed against one of the best black belts in the whole entire world and took him the distance."
New members are always being accepted at Brazilian Jiu Jitsu. In fact, Griffin offers a bargain to those who are interested.
"All new students get a 30-day free trial so it is a month completely free, risk-free, no contract, no hidden fees, no nothing like that," he said. "Just come in here and try Jiu Jitsu out and we will guarantee they will love it. That is my sales pitch to everybody, the hardest part is walking in the door."
Once in, Griffin is confident they'll want to return.
"Generally once they walk through the door and they see, 'oh, this place is nice, it is professional, it is clean.' There are a lot of respectable people in the community on these mats," he said. "They are not covered in tattoos, they are not cussing, they are highly educated people who are into this particular martial art that is really the most effective self-defense in the world.
"As you can see UFC and MMA has really taken off and Brazilian Jiu Jitsu is at the core of that. It is 30 days free for all new students and there you go."
Griffin doesn't expect the excitement to calm down anytime soon.
"We have been running this school for the past five years and we are just expanding and growing like crazy," he said.