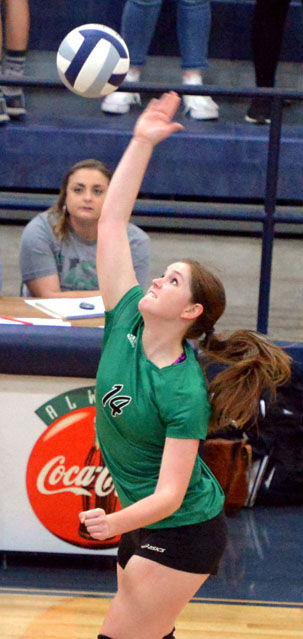 Reiley McCoy and Callie Richardson once stood across the volleyball net from one another and competed in some fierce battles for Cumberland District supremacy. These days they stand alongside each other on the frontline and are a formidable duo.
"Callie and I were rivals all through high school and now we're teammates and best friends," McCoy said. "It's funny how things work out."
McCoy, an Eastside High School graduate, and Richardson, an ex-Rye Cove High School star, are sophomore standouts for the Alice Lloyd College Eagles.
McCoy racked up 18 kills in the season's first four matches, including a six-kill performance on Sept. 7 in a win over Appalachian Bible College and five kills in a loss to Rio Grande on Sept. 10.
"Reiley was a great addition to our team last fall," said ALC coach Nathan Hall. "She came in and gave us good quality reps during the season. She was one of the tops on our team in kills last year. She is a great kid with a great attitude.
"She is on her way this year to being one of the best outside hitters in our region. The work she put in over the summer when most players weren't doing much, working hard and changing her body, has really paid off for her this year."
McCoy made a major shift last season in terms of her position.
"I was middle all throughout high school and once I got to Alice Lloyd, my coach switched me to outside hitter," McCoy said. "It was an adjustment, but I worked really hard and earned a starting position my freshman year. I really enjoy being an outside hitter and I feel like I have gotten better at reading the blocks and can hit around them more now."
McCoy, Richardson, Kim Lee (Thomas Walker) and Pauline Tolentino (Lee High) represent Southwest Virginia on the Eagles' roster, while McKenzie Brewer (Cherokee) and Jenni Droke (Cedar View Christian in Kingsport) are Northeast Tennessee players on the team.
Richardson has been a key contributor from the start.
"She has a personality a lot like Reiley," Hall said. "I really can't ask for two better kids. Callie came in last year and made a huge impact for us in the middle. She led our team in blocks and was second in kills. Callie also earned all-region honors as a freshman last year.
"She is a force at the net. Her blocking and ability to control the net is what impresses me so much with her. I expect her to have an even better season this year. She has improved her speed and agility a ton since March."
McCoy and her teammates are glad to be playing volleyball this fall as most college programs postponed the season until the spring due to the coronavirus (COVID-19) pandemic.
"I'm so thankful my team gets to play this year," McCoy said. "I would have hated for it to have been canceled this year. … The matches have been a little different. The game is still the same, but the referees have electronic whistles, we have to wear a mask once we go on the sidelines, we always put hand sanitizer on and instead of shaking hands, we have to wave to the other team and say good luck and good game."
Greeneville natives get action
A pair of former Greeneville High School standouts played in NCAA Division I football games for the first time on Saturday.
Army's Cade Ballard saw time at quarterback in the fourth quarter of his team's 37-7 win over Louisiana-Monroe.
Meanwhile, tight end Cameron Hite of the Wake Forest Demon Deacons logged action in a 37-13 loss to top-ranked Clemson.
UNC Asheville announced last week that men's basketball coach Mike Morrell had signed a contract extension through the 2022-23 season.
A graduate of Elizabethton High School and Milligan College, Morrell is 19-43 in his first two seasons leading the Bulldogs.
"We are very proud to have Mike Morrell as the leader of our men's basketball team," UNC Asheville athletic director Janet R. Cone said in a press release. "His leadership has been outstanding to date, and I have no doubts that our Bulldogs will continue to thrive under his guidance."
Right-handed pitcher Megan Gray (Honaker) will not return for a fifth season for the softball team at Lipscomb University.
Gray went 20-6 with two saves, 164 strikeouts and a 3.81 ERA over the course of four seasons with the Bisons of the Atlantic Sun Conference.
During the pandemic-shortened 2020 season, she was 7-1 in 10 starts.
Gray was twice named Atlantic Sun Conference pitcher of the week in the spring and her only loss came to the University of Tennessee.
She pitched a one-hit shutout against the College of Charleston on Feb. 9, while striking out 17 in a 7-1 win over North Dakota State two weeks later.
Be the first to know
Get local news delivered to your inbox!