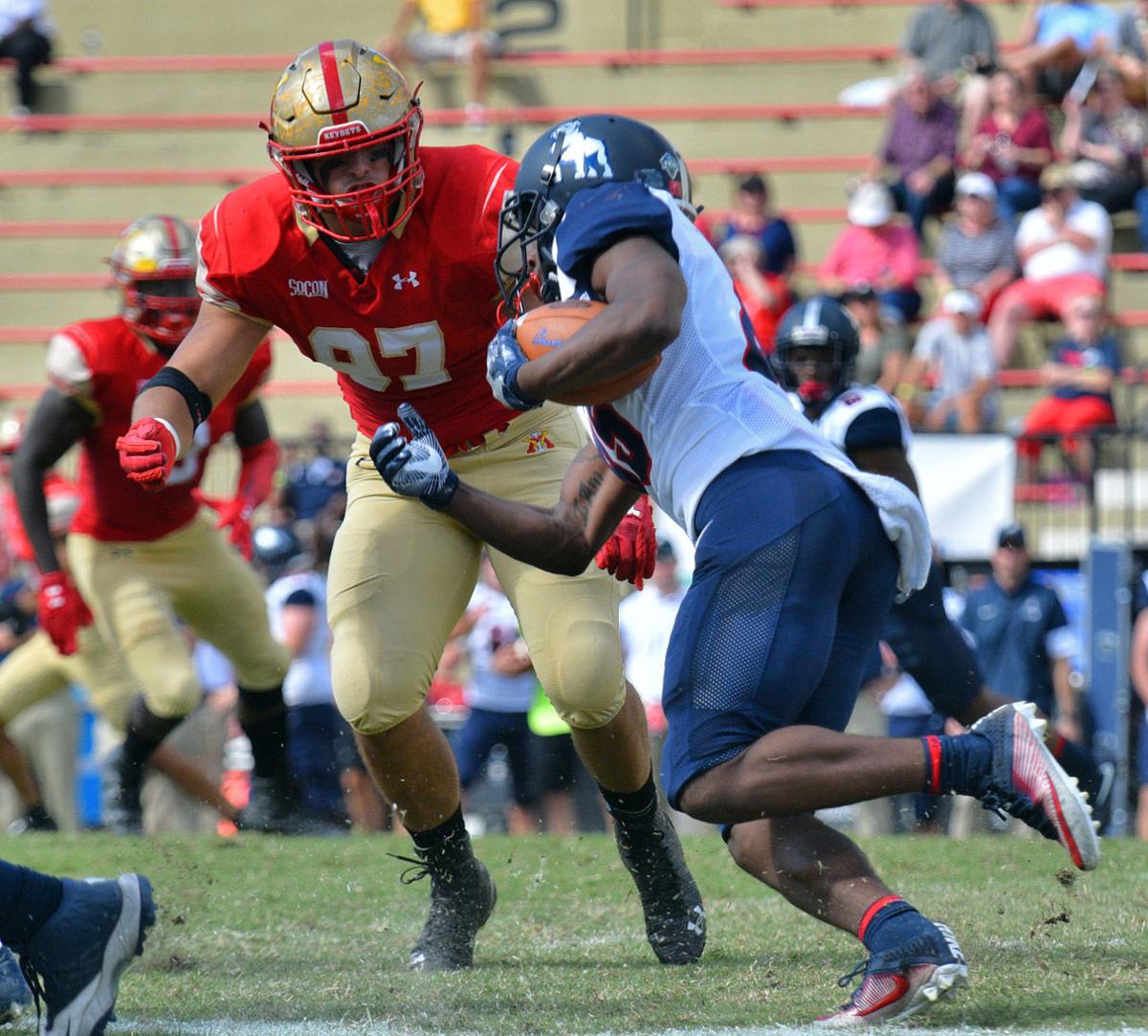 Saturday's Military Classic of the South featured a strong performance by a player from Southwest Virginia.
Former Graham High School standout Jarrod Richmond made eight tackles for Virginia Military Institute as the Keydets beat The Citadel by a 34-21 count. It was VMI's first victory over the Bulldogs on the gridiron since 2002.
For Richmond, a 6-foot-3, 250-pound redshirt senior defensive lineman, it marked a season-high total in tackles.
"I'm so happy he played this well in such an important and memorable game," said VMI defensive coordinator Tom Clark.
Richmond has made 23 stops on the season and has recorded 115 tackles during his four seasons at VMI.
"He is a fierce competitor and one of our hardest workers," Clark said.
Penn State pounded Purdue, 35-7, on Saturday for a Big Ten Conference football win and two local guys got playing time.
Penn State kickoff specialist Jordan Stout (Honaker) had four of his six kicks result in touchbacks as he averaged 63 yards per boot.
Purdue freshman defensive back Cam Allen (Graham) was ejected with 8:34 remaining in the first quarter after being called for targeting on a hit he delivered to quarterback Sean Clifford of the Nittany Lions.
North Carolina A&T redshirt freshman Taymon Cooke (Graham) had the first kickoff return and carries of his college football career on Saturday as the Aggies notched a 58-19 Mid-Eastern Athletic Conference football win over Norfolk State.
Cooke returned a kickoff 30 yards in the second quarter.
He toted the pigskin twice and gained eight yards in the fourth quarter.
Barton College sophomore volleyball player Anna Thompson (Abingdon) had 13 digs and one ace on Saturday in a loss to Converse.
Julie Dockery has been getting it done for the volleyball team at Milligan College.
The former Gate City High School star had 16 kills on Oct. 1 at Montreat and followed that up with a dozen kills on Friday in a match against Bryan.
She has 183 kills on the season, the second-best total on the team.
A 6-foot-1 junior for the Lenoir-Rhyne University Bears, Madison Asher (Abingdon) dominated at the net to the tune of six kills and five blocks on Friday in an 18-25, 25-21, 25-15, 25-18 volleyball victory over Coker.
Samantha Sturgill (Union) and Callie Richardson (Rye Cove) helped Alice Lloyd earn a 25-13, 25-14, 25-8 volleyball win over Boyce on Oct. 1.
Sturgill had 16 assists and six digs, while Richardson slammed down six kills.
Carson-Newman University senior Evan Harr recorded his second assist of the season on Saturday in a 2-1 men's soccer win over Queens.
A former Virginia High standout, Harr facilitated on a goal by Sofian Maghouz in the 18th minute.
Chloe Arnold (Tennessee High) scored in the 48th minute of Chattanooga's 2-0 Southern Conference women's soccer win over Western Carolina on Friday. It was the second goal of the season for Arnold, a junior forward.
Freshman Melina Turner has scored two goals in her first season for the women's soccer squad at Ferrum College.
The John Battle High School graduate found the back of the net on Sept. 18 against Meredith and scored again nine days later against Hollins.
Alice Lloyd College golfer Aaron Minor (Tennessee High) finished in seventh place at the University of Pikeville Invitational, which concluded on Sept. 29.
Minor carded scores of 73 and 80 in the two-day event.
University of Florida women's golfer Addie Baggarly finished tied for 15th on the individual leaderboard at the Windy City Collegiate, which concluded on Oct. 1 in Chicago.
The ex-Tennessee High standout had rounds of 73, 68 and 75.
Be the first to know
Get local news delivered to your inbox!