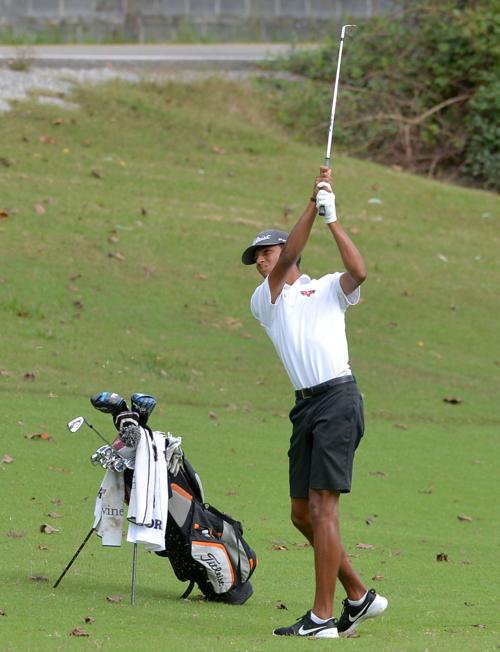 The odds of a golfer recording a hole-in-one on two different holes in the same round are 67 million-to-1.
How about two aces on consecutive swings?
Casey Lund, an account executive with International Hole In One Association, has no idea.
"Unfortunately, I do not know the odds of that happening," he wrote, in an email.
Gavin Austin knows it can be done.
The rising King University sophomore and member of the Tornado golf team was at Glenrochie Country Club last Sunday when the improbable happened.
Austin, who was a three-sport standout at Virginia High School, teed off on the 153-yard second hole with a pitching wedge. His father, Bristol Virginia Chief of Police John Austin, like Gavin, watched it land in the hole.
"The first one that I hit, they call it a slam dunk, it just hit nothing but the hole and didn't come out," Austin said. "My dad was like, 'I wish I had got that shot on video' because I usually get him to video my swing just to see my alignment."
His father offered to shoot video with his next shot. Neither expected what happened next.
"I was hitting the next ball and he said, 'Well, let me video this one.' I was like 'Dad, there is no way this one goes anywhere close.'" Austin said. "I hit the next ball and it hits in front of the hole, skips behind it and then spins back into the hole.
It was Austin's first – and second – holes in one. He didn't know how to react.
"Dad was just laughing, he was surprised. I see all these guys on TV hit hole-in-ones and they will jump around or throw their clubs in the air," Austin said. "Maybe it was where it wasn't in a tournament, but I wasn't that excited until I got up to the hole and saw it in there and I was just kind of smiling from ear to ear. It was really cool."
Like all golfers, the 19-year-old Austin had been tinkering with his game in preparation of a tournament earlier this week.
"I have been working on a little lower cut shot, which is a shot that falls from left to right," he said. "I had been working on it on the range all week and that hole just set up perfectly for me to hit that shot. I guess the practice paid off because I pulled it off."
That is always the plan, but how often does it happen? Perfection is rarely met in golf.
"I was just out practicing with my dad. I was hitting two balls off every tee and working on a lower shot and then what I call just a stop shot, which would be my higher shot," he said. "I was just out there practicing so I was hitting two balls off every tee box."
He hadn't had a hole-in-one since taking up golf as a high school sophomore. His brother, Desmond, who also played golf at Virginia High, has never had one, and his father doesn't play the game.
"I hit the first one and it went in and immediately I just dropped another ball out of my pocket, hit it and it went in and I walked up there and both the balls were in the hole," he said. "I saw the second ball go in so I knew it was in, but then when I saw back-to-back and I knew the first ball went in I was like 'Ok, that is pretty cool.'
"We just went to the next hole," he said.
After the round Austin contacted Euggie Jones, who is both his employer and the golf professional at Glenrochie.
"I was like you will never believe what just happened and I told him I probably wouldn't believe it either, but my dad was with me," Austin said. "Dad is my way for people to believe me."
Austin played basketball, golf and track at Virginia High, but grew up loving a different sport.
"I used to be a baseball player. Growing up I would eat, sleep, dream baseball," Austin said. "My freshman year, right after tryouts, I made the team and then I hurt my shoulder and went to the doctor and had that surgery. I asked him if I could swing a baseball bat because I knew I couldn't throw, but I didn't know if I could still swing. He told me I couldn't swing a baseball bat, but I could swing a golf club because it was two different motions."
He asked Desmond to take him to a golf course. It wasn't pretty from the start, but he didn't give up.
"I have been playing ever since, he said.
Austin approached Virginia High golf coach Carlos Lee at a fundraiser named for Lee's uncle, Ballard Lee, at Clear Creek Golf Club prior to his sophomore year.
"I was like 'Coach, I am going to play golf for you next year'. We knew each other before that because he was my brother's baseball and golf coach," Austin said. "He was like, 'Let's go over here to the range and let's see how it is'. I couldn't hit the ball off the tee I was so bad.
While Austin developed into one of the better basketball players in Southwest Virginia - setting a school record as a senior for points in a game with 51 – he has also turned into quite the golfer as well.
"I have come a long way definitely, you could say that for sure," he said. "I have worked hard and God blessed me with a lot of athleticism that I am thankful for."
He finished fourth in the state golf tournament as a junior and senior for the Bearcats, leading Virginia High to a second place team finish last season. He was able to play in one tournament in a truncated season for King last September.
"I only got to play in one tournament this year," said Austin, who has been approached about playing basketball at King as well, but is definitely hooked on golf. "I missed qualifying a couple of times, and the one tournament I did get to play in was our home tournament and I shot 74.
"Hopefully next year everything goes back to normal."
Who knows if Austin will ever get another hole-in-one. They are hard to come by, but he plans to make sure this accomplishment won't be forgotten.
"I am probably going to get my dad to write it down somewhere, that way when my children have children I can let them know I wasn't lying about it," he said, with a laugh. "I have my witness."
Austin returned to Glenrochie earlier this week, teed it up at the second hole and took another swing.
"I made a par. It was a par 3 and I made a 3," Austin said. "It is a hard hole so I never will complain about making a par, but I would much rather make a couple more 1s on there."