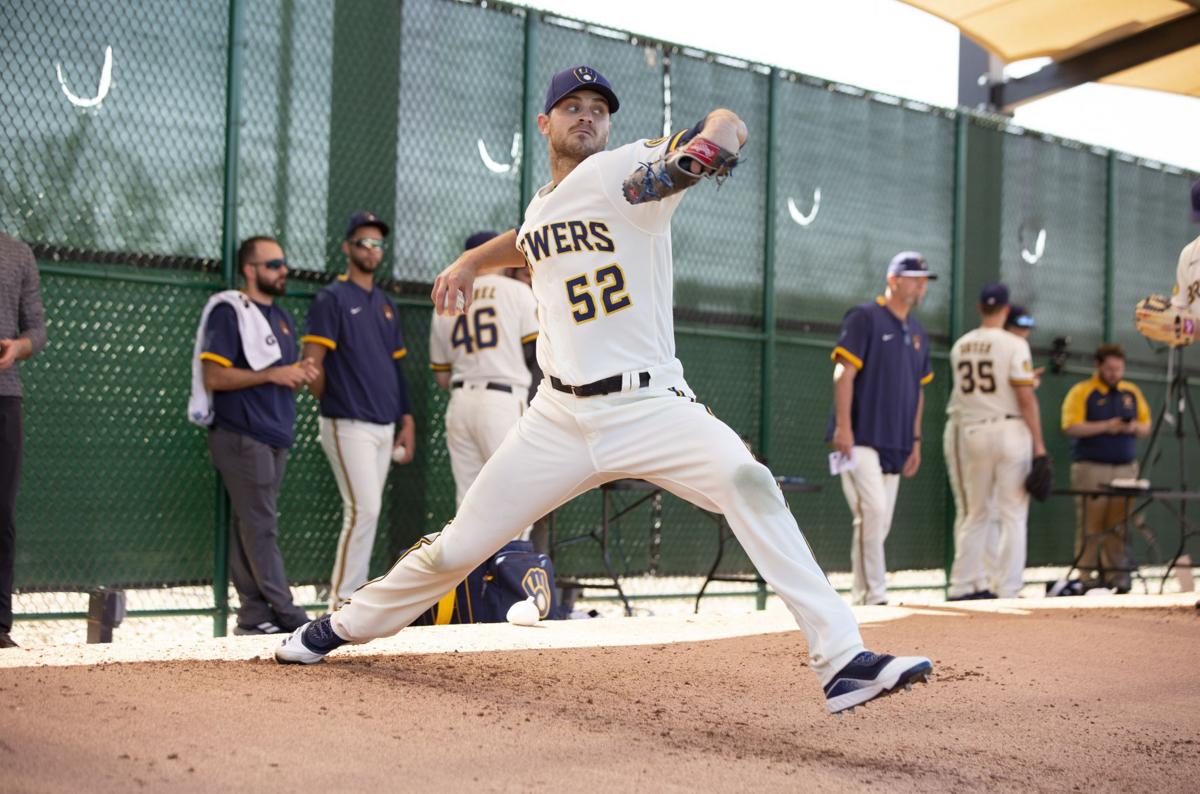 PROFESSIONAL BASEBALL
Grimm to pitch in Mexican League
Former Virginia High star Justin Grimm will begin the 2021 season with the Mexican League's Mariachis de Guadalajara.
A 32-year-old right-handed pitcher, Grimm has spent eight seasons in the major leagues with the Texas Rangers, Chicago Cubs, Kansas City Royals, Seattle Mariners and Milwaukee Brewers. He is 20-23 with four saves and a 5.14 ERA in 310 MLB regular-season appearances.
Former big-league infielder Benji Gil manages Mariachis de Guadalajara.
Infielder Kevin Barker, also a Virginia High graduate, played in the Mexican League in 2010 and 2011.
DIRT RACING
Late Models and Modifieds to run at BMS
The World of Outlaws Bristol Bash Morton Buildings Late Model Series will headline the action in the World of Outlaws Bristol Bash, supported by the DIRTcar UMP Modifieds, slated for Bristol Motor Speedway, beginning on Thursday and running through Saturday.
The list of all-star Late Model drivers set to battle for the honor include three-time defending World of Outlaws champion Brandon Sheppard, four-time World of Outlaws champion Josh Richards, current World of Outlaws points leader Kyle Strickler, NASCAR Truck Series driver Stewart Friesen, legendary Late Model driver and Tennessee-resident Scott Bloomquist, Jonathan Davenport and Jimmy Owens.
For the DIRTcar UMP Modifieds, a host of familiar NASCAR veterans such as David Reutimann, David Stremme, Steve Aprin, Kenny Schrader and NASCAR Truck Series champion Matt Crafton are primed to conquer the dirt version of Bristol.
Practice sessions will be held on Thursday, with full racing programs slated for the final two nights consisting of hot laps, qualifying, heat races and last chance showdowns, and followed by feature races for both the DIRTcar UMP Modifieds and Late Models.
A pair of feature races on both nights will result in a grand total of $50,000 in prizes to the winning teams.
HIGH SCHOOL FOOTBALL
Battle-Virginia High moved up a day.
The Plus-One spring football finale between John Battle and Virginia High at Gene Malcolm Stadium has been moved to tonight beginning at 7 p.m. It was originally slated for Thursday.
In another football schedule change, Patrick Henry will now play J.I. Burton on Friday at Honaker's Fuller Field at 7 p.m. It had originally been scheduled for Saturday.
COLLEGE BASEBALL
King slugs past UVa-Wise
Bennett McCann and Zachary Thomas each homered to help King to a 15-6 win over the University of Virginia's College at Wise.
McCann scored three runs and Thomas drove in three runs for the Tornado (11-16), who earned a split of the two-game series with the Highland Cavaliers.
Tyler Campbell homered and drove in three runs for UVa-Wise (4-21).
Wasps sting Scots
Joe Tolone was one of four Emory & Henry batters to get two hits, and he also scored two runs to lead the Wasps to an 8-3 win over Maryville.
Emory & Henry (4-7), which has won two straight and three of its last four games, also got two hits each from Nathan Treadway, Caleb Haynes and Hayden Milley. Will Clark started and picked up the win, allowing just three hits and six innings on the mound.
COLLEGE SOFTBALL
E&H splits with Maroons
Alex Braun and Kendall Varner each homered to help No. 19 Emory & Henry (13-3, 3-1) to a 5-4 win over Roanoke to salvage a split of an Old Dominion Athletic Conference twinbill.
Braun picked up the win in the circle, while Varner drove in two runs for the Wasps, who had just three hits in a 5-0 loss in the opening game.
COLLEGE MEN'S VOLLEYBALL
King sweeps Bobcats
Joshua Kim and Diego Marcano had 14 kills apiece in leading King to a 25-10, 25-18, 25-14 Conference Carolinas victory over Lees-McRae.
Noah Melendez (14 digs) and JT Deppe (42 assists, 13 digs) also contributed for the Tornado (10-12, 7-7).
COLLEGE TRACK & FIELD
King's Neubert claims award
King University sophomore Katy Neubert has been selected as Conference Carolinas Track Athlete of the Week.
Neubert won the 800 meter run at the Southern Wesleyan Invitational on Saturday.
with a personal record time of 2:19.72. She won the event my nearly four seconds.
COLLEGE BASKETBALL
Virginia Tech transfer Cone lands in Arizona
Former Virginia Tech guard Jalen Cone tweeted Tuesday that he has decided to transfer to Big Sky member Northern Arizona.
Cone, who averaged 9.2 points and 20.0 minutes as a sophomore, entered the transfer portal on March 25. His father, Harold Cone, told The Roanoke Times last month that his son entered the portal because Jalen wanted "a little bigger role" and "to handle the ball a little bit more."
Jalen Cone told
ESPN.com
last week that his final seven schools were Oklahoma State, Indiana, Penn State, Northern Arizona, Nebraska, Buffalo and Iowa State.
The 5-foot-10 Cone told Sports Illustrated on Tuesday that seeing 6-1 guard Max Abmas shine for Oral Roberts in the NCAA tournament helped him decide to transfer to a mid-major school.
"Seeing someone my size with similar skills have that type of impact was an eye opener," Cone told Sports Illustrated.