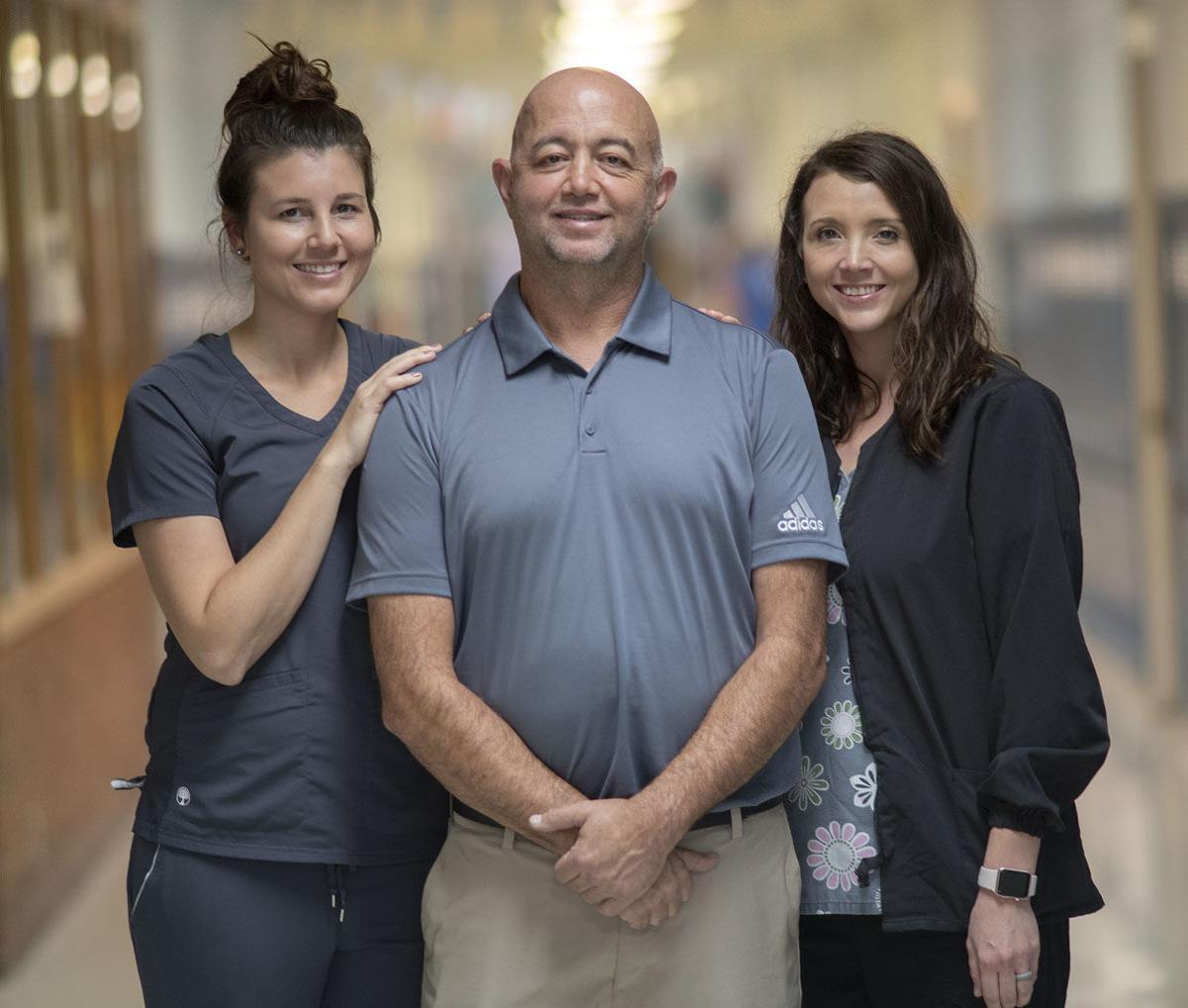 EMORY, Va. – Patrick Henry High School coach and teacher Tommy Thomas wasn't sure what to expect as he prepared for brain surgery this past July at Duke Medical Center.
Thomas was aware that his experienced neurosurgeon, Allen Freidman, had a national reputation. He also found comfort from family and friends.
" Before leaving for Duke, I had been told that only 65 to 70 percent of my tumor could be removed through surgery," Thomas said. "I go to church every Sunday, and I prayed that no more cancer would be found. I know that others prayed for me."
The faith of Thomas was rewarded.
Friedman not only executed a 100 percent resection of the tumor from the temporal lobe, but no other signs of cancer were discovered.
" The tumor was big and aggressive, but the doctors said we caught it early," Thomas said. "It was definitely a relief."
Thomas, 49, remained in the hospital for three days.
What followed next amazed those around Thomas, including veteran hospital staffers.
During his eight-week stay at Duke, Thomas underwent 33 rounds of radiation treatments and 42 days of chemotherapy.
" The doctors kept telling me that the sickness would probably hit me halfway through my treatment, or toward the end," Thomas said.
That prediction never materialized.
" I have not been sick a single day," Thomas said. "One of the doctors told me that she has been working at Duke for 40 years and had never seen anything like my case. "
That wasn't the only bit of good news.
Through a family friend, Thomas and his daughters, Heather and Tory, were able to find housing that had been set up for cancer patients at Duke.
" The lady said we were welcome to stay, and we basically lived there for eight weeks," Thomas said. "It was God's blessing."
Thomas was told not to get discouraged if he was only able to walk a tenth of a mile during his recovery period.
Once again, Thomas defied expectations.
" I've been walking four to eight miles per day since my surgery. And when I was at Duke, my daughters walked with me," Thomas said. "The chairman of the radiology department came to see me once a week, and he was amazed."
So does the miracle term apply here?
" That's what the doctors at Duke have called it many times," Thomas said. "To me it says a lot when a doctor who has been at Duke for four decades says it's a miracle."
From the heart-stopping diagnosis day to the exhausting treatments, cancer is often a life-altering experience for patients, family members and caregivers.
Thomas said he was humbled at the sight of younger patients at Duke who were struggling with various forms of the disease.
" I've always been the type of guy who tries to help others. But when you are faced with this situation and need help, it changes your whole outlook," Thomas said.
One of the closest allies for Thomas was John Battle boys basketball coach Jon Odum. The former basketball standout at John Battle and Virginia Intermont College was diagnosed with an aggressive form of brain cancer known as glioblastoma multiforme in the fall of 2016.
" Jon coached at Glade Middle School and PH before taking the job at John Battle, and we were friends," Thomas said. "The day that I found out about my brain tumor, I called Jon."
The two men chatted almost daily over the next few weeks. The tumors for Thomas and Odum were different, but problems surfaced in the same area of the brain.
" It helped to know someone who had already been through what I was getting ready to go through. Jon gave me some really good advice," Thomas said.
Despite his illness, Odum continued to serve as coach of the Trojans the past three seasons. He finally succumbed to brain cancer on Aug. 10 of this year.
" Even up to his last few days, Jon was texting with good thoughts and upbeat messages," Thomas said. "I knew Jon was sick, but he still texted me just to see how I was doing. It was very inspirational."
Thomas was in Duke when he heard that his loyal friend and fellow cancer warrior had died.
" To lose a friend like Jon who was ahead of me in the same fight … that was definitely a tough day," Thomas said.
Home-based oral chemotherapy treatments began for Thomas on the week of Oct. 28.
" Brain cancers can have a high recurrence rate, so we're doing everything we can to prevent it from coming back," Thomas said.
Following the example of Odum, Thomas has become a sounding board and mentor to other folks grappling with the cancer curse.
" Several people in the area who have been dealing with health issues and concerns have come up and talked to me, and I've shared my experience and faith," Thomas said.
Thomas is currently preparing for the start of girls basketball season next week. He needs just four wins to reach the 200 landmark, and also has 93 victories as the head baseball coach at PH.
" Time means a lot more to me now, and keeping the same routine helps," said Thomas, who played a variety of sports at Holston High School before attending Emory & Henry.
" We have very little control when cancer hits. You just have to face it," Thomas said. "People have given me credit for a lot of different things, but I have a good doctor, a strong faith and wonderful support from my family and friends."
Be the first to know
Get local news delivered to your inbox!